Roller shutters are one of those versatile products that are ideal for holiday homes. They consist of horizontal slats that roll up along wall-mounted guides and into a shutter box, where they are hidden from view until you need them. They can be fitted to windows and doors. And they have many uses.
Roller shutters protect you when you're in residence Trellidor Rollerstyle shutters do a great job of keeping you safe while you use your holiday home. Get them fitted to all your doors and windows so that you can close up at night and sleep peacefully, knowing you are protected.

If you have other types of burglar-proofing on your doors and windows, then fit the security roller shutter in your passage. Then you can close the shutter at night to create a 'safe haven' in your bedroom area.

Security roller shutter are excellent burglar proofing when you leave your holiday home Roller shutters solve the problem of how to keep your home and possessions intact when you are not there. For some, a holiday home is left locked up for months on end. For others, it is just during the week while they commute to the city for work.

If your doors and windows are closed up using these shutters, burglars will find it extremely hard to find a way in to steal your things. Imagine facing a wall of security roller shutters right around the house. It would be enough to discourage even the most determined thief.

Aluminium roller shutters weather-proof your holiday home When roller shutter doors are completely closed, they block out any unpleasant weather. It could be wind, rain, cold or excessive heat. They even dampen down loud noise.

This feature of roller shutters helps you to make full use of your holiday home entertainment area. If you have a veranda off your lounge, for example, consider fitting the shutters to the edge of the veranda so that you can use it as part of the living area even in bad weather.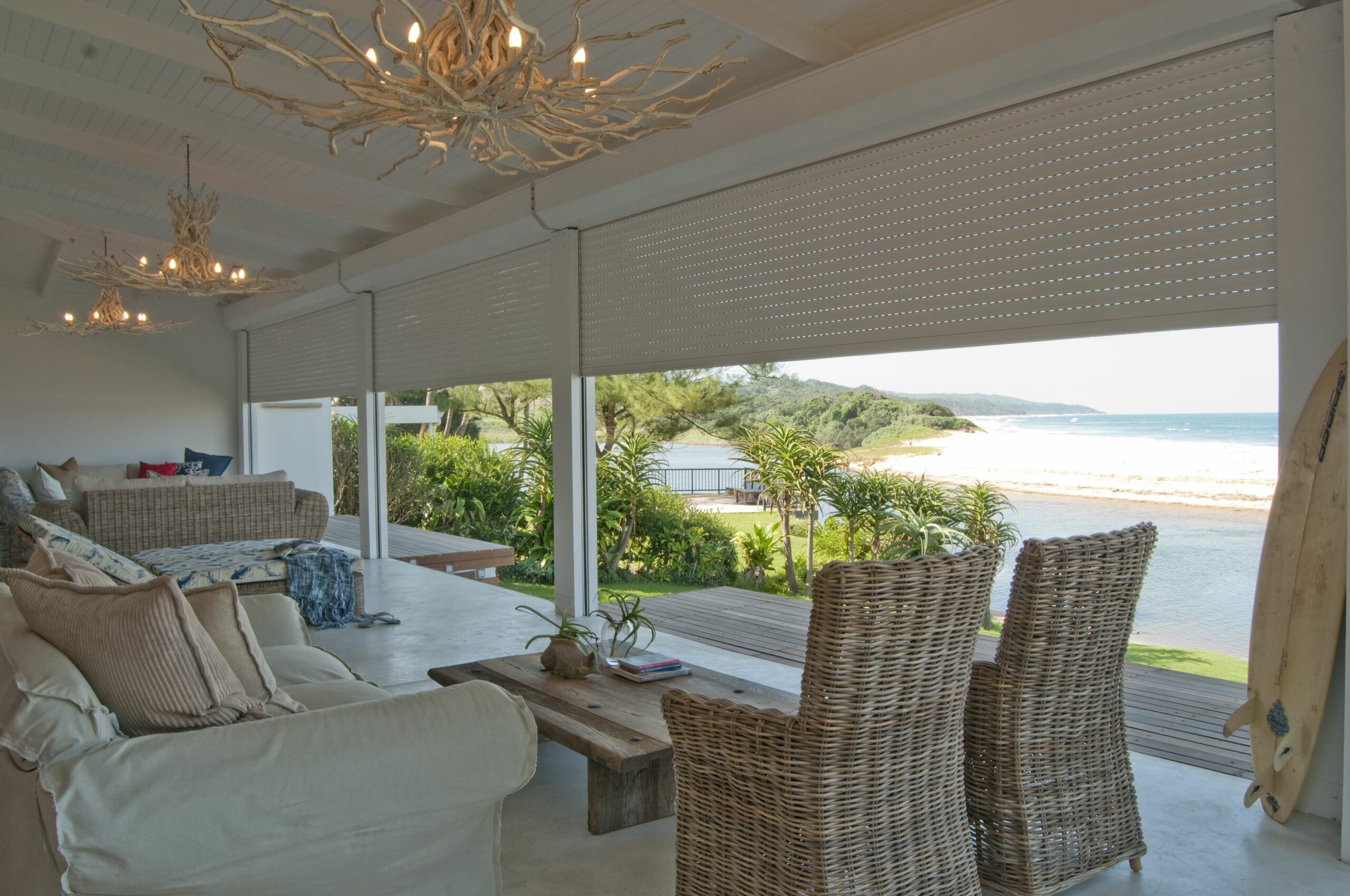 They roll up to completely reveal your holiday views Holiday homes are often about relaxing views. It could be of the sea, the bush, or the mountains. Whatever your outlook, the last thing you want is to block it with cluttered burglar proofing. So how do you stay safe while using the home? By installing roller shutters.

Roller shutters roll up into a shutter box, out of sight until you need them to create a lockdown for protection. With the right planning in a new home or an alteration, this box can be hidden inside a ceiling cavity so that you don't see it at all. What you do see is a completely open view of the reason you purchased your holiday home in the first place.

Roller shutters are an effortless security solution Trellidor Rollerstyle shutters can be fully motorised, making them the easiest form of security to use in a holiday home. You simply press a button to open or close them, either using a hand-held control or a wall-mounted panel.

Security roller shutters can be supplied with a manual override handle that is simple to fit and use if there is a power outage. There are also battery backup options. If your holiday home is in an area where power is a problem (and what part of South Africa isn't without power problems) then ask your supplier to provide these for you.

Trellidor outlets around South Africa have been fitting aluminium roller shutters to homes for over a decade. If you have any queries, your nearest authorised Trellidor franchise or branch will be happy to answer them. Or better still, visit the nearest showroom to see how these sleek, modern shutters work and what they look like.
For more ideas on the uses of roller shutters, whether it is for your holiday home or your permanent home, read about how to winter-proof your home using Trellidor Rollerstyle aluminium shutters.