TROJAN ALU CLASSIC OVERVIEW
Durable and strong aluminium sliding gates
The Trojan Alu Classic retractable security gates are manufactured from structural aluminium. They combine superior strength and long-lasting elegance in one trustworthy product for doors and windows. These gates have a neat, smooth exterior with no external rivets. They are fitted with strong Trellidor locks and are top hung, making them easy to slide open and closed. Trojan Alu Classic sliding Security gates are corrosion resistant and ideal for coastal areas and other harsh environments.
Strengthened premium sliding aluminium barriers for doors, windows and your peace of mind.
Strong and Corrosion Resistant
Trojan Alu Classic has many features that make it the perfect solution for just about any building and location.

Custom-made, fully framed aluminium sliding gates for doors and windows.

Top hung for smooth sliding action when opening or closing the gate.

The Trellidor locking system allows for full engagement of three internal locking points using one key.

Fitted with a strong Trellidor locking system for additional strength.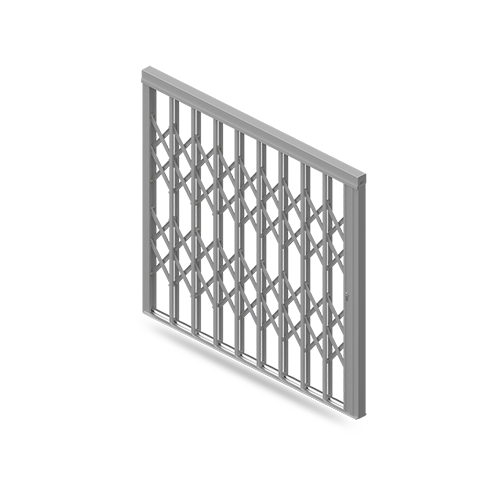 Manufactured from structural aluminium to avoid rust and coated to prevent corrosion.

Excellent quality glass-filled nylon wheels and sealed ball bearings contribute to smooth operation.

Flights link three uprights together for easy operation, increased strength and neat stacking.

Smooth exterior as there are no visible rivets.
Choose The Trojan Alu Classic
Attack tests show that the Trojan Alu Classic retractable security gate is strong and resilient, even when assaulted by a variety of tools. With its smooth, corrosion resistant surfaces and easy-sliding construction, it is the ideal choice for coastal conditions and just as suitable for inland locations too.
TROJAN ALU CLASSIC TECHNICAL
The Trellidor Alu Classic Retractable Security gate is elegant and uncluttered with no visible rivets. It is ideal for environments such as coastal areas as it is made from structural aluminium to avoid the corrosion problems associated with these conditions and to provide additional strength. These gates are top hung and engineered to open and close smoothly. They are fully framed to enhance their strength.
All Trellidor security barriers are manufactured at our LPCB ISO certified factory. The manufacturing process includes pre-treatment for enhanced corrosion and UV resistance before undergoing powder coating. This helps to retain the quality finish and increases the lifespan of the barrier, making them suitable for both coastal and inland conditions.
Single sash that locks onto one side of the unit
Double sash that lock onto each other in the centre
Flexi sash that locks onto both sides of the unit
Double flexi sash that locks onto each other in the centre and on both sides
Fixture that does not retract but stays fixed in place
Trojan Alu Classic can be custom-made for any type of door and window format including:
Fixed panels
Hinged (casement) Security doors and windows
French Security doors and windows
Bi-fold Security doors and windows
Sliding Security doors and windows
Awning Security windows
Sash Security windows
Hinge up track to lift bottom track up and out of the way
Hinge away track to allow the entire stack to swing out of the way
Angled units that lock in a corner with no need for a pillar
Doggy doors for pet access (requires customer indemnity)
Trojan Alu Classic can be colour coated to suit your style.
All Trellidor products are finished in a state-of-the-art powder coating plant, as such the colours on this page will vary from the actual product colour. This is due to the difference in the way that light reflects off different mediums.
Corrosion Resistant Coating

The Trellidor powder coating system includes a pre-treatment process that enhances our products' corrosion and UV resistance. The powder coating is ideal for coastal and inland conditions and increases the lifespan of the barrier by retaining its quality finish.
Find Out More About
The Trojan Alu Classic
Contact your nearest Trellidor outlet for more information on the new Trellidor TROJAN ALU CLASSIC and see why it adds grace and elegance at a price you can afford!
FREQUENTLY ASKED QUESTIONS
TROJAN ALU CLASSIC GALLERY