TRADITIONAL TRELLIDOR OVERVIEW
These sliding security gates have been best sellers for over 45 years. They have a robust double trellis design that opens and closes smoothly and easily. Trellidor customers can choose between steel or aluminium sliding gates. There is a choice of either the Trellidor deadlock or slamlock. These expanding gates can be custom-made to fit doors, windows, passages, patios, hatches and most other building openings, keeping them safe from intrusion.
With easy but strong locking systems, our Traditional Trellidor security gates are built with a neat, compact sash for strength under attack and smooth operation.
Trellidor Plus-T900, Trellidor Trojan II-T1000 and Trellidor Trojan III-EMESC T3000 have been strength tested by an international testing organisation and certified to Level 1, Level 2 and Level 3 respectively.
TRADITIONAL TRELLIDOR BENEFITS
Custom made to fit your door, window, or other openings.
Engineered with strengthening features to resist attack.
Neat, compact sash designed for strength and smooth operation.
Corrosion and UV resistant even at the coast.
Powder coated galvanized steel and structural aluminium trellis-style security gates.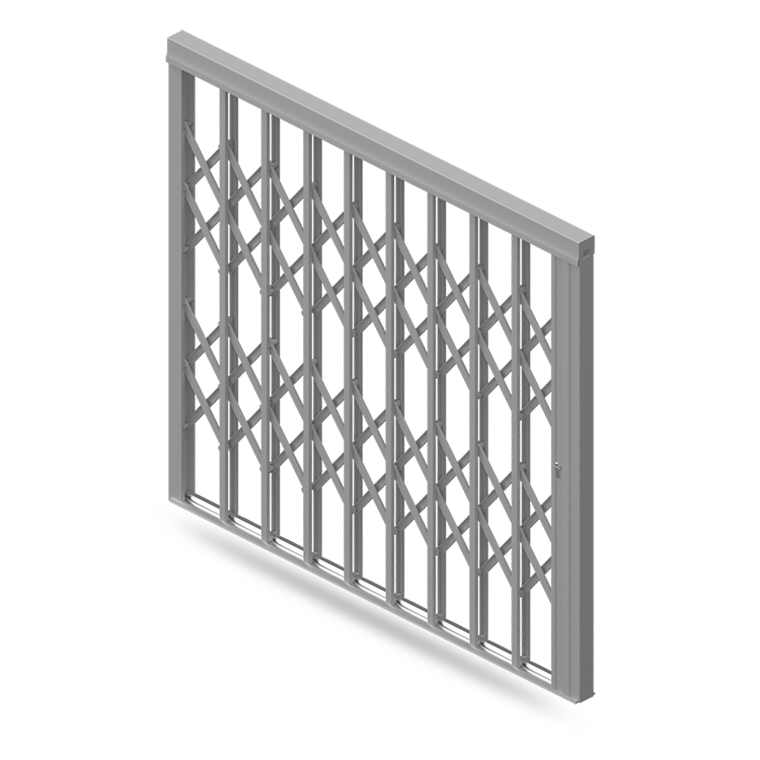 Several models to choose from according to risk profile and budget.
High end models internationally certified for strength under attack.
Carry warranties against defective workmanship, materials, and corrosion.
Special options such as curved units are available.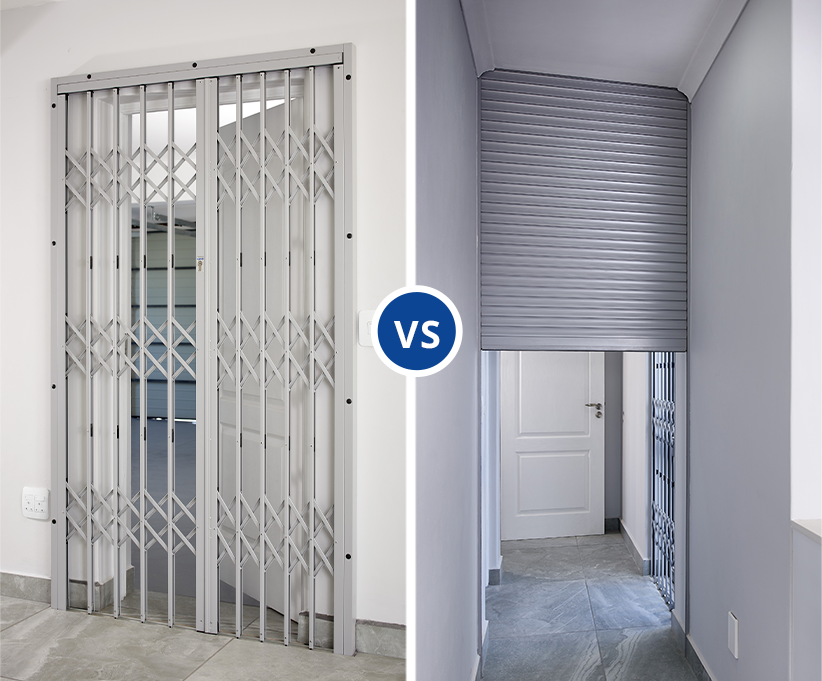 Traditional Trellidor Security Gates VS Roller Shutter Doors
Traditional Trellidor security gates slide from side to side by hand. They are locked using a key with a dead lock or slammed closed with a slam lock. Traditional Trellidor security gates have a bottom track for extra strength and easy sliding. You can see through the gates when they are closed and locked.
By contrast, roller shutter doors glide up and down inside side guides. They can be automated and operated at the touch of a button. They do not need a bottom track. You can't see through locked down roller shutter doors unless some of the solid slats have been replaced with punched viewing panels.
Traditional Trellidor security gates and roller shutter doors both provide excellent protection so to help decide which is best for you, read this ARTICLE.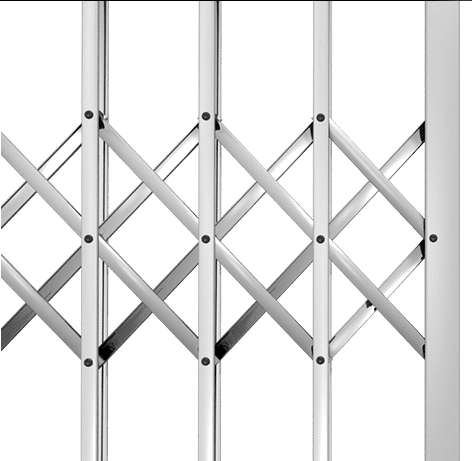 The pre-treatment used in the manufacturing process of this gate enhances corrosion and UV resistance, making it suitable for both coastal and inland conditions.
Choose a colour to suit your unique home or office decor style from our flexible range of options.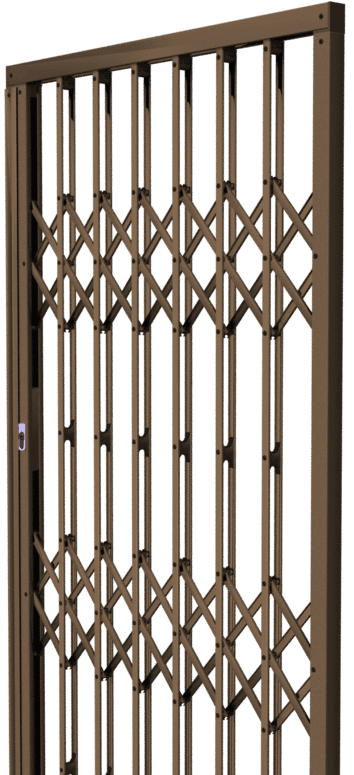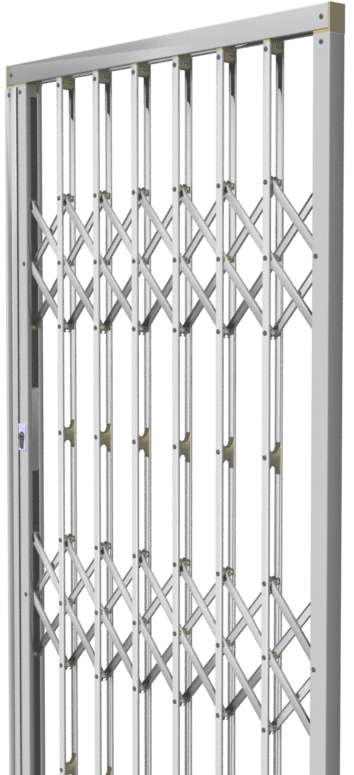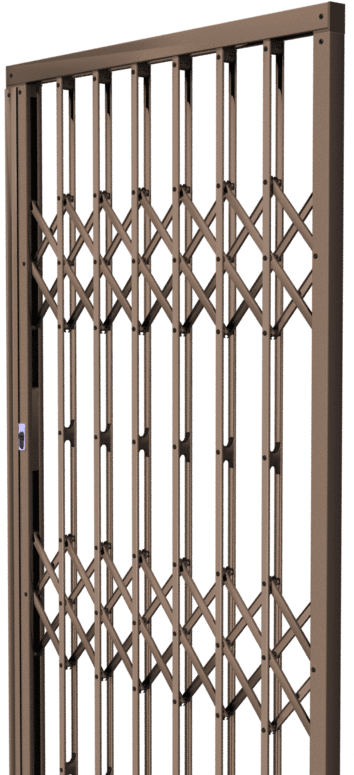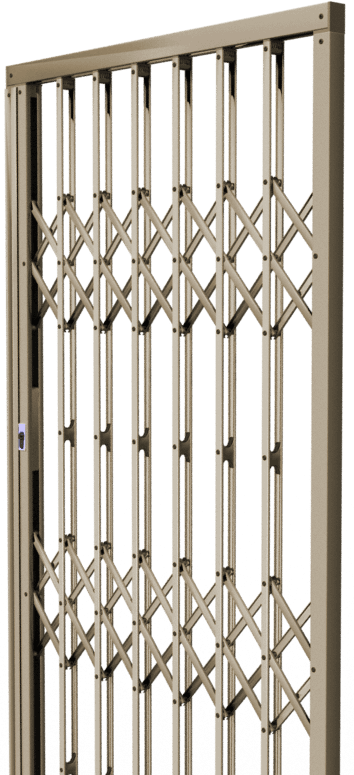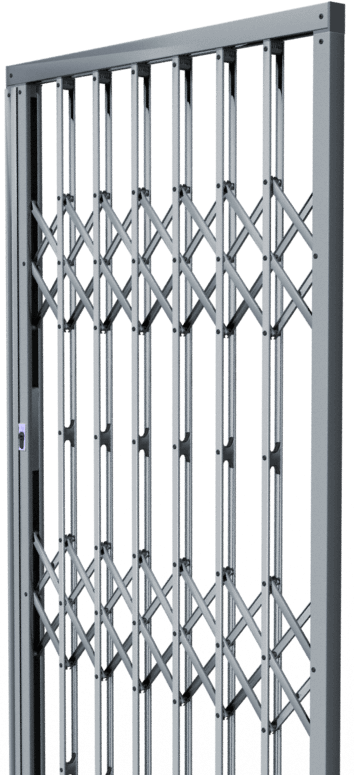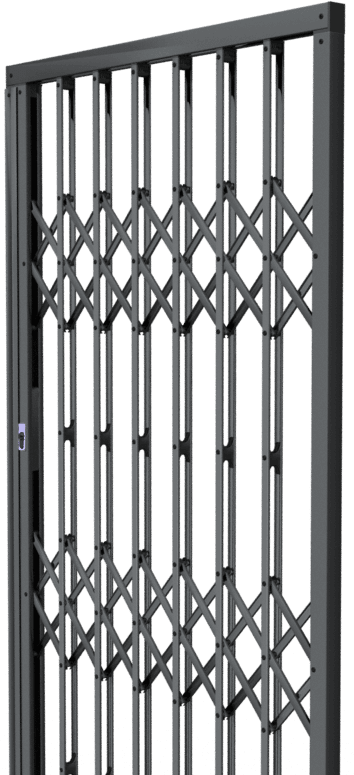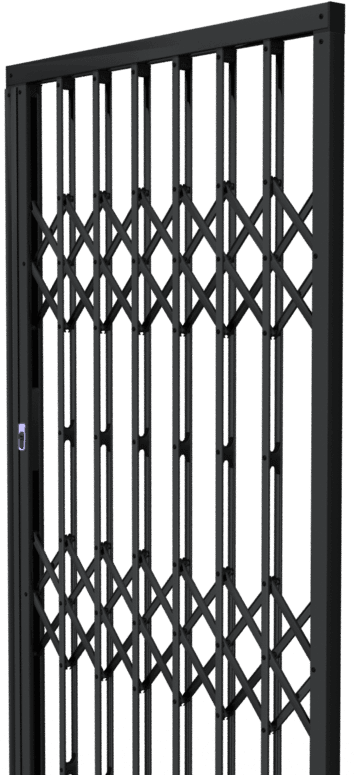 TRADITIONAL TRELLIDOR TECHNICAL
Traditional Trellidor security gates come in 2 standard (White & Matt Bronze) and 5 non-standard colours (Sand, Light Brown. Matt Aluminium, Matt Charcoal and Matt Black). Special colours are available on request, allowing you to choose a colour to best suit your decor or your corporate colours.
All Trellidor products are finished in a state-of-the-art powder coating plant, as such the colours on this page will vary from the actual product colour. This is due to the difference in the way that light reflects off different mediums.
Corrosion Resistant Coating

The Trellidor powder coating system includes a pre-treatment process that enhances our products' corrosion and UV resistance. The powder coating is ideal for coastal and inland conditions and increases the lifespan of the barrier by retaining its quality finish.
Traditional Trellidor Security Gate Usage
How to clean a Traditional Trellidor Security gate
If you clean and maintain your Traditional Trellidor security gates regularly they will slide easily and last longer, keeping you safe for many years. Cleaning and maintenance is also a condition of the warranty supplied with the slam lock or dead lock security gate when it is fitted by the Trellidor installer.
Use a premium quality (salt free) car wash liquid, mixed with water as per manufacturer's directions and a soft cotton cloth to clean the entire burglar gate.


Hard to reach areas of the sliding security gate may require the use of a soft nylon bristle brush such as a dishwashing brush.


Dry the security gate with a soft cotton cloth or chamois.


Next, apply Trellidor lubricating spray (available from your local franchise) to all moving parts, especially all hinge points inside the channel sections and into the top tracks of the burglar gate.


Shake the can of lubricating spray well, apply to a clean cotton cloth and wipe the entire retractable security gate, or spray directly onto it from a distance of about 20cm.


Wipe the excess residue off the security gate. The lubricant will form a protective barrier against moisture and contamination by airborne pollutants.


A second application may be required if the burglar gate has stood for too long without being lubricated and has become stiff, dry and difficult to operate.
Never use abrasive cleaners, detergent-based cleaners, or solvent based cleaners like scouring agents, dishwashing liquids, washing powders, thinners etc. These could adversely affect the expected life of the sliding security gate.


Do not spray into the keyhole of the dead lock or slam lock cylinder where the key fits!


Remember to read the warnings on the lubricating spray label as the product is highly flammable, must not be ingested and is irritating to eyes and skin.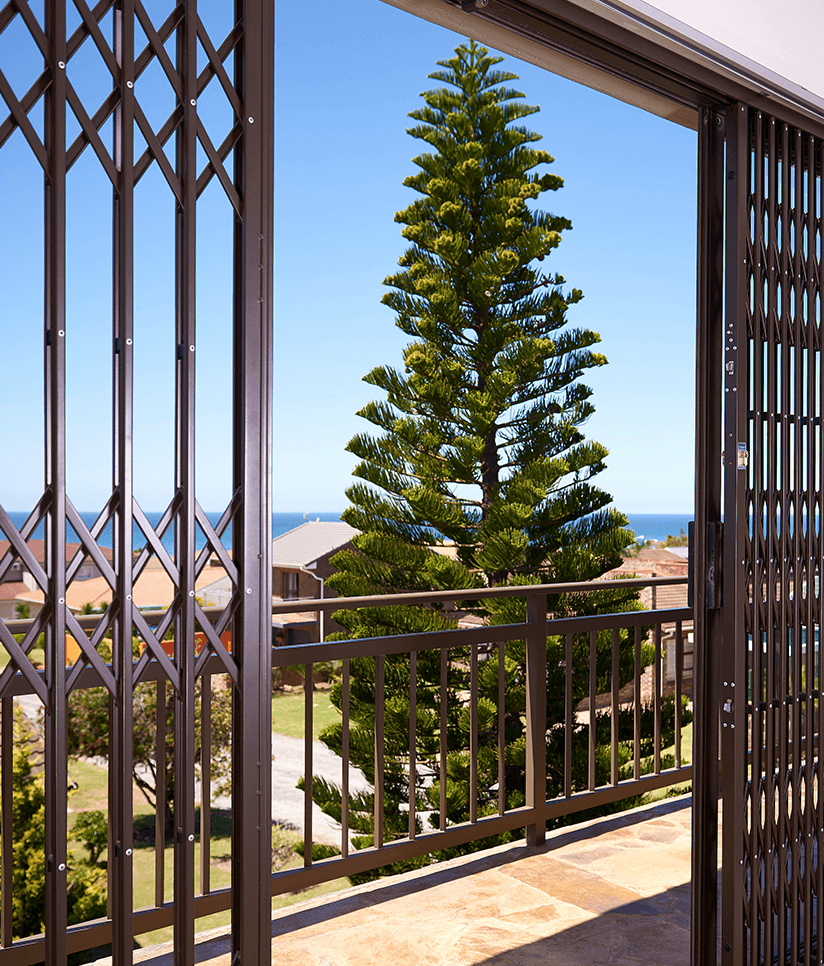 SLAMLOCK VS. DEADLOCK SECURITY GATES
Difference between slam lock & dead lock security gates
A Traditional Trellidor security gate fitted with a slam lock can be slammed shut and locks automatically.  You'll find this type of lock fitted to steel and aluminium trellis security gates that slide open and closed. A Traditional Trellidor security gate fitted with a deadlock is closed and then locked by turning a key in the lock and can be fitted to a similar type of security gate.
There is a misconception in the marketplace that slam locks are always the best for steel and aluminium security gates.  But realistically, it is highly unlikely that you'll ever need to slam a lock in an emergency. Home invaders are more likely to get into your home through a door that's left unlocked. Or they try to break in through a door or window with no burglar gate or bars. So it is better to have a strong dead lock.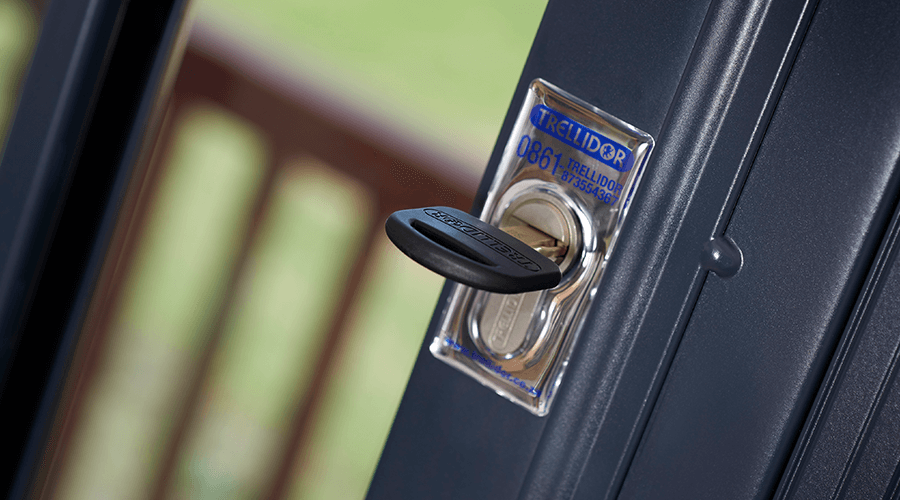 A sliding security gate fitted with a dead lock gate requires a key to lock it when the trellis gate is closed. These locks were invented by Jeremiah Chubb in England in the 1800's. The Chubb company is known for its safes and locks. Well-made dead locks are usually strong and robust when attacked.
A sliding security gate fitted with a slam lock gate automatically locks when you slam the trellis gate shut. The concept originated with the Yale lock, invented in the late 1800's in America. It is a convenient locking system but is not always the strongest type of burglar gate lock when attacked.
Interesting Facts about
Traditional Trellidor Gates
Trellidor has manufactured sliding security gates for over four decades.
Trellidor is the only South African sliding security barrier manufacturer to achieve international ratings.
Traditional Trellidor Security gate locks are the strongest on the market and specially made for our gates.
Each Trellidor trellis gate has a computer cut key with a unique identifying number for added safety.
The Trellidor built-in quality control system checks Traditional Trellidor Security gates during every step of their journey to your door.
Our security gate manufacturing process contributes towards the UN's Sustainable Development Goals.
With Trellidor you can choose between steel or aluminium Traditional Trellidor Security gates.
We fit dead locks into our sliding security gates because they are strong and robust.
Explore Our Retractable Security Web Stories
FREQUENTLY ASKED QUESTIONS
TRADITIONAL TRELLIDOR GALLERY