Trellidor Coroview slimline sectional overhead doors are made from extruded aluminium frames and toughened glass panels. They provide high visibility and are ideal for full opening applications. These doors are popular for fire stations, fitment centres, motor dealer showrooms, retail stores, garages, and verandas.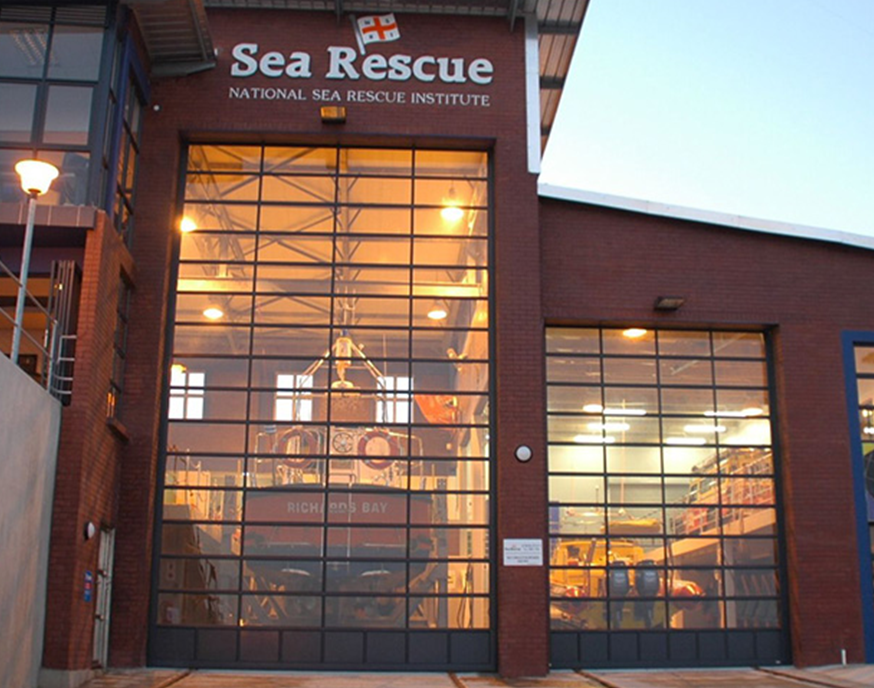 Corrosion Resistant
And Robust
The galvanised steel tracks, hinges, and fittings are corrosion resistant and provide long, trouble-free service. The extruded aluminium frames are designed to achieve the maximum strength to weight ratio. A unique clip-in system prevents glass panels from accidentally falling out.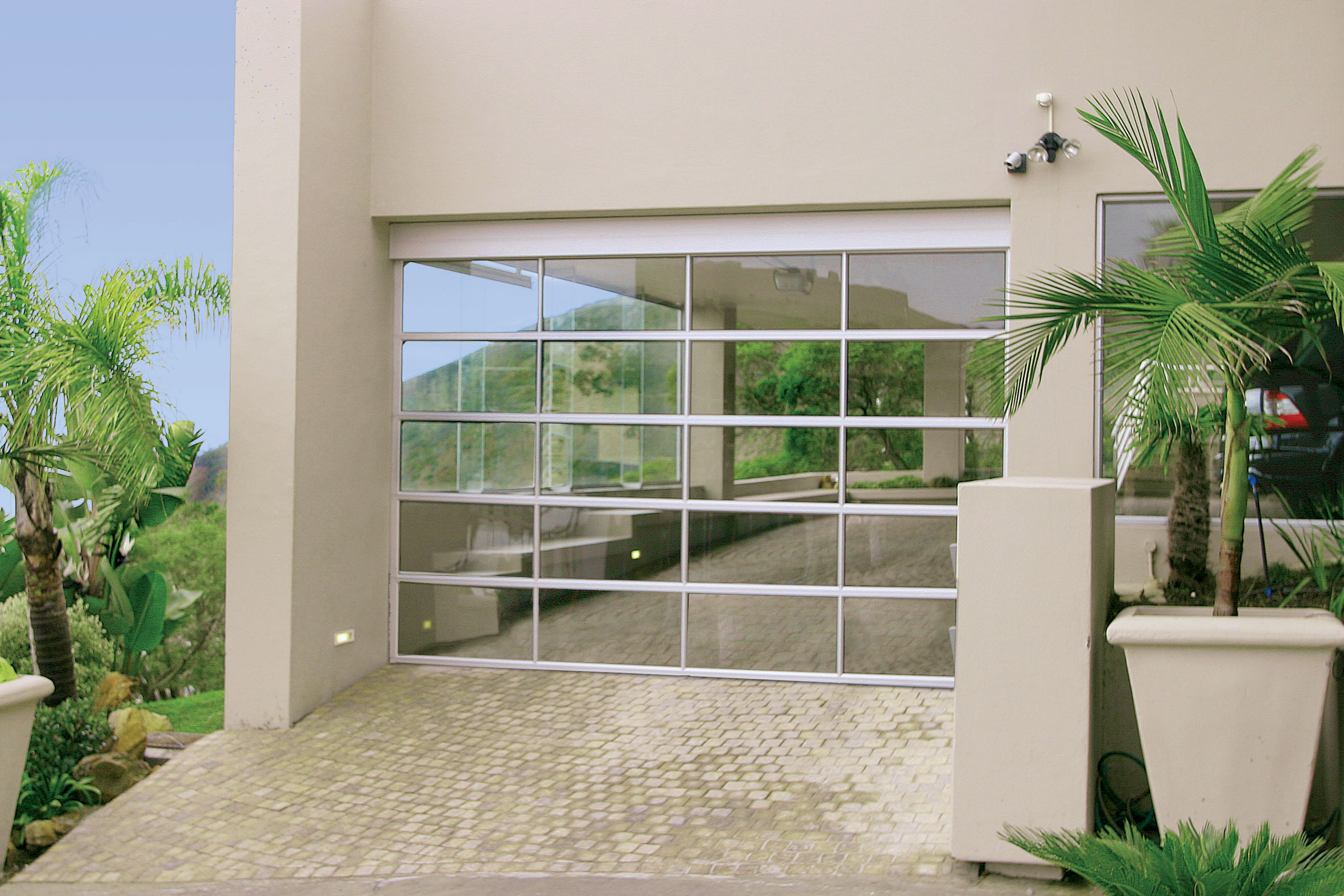 Designed To Customer
Specifications
Customers can choose 4mm toughened glass, 6.38mm laminated safety glass, and/or infill panels of powder coated aluminium. Door frames are powder coated according to customer preference. Each door is custom manufactured to suit the opening.
TRELLIDOR COROVIEW TECHNICAL
Trellidor Coroview access control sectional overhead aluminium and toughened glass doors are custom designed, manufactured and installed for each opening, including larger spaces. They are strong, low maintenance, easy to operate, quick to open, attractive in appearance and cost effective.
Traditionally, Trellidor Coroview doors have been specified for fire stations, NSRI buildings, fitment centres, motor dealer showrooms and retail stores. But they are proving increasingly popular for residential garages and verandas because they have visual appeal, can be opened to enjoy good weather, and closed to provide protection without obscuring the view.
Manufactured from extruded aluminium profiles using unique dies, the frames are designed to achieve maximum strength to weight ratio. Additional wing ribbing can be added to wider doors.
The profiles are framed with matching mullions and pressure locking, internal glazing beads conforming to international 'Slim Line' specifications.
Strength and rigidity is created through twice bolted through side mullions; horizontal rails with a 50mm stiffener to cater for wide doors; and double tie rods at the panel ends.
A unique clip-in "B" system prevents the glass panels from accidentally falling out of the door frame.
Choice of 4mm toughened glass and 6.38mm laminated safety glass, with a 15mm rebate in accordance with international standards for moving glass panels.
Glass panels can be replaced with infill panels of powder coated aluminium for an attractive, ventilated security door for parking garages or any opening requiring durability, security, ventilation, and aesthetics.
The doors are custom crafted to suit all openings. Trellidor Coroview sectional doors normally require 450mm headroom, excluding the required motor clearance.
Tracks, hinges, and fittings can be powder coated to match the door to provide additional corrosion protection.
​Trellidor Coroview doors are custom crafted to suit openings up to a maximum of 7.5m wide by 12m high. They are available in three different formats, depending on the requirements of the location:
STANDARD sectional overhead with tracks that lift the door up above the opening and inwards at a 90° angle (or aligned to the roof pitch).
HIGH LIFT sectional overhead, that lifts the door vertically in its tracks to a specified height before bending inwards.
A VERTICAL RISER that lifts the door straight upwards in vertical tracks, and not inwards.
Trellidor Coroview doors are powder coated in colours specified by the customer, including corporate colours.
All Trellidor products are finished in a state-of-the-art powder coating plant. The Trellidor powder coating system includes a pre-treatment process that enhances our products' corrosion and UV resistance. The powder coating is ideal for coastal and inland conditions and increases the lifespan of the barrier by retaining its quality finish.
Should you have any concerns or would like to see the actual powder coated colour, please speak to your Trellidor consultant who will be able to provide you with a physical sample.
Trellidor and The Ultimate Crime Barrier are registered trademarks of Trellicor (Pty) Limited. As a conscientious consumer please remember that given enough time and the right tools, all security barriers can be breached no matter how well they're constructed. As a responsible manufacturer, however, we endeavour to design, engineer, test and install all our products to give our customers the best possible security barriers the technology at the time allows.