Smooth Sliding Trellis-Style
Security Gates
Trellidor Trojan Classic has been our best selling trellis-style sliding security gate since 1976. It has few rivals in terms of strength. These smooth sliding gates provide your home or business with superior, resilient protection in a neat, compact gate with a strong lock that engages in several locking points using just one key.
With easy but strong locking systems, our Traditional Trellidor Security gates are built with a neat, compact sash for strength under attack and smooth operation.
Trellidor Plus-T900, Trellidor Trojan II-T1000 and Trellidor Trojan III-EMESC T3000 have been strength tested by an international testing organisation and certified to Level 1, Level 2 and Level 3 respectively.
Strong and Corrosion Resistant
Trojan Classic has many features that make it the perfect solution for just about any building and location.
With our Trellidor configuration videos, you can explore our product ranges with security barrier styles on doors and windows. View different designs, colours and configurations before making your choice. All without having to leave the comfort of your home.
The Trellidor Trojan Classic has been engineered to provide top-quality protection in a neat, compact format that glides open and closed smoothly. It is an affordable design that provides superior security due to in-built strengthening features and a strong lock.
Single sash that locks onto one side of the unit
Double sash that lock onto each other in the centre
Flexi sash that locks onto both sides of the unit
Double flexi sash that locks onto each other in the centre and on both sides
Fixture that does not retract but stays fixed in place

ANTI-LEVER SHROUD
To prevent attacks on the locking system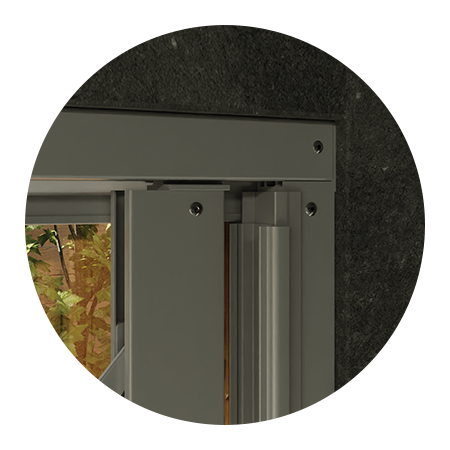 Trojan Classic can be custom-made for any type of door and window format including:
Fixed panels
Hinged (casement) Security doors and windows
French Security doors and windows
Bi-fold Security doors and windows
Sliding Security doors and windows
Awning Security windows
Sash Security windows
Hinge up track to lift bottom track up and out of the way
Hinge away track to allow the entire stack to swing out of the way
Angled units that lock in a corner with no need for a pillar
Doggy doors for pet access (requires customer indemnity)
Trojan Classic can be colour coated to suit your style.
All Trellidor products are finished in a state-of-the-art powder coating plant, as such the colours on this page will vary from the actual product colour. This is due to the difference in the way that light reflects off different mediums.
Corrosion Resistant Coating

The Trellidor powder coating system includes a pre-treatment process that enhances our products' corrosion and UV resistance. The powder coating is ideal for coastal and inland conditions and increases the lifespan of the barrier by retaining its quality finish.
Find Out More About
The Trojan Classic
Contact your nearest Trellidor outlet for more information on the new Trellidor Trojan Classic and see why it gives you peace of mind protection at a price you can afford!
Explore Our Trojan Classic Web Stories
FREQUENTLY ASKED QUESTIONS