Corporate Social
Responsibility
Trellidor actively considers sponsorship requests within the communities in which the company operates. Trellidor Head Office projects are independent of Trellidor franchise initiatives, although there are sometimes joint projects that we work on together.
In all cases it is vital that we maintain our independence and do not allow external partnerships to bring the name of Trellidor into disrepute. We also seek to ensure that the activities of organisations we work with are consistent with our organisational values.
Trellidor Durban South secures Durban Child and Youth Centre
It seems that even a home sheltering destitute children isn't immune to robbery.  Trellidor Durban South recently came to the aid of The Durban Child and Youth Centre, a Non-Governmental Organisation that cares for children in need, securing their premises after a series of break-ins.
The centre is more commonly known as the Durban Children's Home and has been caring for children since 1905.  They lost items such as an entertainment centre and home theatre system, an urn, microwave oven, food school bags and chairs in two burglaries.  Fortunately the third attempted break-in was unsuccessful.
The centre receives 40% of its funding from government.  The remaining 60% is attained from donations and fund raising, so a loss like this is devastating.  The staff turned to the media to highlight their plight, and raised awareness of their need for help through East Coast Radio and Independent Newspapers.
The appeal caught the attention of Mat Goetsch, owner of Trellidor Durban Central and South, and the franchise came to the rescue, with the assistance of Trellidor Head Office.  Mat and his team installed Trellidor Retractable gates on the doors and Burglar Guard to the windows, using the flat bar to match some of the existing burglar proofing.
"We were glad to be able to help and appreciated the staff thanking us for being 'the ultimate crime barrier' in a lovely Facebook post," said Mat.
To find out how you can help the Durban Child and Youth Centre, please visit their website.
Find your nearest Trellidor franchise showroom.
Pictured at the Durban Child and Youth Centre from left to right: Bongiwe Buthelezi (Child & Youth Care Worker); Sarah Duthie (Office Administrator); Peter Nyawose (Senior Child & Youth Care Worker); with Steven Matthews (Trellidor Durban Central & South Sales Consultant).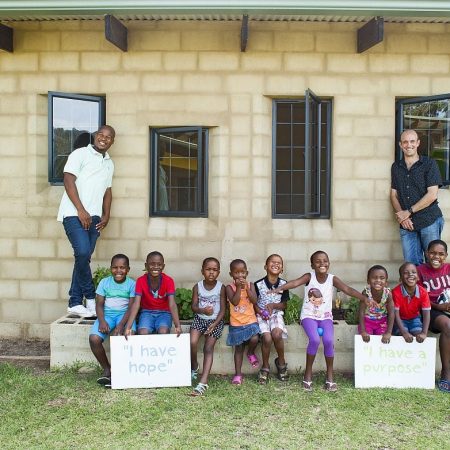 Why we love helping to keep children safe
Trellidor Marketing Co-ordinator Shannon Botha recently visited Ingane Yami Children's Village with photographer Patrick Royal to take pictures of Trellidor Cottage Guard burglar bars and Trellidor Premium retractable gates we'd installed there.  What they left with was a great selection of photos of happy children and a sense of joy in what they'd been part of.  Here is how the day unfolded, in Shannon's words:
Ingane Yami Children's Village is home to children left destitute by the AIDS pandemic and is located near the peaceful Shongweni Dam outside Durban. Upon arrival, Patrick and I were welcomed by Pastor Scott Hamilton, Pastor Bhekinkosi Masikane, who is House Father to the children, and the smiling faces of the children of the village.  
We wanted to capture the happiness and joy of the children living here.  It was a hot summer's day in Durban, but the children were happy to help, lending their smiles to Trellidor for the day, and inspiring me with their warm hugs and 'high-fives'.
During the photoshoot Pastor Bheki explained that each child has a unique story.  I was touched by his kindness and how he opens his heart to all the children as if they were his own. It was an absolute blessing to be a small part of the children's now-safe journey, after all children are our future.
Trellidor has secured a total of 5 homes in the village, each house having burglar proofing on the windows and security gates on the doors. As the market leading company in our industry we feel it is our responsibility to ensure that peace loving South Africans feel safe and secure in their homes and offices, so we were delighted to be able to help these children.  Ingane Yami plan to build a further 20 homes to make the hopes and dreams of more children come true.
Because it was such a hot day I asked Pastor Bheki where the children could swim in summer and he said he often takes the children to the Shongweni waterfall to cool off on days like these.  It would be delightful for the community to get involved in assisting with a swimming pool for the children to have their swimming lessons at home, in a safe environment, and I encourage anyone who is able to help to get in touch with him.
To find out more about Ingane Yami Children's Village and how you can help, please visit their website.
Read more about this installation or find your nearest Trellidor franchise.
Contributor: Shannon Botha
Picture captions:
File name 'Trelli 0097':
Pastor Bheki and Pastor Scott with happy kids at Ingane Yami Children's Village
File name 'Trelli 0072':
Trellidor's Shannon Botha and some of the children she spent the day with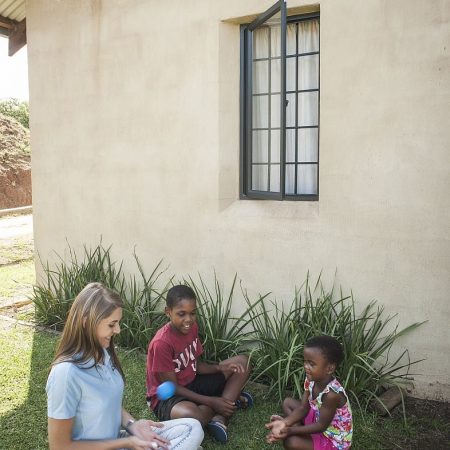 Trellidor part-sponsors security for LIV children's village
Trellidor has part-sponsored Trellidor Premium retractable gates and Trellidor Burglar Guards to protect computers and other assets at the LIV children's village near Verulam in Kwazulu-Natal.  The village is currently home to 52 orphaned and vulnerable children and the 14 moms that care for them.  The areas that needed securing include the Church, the computer room and the administration offices.
LIV (Lungisisa Indlela Village) is a non-profit organisation committed to uplifting the lives of orphans and vulnerable children.  It was started by ex-SA cricketer and Natal rugby player Tich Smith and his wife Joan.  The village provides holistic residential care for these children, centred around the Church and including quality education.
"Our support for LIV is in keeping with our commitment to helping the most vulnerable of South Africa's children wherever it is possible," said Trellidor Commercial Manager Paul van Blerk, who was instrumental in getting the required security barriers installed at the village.
To find out more about LIV visit http://www.liv-village.com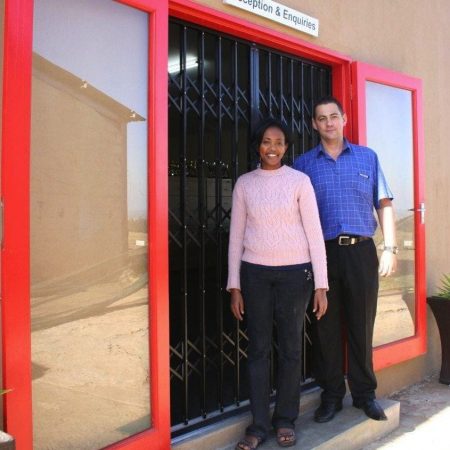 Trellidor Lansdowne assists Vukani Educare Centre in Khayelitsha
Vukani Educare Centre in Khayelitsha, Cape Town, caters for children with disabilities.  Sadly, it has become an easy target for burglaries.  The centre has been supported by the Rotary Club of Newlands since Founder and Principal Lindelwa Madikane started setting it up in 2006.  John Petersen, owner of Trellidor Lansdowne, stepped up to help with physical security for the centre. Graham Finlayson, President of the Rotary Club of Newlands wrote: "On behalf of Vukani Centre, an organization that provides services and facilities for severely physically and intellectually challenged children, and The Rotary Club of Newlands, we thank Trellidor for the significant CSI contribution to Vukani. Our Club, supported by other funders, built the original rooms in 2006 and earlier this year we increased the capacity by adding additional rooms. Together this provides capacity for fifty children. Regrettably the facility has become an easy target for break-ins and theft. The alarm system proved inadequate as the intruders were able to leave the premises before armed response arrived. Introducing the Trellidor barrier security will provide further discouragement to the criminals." John Petersen and his Trellidor Lansdowne team installed three
Trellidor Premium retractable gates
at the centre.  They will help protect the front door and two classroom doors from further break-ins, acting as an additional layer of security together with the alarm and armed response service. Find your nearest
Trellidor franchise
. Read about the
Trellidor corporate sponsorship policy
.
Caption to image file name 'New Trellidor Retractable gates for Vukani Centre':
Jacques Moses (Trellidor Lansdowne Sales Consultant) hands over one of three new Trellidor Premium retractable gates at Vukani Educare Centre to Graham Finlayson (President of Rotary Club of Newlands).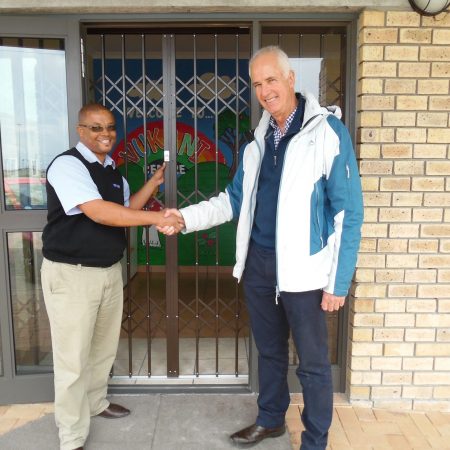 Trellidor secures ceres school
Trellidor head office has ensured the safety of the children attending Oppie Koppie Early Childhood Development Centre in Prince Alfred Hamlet, Ceres. "We provided the school with security gates for the four new classrooms built during a recent expansion," said Trellidor Franchise Manager Bianca Steele "We believe that everyone has the right to be safe and these children were vulnerable as their school is situated in a poverty stricken area with high unemployment.  The school underwent an expansion due to the influx of job seekers and their families."
The expansion was sponsored by Coca-Cola Peninsula Beverages (CCPB), The Vuya Foundation, Henkel South Africa, the Rotary Clubs of Newlands and Pinelands, Trellidor and The Ackerman Family. The number of classrooms was doubled and the ablution facilities now cater for 150 children.
The fact that even after this major expansion the school still has a waiting list is an indication of the huge need for this type of facility.  Early Childhood Development is a critical phase in a child's life and centres such as these set them firmly on the road to success.
The security gates installed at the school are Trellidor Retractable sliding steel gates that are strong as well as lockable. They are designed to protect the children as well as all the teaching equipment supplied to the school.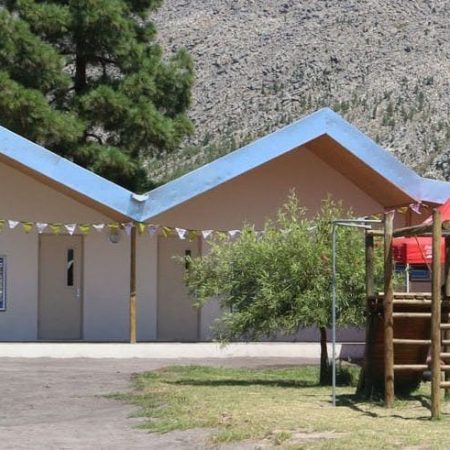 Trellidor supports Seed of Hope Community Development
A big THANK YOU to the team from Trellidor who donated and installed burglar guards and security gates for our newly refurbished Bake for Profit training facility! We are truly grateful for this donation that will keep our building and equipment safe.
This was the lovely message shared on Facebook by Seed of Hope Community Development after a Trellidor head office team had installed Trellidor Premium Retractable gates and Trellidor Fixed burglar proofing at their premises in Amanzimtoti outside Durban in KwaZulu-Natal.
One of Seed of Hope's programs enables people to gain practical skills for employment or entrepreneurship and this is where we were able to help," said Wayne Halgryn, Trellidor Materials Manager, who is responsible for Trellidor community outreach initiatives.

This community development organisation reaches over 500 local residents each month. They participate in one or more of the programs on offer at Seed of Hope's premises, in local schools and in their homes.
Some of their programs include sewing training, employment preparation, computer training and life skills and leadership training.

Seed of Hope is a registered Non-Profit Company (NPC/Section 21 Reg. #2003/011000/08; PBO #930 007 858; NPO #089-374-NPO). To assist them in their endeavours, please visit their website.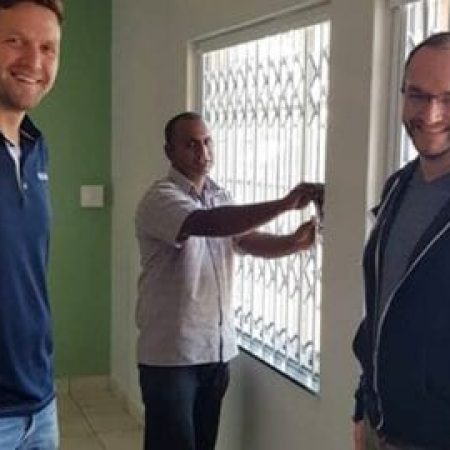 Trellidorians make a difference by donating blood
The SANBS van arrives at Trellidor head office every month and has a good turnout from factory and administration employees. Donors can donate safely every eight weeks, so there is a different group donating every month.
During the first week of November Trellidor had 19 people lining up to donate. The SANBS team always check your state of health to make sure it is safe for you to donate. This includes screening tests such as blood pressure, hemoglobin level and pulse rate, amongst others. At the end of the checking process, 12 people were fit to donate blood.
Apparently a unit of blood can save a minimum of three lives as the blood is separated into red blood cells, plasma and platelets and used accordingly. If you are healthy and lead a low risk lifestyle, you could be a much-valued blood donor, helping to save lives.
Please visit the SANBS website to find where you could do this. They have some excellent graphics that show you the national stocks of all the blood types.
If you become a blood donor, don't forget to ask about becoming a bone marrow donor too. A simple test on your blood will show whether or not you are a good candidate. For more on bone marrow donation, visit The Sunflower Fund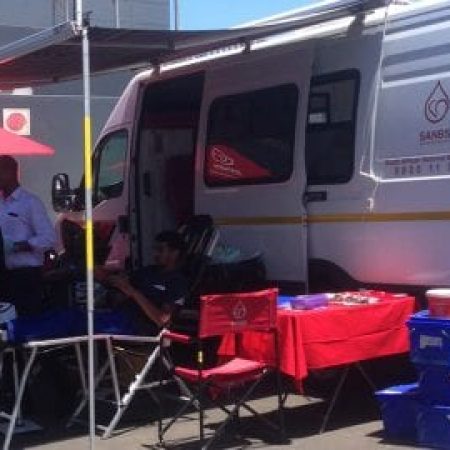 Trellidor secures children's village
Trellidor head office, assisted by Jonathan Coetzee, owner of Trellidor Highway, have secured Ikethelo Children's Village (https://www.ikhethelo.org/) in the Valley of a Thousand Hills outside Durban. This is a place of safety for orphaned children where they are provided with loving homes and given a strong foundation for a successful life, said Trellidor Materials Manager Wayne Halgryn, who runs the Trellidor Corporate Social Responsibility program. As reported in the Highway Mail (Friday 3 August 2018), Trellidor donated 10 
Trellidor Retractable
 security gates, one for the front door of each of the children's cottages.  The village's manager Graeme Wright was quoted as saying that there had previously been a break-in at the village with a TV and telephone being stolen.
I am glad that the children were unharmed but the incident created alarm and fear in the village, he said. It got to the point where the children were pushing their sofas up against the doors at night. The Trellidor donation was facilitated by the Rotary Club of Hillcrest, who approached Trellidor for assistance in security the cottages for the residents.  After installing the 10
 security gates
, Wayne and his team organised a hand-over day, which was well attended by a large Trellidor head office team as well as the children, their mothers and Rotary representatives. We made lunch for the children, handed over soccer balls and played soccer with them. For dessert we had a cake donated by Denise's Celebration Cakes. We all had a wonderful day with these happy children, said Wayne. Find your nearest Trellidor franchise Find out more about 
Trellidor Premium retractable gates.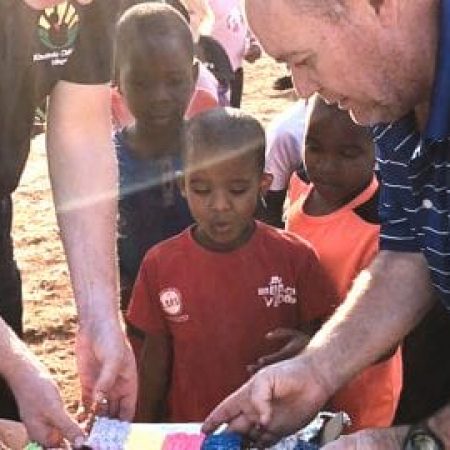 One month into the new financial year, the Trellidor Corporate Investment program is already up and running. Trellidor Materials Manager Wayne Halgryn has been tasked with facilitating the program and he has not been short of help. Many staff members have been involved, in particular, Field Technical Manager Ryno du Preez, who completed the installations.

The first project for the year was to secure two KwaMashu creches with Trellidor Retractable T800 security gates on the doors and Trellidor Burglar Guard burglar bars on the windows. Zamimfundo Creche and Zamani Creche are pre-schools run by Grandmothers in this community. They look after children so that their young mothers can complete their schooling.

These creches are supported by Feed the Babies Fund, which provides the children with a nutritious meal each day. The Fund has been providing meals to children in need since 1957. Their objective is to eliminate malnutrition among babies, giving them a fair chance of a good education and strengthening their immune systems.

Project Manager Sibo Groenink wrote:

Thank you for your recent generous gift of Trellidor (security barriers) to Zamani Creche Newtown and Zamimfundo Creche in New River, Inanda. Your donation has changed the lives of carers and children in both creches.




Zamani Creche burnt down a few months ago and with the assistance from various corporates such as yourselves, we were able to have the premises rebuilt, painted and restocked. The inclusion of Trellidor (products) to safeguard their belongings was the final requirement to finish off the task we started last year. The matching of the Trellidor (security gates) to the colour of the wall paint was an unexpected bonus.

Zamimfundo Creche was burgled during the Easter holidays this year and the thieves took off with their gas stove, creche posters, stationery and other valuables. With the new Trellidor (barriers) installed their items are now safe from any further such intrusion.

Once again we would like to thank Trellidor for their generosity in safeguarding these two needy creches. Your teams were highly professional in their delivery and showed genuine empathy for the staff and children in the creches.




Feed the Babies Fund's mission to create change in the lives of pre-school children has been enhanced by your donation and encouraged us to continue the work we do. Without organisations such as Trellidor we would not be in a position to fulfil our mandate. Thank you.




Wayne and Ryno were ably assisted by some of the more curious children who were fascinated by the equipment being used to fit the security gates and burglar guards. After completing the installations, Wayne and Ryno spent some time with the children and their carers, sharing delicious cupcakes made by Denise Halgryn as well as fruit juices and sweets.

Find your nearest Trellidor franchise to see samples of the security gates and burglar bars fitted at the creches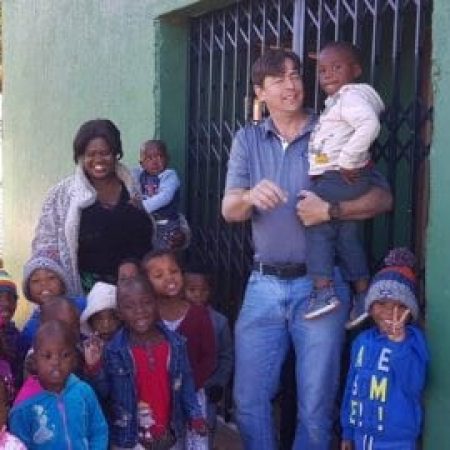 Join Trellidor in supporting The Sunflower Fund
Trellidor head office has sponsored The Sunflower Fund for 12 years and participates in the annual Ball that they organise to raise funds for this very important cause.  The Sunflower Fund is a non-profit organisation registered in South Africa. They are dedicated to creating awareness through education and raising funds to cover tissue-type testing for the recruitment of blood stem cell donors.

The fund's website notes that those that attend the event are in effect helping to pay for the recruitment of new blood stem cell donors.  Donors offer the hope of life to patients diagnosed with life-threatening blood diseases like leukaemia, and are in need of a blood stem cell transplant from an unrelated matching donor.Read more (https://www.sunflowerfund.org.za/12th-annual-sunflower-fund-charity-ball-11-may-2018/)

The tissue typing of each donor currently costs The Sunflower Fund R3000 per test, so monetary donations are as critical as blood donations.  There is lots of fear surrounding becoming a blood stem cell donor, so it's a good idea to visit the FAQ page of The Sunflower Funds' website (https://www.sunflowerfund.org.za/about-us-parent/get-educated-faqs/) and see that there is nothing to be afraid of.  After reading through the explanations of how it all works, perhaps consider becoming a donor and increasing the fund's database.

This year, Trellidor sponsored a table at The Sunflower Fund Ball held in Durban in May at the Southern Sun Elangeni Hotel.  Trellidor also sponsored a cash donation of R20 000 to assist with increasing The Sunflower Fund donor register.

At Trellidor we believe that everyone has the right to be safe. As manufacturers of security products we see this from a personal safety perspective, but it also extends to our health.  That is why we support The Sunflower Fund in KZN and have done for so many years.

We value our relationship with this vital cause and its committed organisers and contribute towards their drive to increase the bone marrow donor registry in South Africa wherever we can, said Trellidor Marketing and Sales Director Peter Rawson.

Find your nearest Trellidor franchise showroom