Trellidor Rollerstyle Shutter
Trellidor Rollerstyle aluminium roller shutter doors provide effortless protection for homes and businesses. They are custom-made to fit doors, windows, and other openings. The range of models offers single and double walled options and varying slat heights. The choice of model will depend on the level of protection required by the location.
Roller shutters can be fitted internally or externally and roll up neatly into a shutter box when not required. They are motorised, remote controlled and can be incorporated into a 'smart home' system. Fitted to passages or on stairways, they create a secure zone for personal safety.
Aluminium roller shutter doors don't require much space so they're perfect for indoors. Use them to block off doors, windows and kitchen hatches.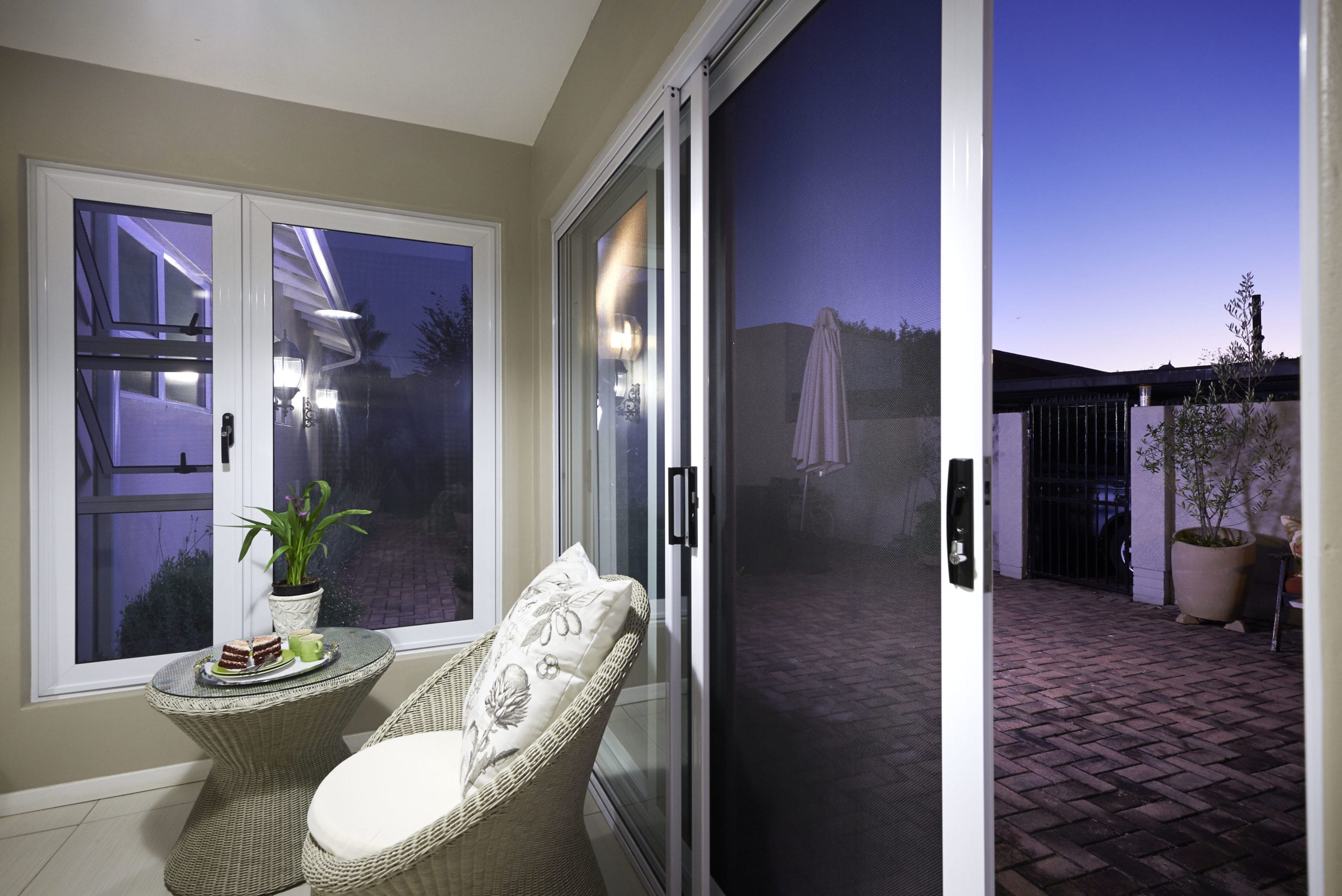 Available in multiple configurations to match wide range of door and window styles.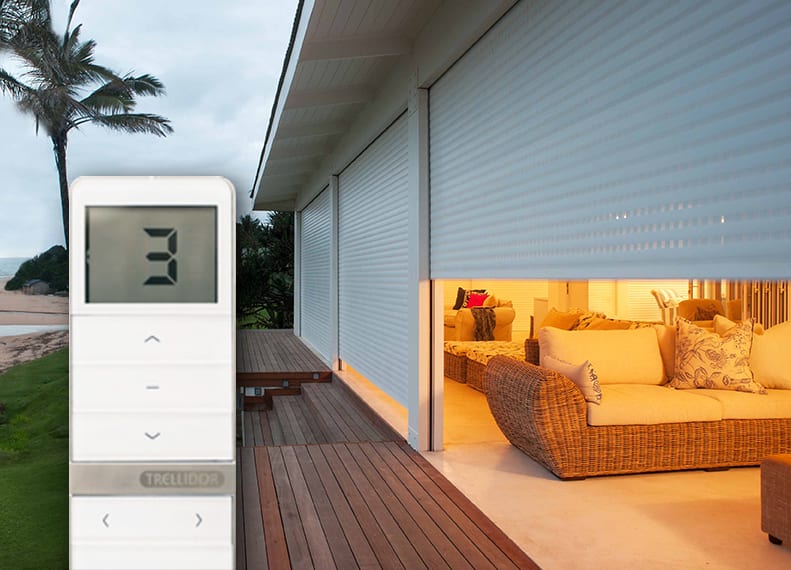 modern lifestyle
roller shutters
Roller shutter doors slide up and down inside narrow side guide channels that can be
neatly recessed into the wall. And they don't need a bottom track, so there is no
tripping hazard.
No Clutter Roller Shutters
Roller shutters are custom-made for a perfect fit. They roll up into a neat, compact shutter box when not in use. The shutter box can be hidden in a ceiling cavity with pre-planning before a new build or alteration. These shutters can easily be retrofitted.
Shutters Keep More Than
Intruders At Bay
Roller shutter doors provide a high level of security. They also protect against vandalism; create privacy from outside observers;  assist with internal thermal insulation; block out external weather conditions; reduce internal or external noise transmission.
Rollerstyle shutters are strength tested to the same exacting standard as every genuine Trellidor product.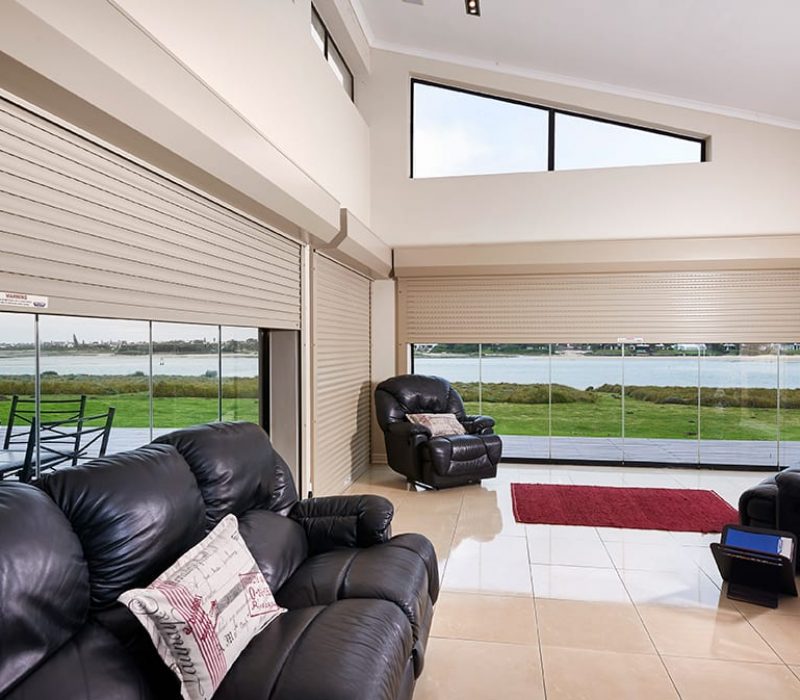 Trellidor Rollerstyle for a secure lifestyle
Trellidor Rollerstyle provide a neat, compact security solution for doors, windows, patios, bar counters, serving hatches, canteens, medical dispensaries, multi-media conference rooms and many other locations. They lock down the premises and present a formidable obstacle to intruders, making them ideal for any unoccupied premises such as holiday homes. They're also an essential component to creating a safe zone at home and work, where they can be used to cut off a designated area from the rest of the premises. Made from aluminium, they're suitable for any region including coastal areas.
Aluminium roller shutter doors custom made for doors and windows
Motor options include solar power, manual over-ride, battery back-up
Super-fast motor option
Obstacle sensors options
Can be linked into 'smart home' automation systems
Can be retro-fitted or fully integrated into the design of a new building
Controls include wall mounted panel, hand held remotes

Neat, compact shutter box can be hidden in a wall or ceiling cavity depending on location

Can assist with internal temperature control and sound insulation
Provides excellent security in lock down position
Carry warranties against defective workmanship, materials and corrosion
Trellidor Rollerstyle shutters come in 2 standard (White & Matt Bronze) and 4 non-standard colours (Sand, Matt Aluminium, Matt Charcoal and Matt Black). Special colours are available on request, allowing you to choose a colour to best suit your decor or your corporate colours.
All Trellidor products are finished in a state-of-the-art powder coating plant, as such the colours on this webpage will vary from the actual product colour. This is due to the difference in the way that light reflects off different mediums.
Should you have any concerns or would like to see the actual powder coated colour, please speak to your Trellidor consultant who will be able to provide you with a physical sample.
Corrosion Resistant Coating 
The Trellidor powder coating system includes a pre-treatment process that enhances our products' corrosion and UV resistance. The powder coating is ideal for coastal and inland conditions and increases the lifespan of the barrier by retaining its quality finish.
Explore Our Rollerstyle Web Stories
FREQUENTLY ASKED QUESTIONS