NOT EVEN A FORKLIFT CAN LIFT IT!
TRELLIDOR ROLLERSTYLE LDS65 OVERVIEW
Trellidor Rollerstyle LDS65
The Trellidor Rollerstyle LDS65 is a specialised security solution designed to counteract criminal attacks on buildings housing high value merchandise.
These structural-grade aluminium roller shutter doors combine the formidable strength of double walled slats with an innovative lockdown function across the entire shutter. Various automated controller options ensure convenient operation. They offer business owners and occupants peace of mind.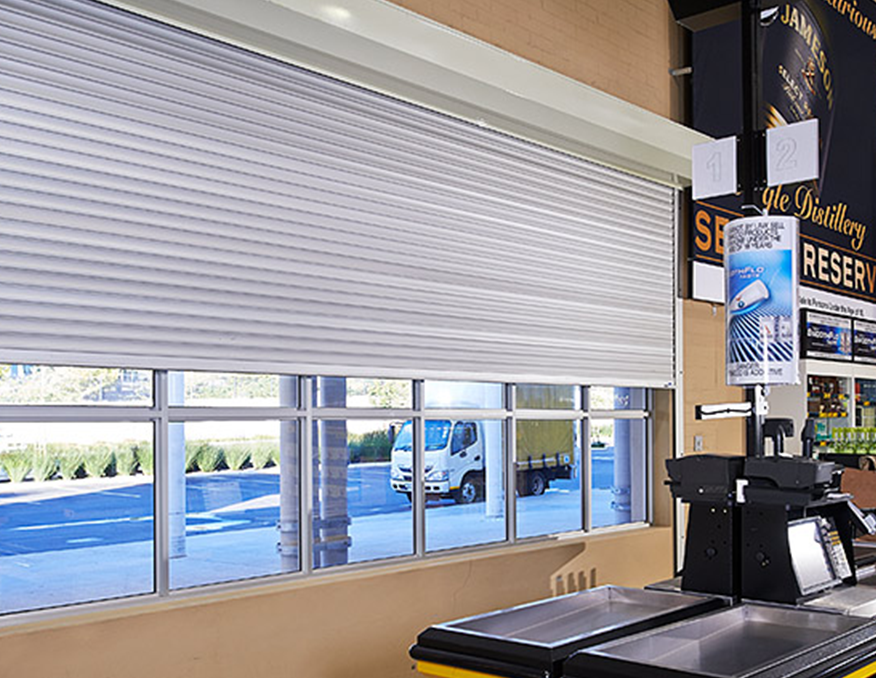 A range of both remote and mechanical devices available.
Tamper Resistant Innovations make the Trellidor
Rollerstyle LDS65 'the strongest in Africa'
S-Shaped actuators alternate with the curtain slats and serve to translate irregular upward forces (breach attempts) into horizontal forces. This pushes ALL the actuators and slats firmly against the friction rubbers found inside the guide channels, locking the entire curtain down.
Windlocks at the end of every single horizontal slat lock the shutter curtain into the vertical guide channels on both ends of the unit. This innovation prevents the curtain from pulling out along the sides of the unit during a breach attempt.
TRELLIDOR ROLLERSTYLE LDS65 TECHNICAL
Trellidor Rollerstyle LDS65 lockdown shutters combine the formidable strength of double walled slats and anti-lift technology. The innovative 'lockdown function' across the entire shutter surpasses traditional locking sections, where 80% of roller shutters are typically breached. Various automated controller options ensure convenient operation.
These structural-grade aluminium roller shutter doors offer businesses peace of mind as they are highly effective in preventing theft from:
Kiosks such as tobacco and electronic cigarette counters
Retail outlets in shopping centres
Street-front stores
Jewellery stores
Pharmacies & Hospitals
Drug storage facilities
Transport vehicles
They can be used to partition and secure office spaces and departments within a large store.
Made of aluminium, a versatile metal with several advantages including light weight, strong, and corrosion resistant
Can be installed during construction or retrospectively
Quick installation process causes minimal disruption to home or business operation
Can be fitted internally or externally
Provides high level security and protection from theft and vandalism
Ensures excellent privacy by shutting out the interior of a property to the outside
Can assist with internal temperature control and sound insulation
Light control, partial or complete block-out
Shuts out poor weather such as high winds, rain and hail
UV resistant polyester powder coating
Trellidor Rollerstyle Lockdown Shutters are coloured to suit customer specifications.
All Trellidor products are finished in a state-of-the-art powder coating plant. The Trellidor powder coating system includes a pre-treatment process that enhances our products' corrosion and UV resistance. The powder coating is ideal for coastal and inland conditions and increases the lifespan of the barrier by retaining its quality finish.
Should you have any concerns or would like to see the actual powder coated colour, please speak to your Trellidor consultant who will be able to provide you with a physical sample.
Trellidor and The Ultimate Crime Barrier are registered trademarks of Trellicor (Pty) Limited. As a conscientious consumer please remember that given enough time and the right tools, all security barriers can be breached no matter how well they're constructed. As a responsible manufacturer, however, we endeavour to design, engineer, test and install all our products to give our customers the best possible security barriers the technology at the time allows.