Aluminium roller shutters
Aluminium roller shutters or rolling doors are becoming more popular as door and window coverings in homes and offices. One of the reasons for this is that they are convenient and easy to use.
Another is that they have more than one function, making them cost-effective too. A roller style shutter can replace burglar proofing, curtains and blinds in one sleek aluminium product.
But did you know that they come in a choice of colours? You don't have to opt for the white versions that we see everywhere.
A colour to suit your style
Trellidor manufactures aluminium roller style shutters in a range of colours. These colours are designed to work with an endless range of décor colour palettes and decorating styles.
This is important because whether we're aware of it or not, colour affects just about every aspect of our lives. Think of how a walk in a green forest makes you feel relaxed. Or how a bright blue sky and warm yellow sunshine can bring on instant happiness.
The colours in our homes affect us too. Carefully chosen gentle colours can create a calming, peaceful atmosphere that's a pleasure to relax in. Or bold and bright colours can create a stimulating, far from restful environment.
We all have our favourite colours and these can change depending on our stage in life and our emotional state at the time. So our décor colour palette may also change over time, as our needs and moods change.
Our choice of décor colours is more complicated if we live with other people. This is because we respond differently to colours, so we need to take everyone's preferences into account.
The safest solution is to create a neutral background. Each member of the household can then add their own colour preferences in their private spaces. Shared spaces can be kept neutral so that everyone feels equally at home in them.
Your home's 'framework' i.e. the walls, windows, doors, shutters and burglar-proofing form this background. These can be painted in neutral colours such as white, sand and charcoal.
The Trellidor Rollerstyle shutter colour palette includes colours like these. The range of matte powder coating colours is as follows:
White
Bronze
Sand
Light brown
Aluminium
Charcoal
Black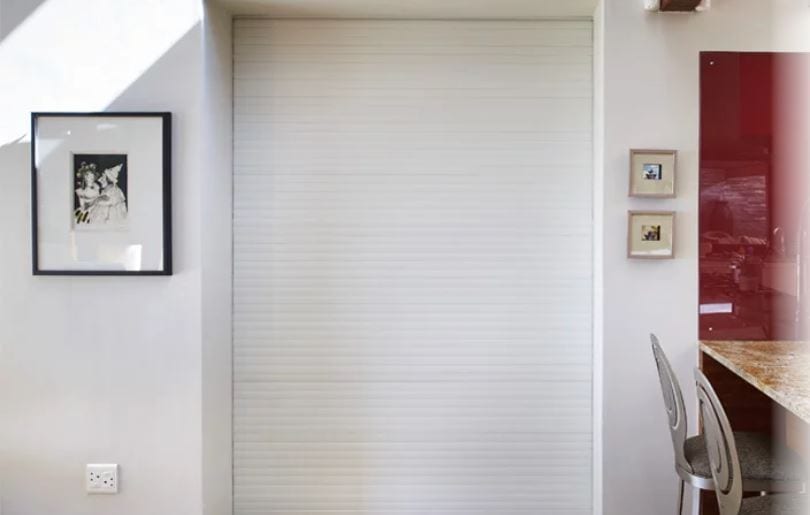 This process helps to retain the roller shutter's quality finish and increases the lifespan of the barrier. This makes them suitable for both coastal and inland conditions.
All Trellidor security barriers are manufactured at an SABS ISO audited factory. The manufacturing process includes pre-treatment for enhanced corrosion and UV resistance before undergoing powder coating in the customer's preferred colour.
Roller style shutters for every room in your home
Aluminium roller shutters are ideal for home use. They are not as heavy or noisy as steel roller shutters. They can be fully automated, so you can open and close them at the touch of a button. And they can be integrated into a Smart Home central control system.
They can be used as security roller shutters for just about every room in the house. Trellidor franchises around South Africa and other parts of the world have installed roller shutters on:
Bedroom windows, where they act as security roller shutters to protect the windows from being broken into.
Passage doors, where they are used to create a safe zone by stopping robbers from getting to the family in their bedrooms.
Doorways between the garage and house. They stop robbers that get into your garage from walking through into the house.
Ground floor or first floor patios. Once closed, roller shutters for patios are locked down and stop people from breaking into the home through this entertainment area.
Living area sliding doors. Sliding doors are vulnerable to being lifted off their tracks by robbers trying to get inside. Roller shutters on the outside stop this happening.
Roller shutters for patios
A patio is a great way to extend your living and entertainment area. But because they are outside, they are exposed to bad weather that chases you inside. Criminals could also walk in through unprotected patio doors.
Roller shutters for patios solve both these problems. The shutters block out wind, rain and cold when they're closed, so you can enjoy your patio no matter what the weather.
Closed roller shutters lock down your patio entertainment space, so you can safely this area at night. Criminals won't be able to get into your home through them as the shutters are virtually impossible to lift up.
Choose a roller shutter colour to complement your patio décor
The colour you choose for your roller style shutters will be influenced by your patio décor scheme. If you want your aluminium roller shutters to blend in and become part of the background, choose a colour that is close to the colour of your window frames.
You may prefer to make a bold statement by choosing a roller style shutter colour that matches your ambitions. For example, you could choose black or light brown roller shutters for a house painted one of the fashionable shades of white.
Matte charcoal and matte aluminium, colours in the Trellidor range for roller style shutters, are currently in high demand. These colours both work well on patios decorated in the currently trendy earthy grey tones as well as the bolder coral, aqua and green.
If you intend selling your home at any point, go for safer colour options such as white, bronze or sand. These discrete shades work well with most décor colours and won't clash with your patio décor scheme.
Roller shutters price
Like all Trellidor security barriers, Trellidor Rollerstyle roller shutter doors are custom-made to fit the opening and its specific requirements. This means there is no standard price on roller shutters.
Trellidor security barriers are available through authorised Trellidor franchises in South Africa and other countries around the world. They will gladly measure the opening and give you a quotation on roller shutters for your home.
See the 5 Questions To Ask When Considering Roller Shutters!