Clear Guard security screens are made from a stainless-steel mesh panel inside a full, four-sided aluminium frame. The steel mesh is coated for a smooth surface and corrosion protection. These security screens can be made to match the configuration of almost any type of window or door. Some clear guard screens are fixed panels secured permanently into place. Others are fitted with locks so that the screens can be opened.
Security screens are fitted to doors and windows as a layer of protection against an attempted break in by criminals. The screen is made from industrial grade stainless steel strands that are woven to a high tensile strength to form a panel that is very tough.
This mesh panel is extremely hard to get through. If anyone does try to damage the strands of steel, they will find themselves being horribly cut by the sharp ends. The mesh is resistant to the weapons commonly used by criminals.
Watch Trellidor in-house attack tests on Clear Guard security screens
The woven mesh screen is coated to give it a corrosion protection finish that it smooth to the touch. It is black in colour, but the aluminium frame can be powder coated in a colour from the standard range of options or a shade chosen to suit the home's décor.
Trellidor Clear Guard has other features that make this a practical, multi-purpose home improvement fitting.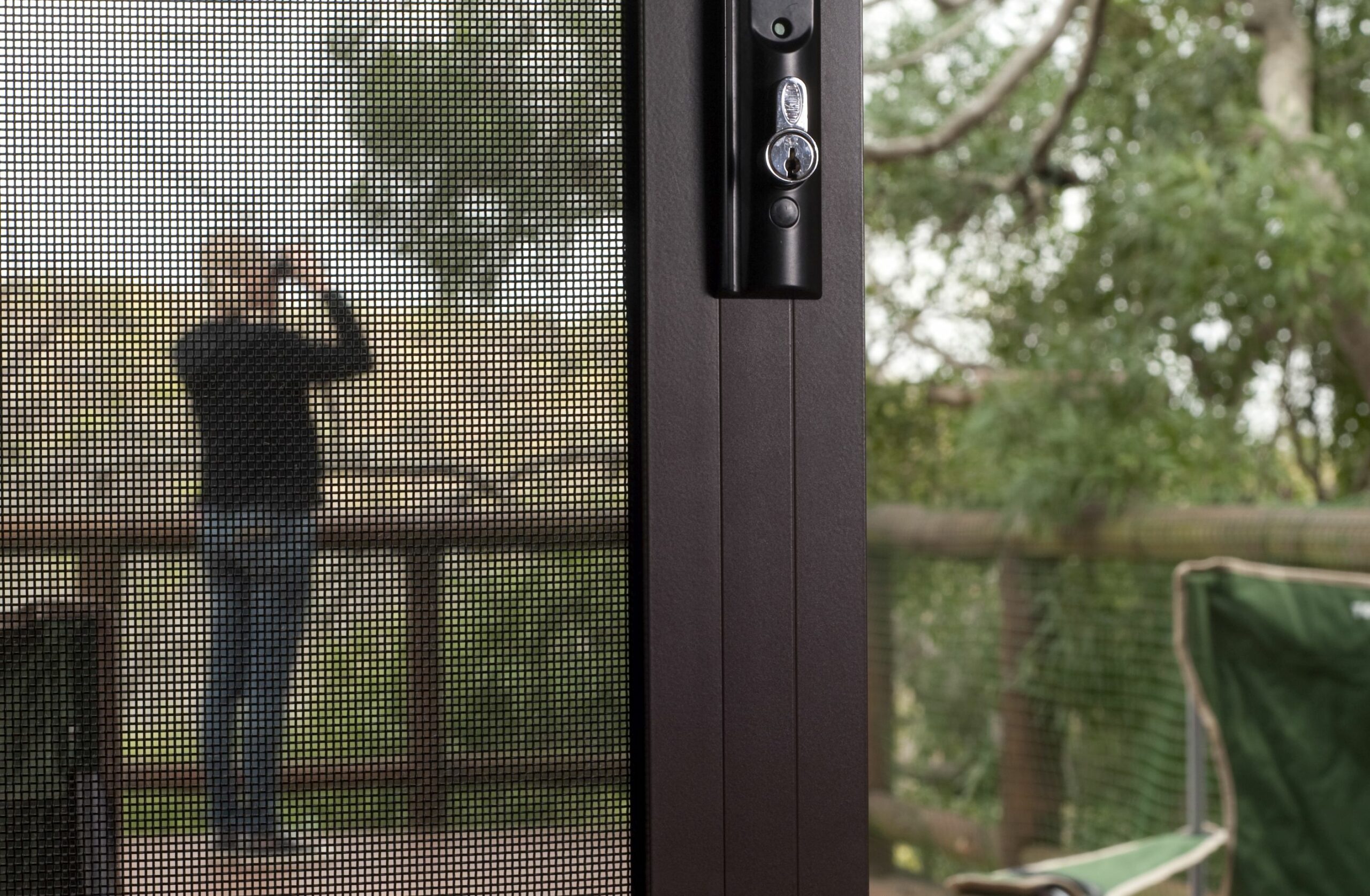 The features of Trellidor security screens are:
They're an attractive addition to any home because they don't look anything like conventional burglar proofing. They fit neatly alongside doors and windows and have no bars adding clutter, just an elegant mesh panel that you can see right through.
The mesh panel blocks out everything from insects to intruders. It is not just a security barrier. People in areas where monkeys or baboons are a nuisance love Clear Guard screens because they are a humane way of keeping these primates out of their homes. They're also the perfect solution to avoiding a mosquito or fly invasion as these insects can't get through the mesh.
Security screens do not block outside views. You can see right through the mesh screen, so your view of the outside is visible, yet you are safe inside your home. It is, of course, important to keep lockable security screens closed and locked to provide the protection you need. This is especially important when windows and doors are open for fresh air to flow inside.
Clear Guard helps with internal climate control. The mesh panel filters out the sun's harsh UV rays, helping to moderate internal temperatures and reduce fading the furnishings and fabric in your home. The security screen is woven, so it allows some airflow into the home even when the screens are closed and locked for protection.
Security screens are suitable for all security risk locations, whether low or high crime zones. Trellidor makes a range of security screens at different prices to suit all these situations. In-house attack tests prove that Trellidor Clear Guard security screens are as strong as Traditional Trellidor sliding security gates, so they provide a dependable level of safety.
There is a range of security screen designs. The more moderately priced versions in the range are ideal for secure estates, where they're often used for this product's additional benefits such as keeping out insects rather than people. In high crime risk, free-standing homes, all the security screen benefits are valuable, including being strong enough to resist a criminal attack.
There are various locking options. Security screens that are fitted with Trellidor locks that can be keyed-alike on request i.e. all the locks on your Trellidor Clear Guard units can have the same key number. If preferred, each lock can have a different key.
Trellidor Clear Guard security screens are custom-made for each doors and window, so you'll need a security expert from Trellidor to measure up, order your screens to size, and install them for you. Find your nearest Trellidor store and book a consultation.