Yes, Rollerstyle shutters can be custom-made for windows as well as doors. They are a neat, compact, and extremely strong form of burglar proofing for windows. Apart from providing excellent security, Rollerstyle shutters benefits include shutting out harsh weather, blocking out light, and revealing a full view when open. The shutters can be motorised for easy remote-controlled opening and closing.
Rollerstyle shutters features
Aluminium roller shutter doors are a practical and attractive option for home window protection. They are usually installed for protection from intruders, but they have many other benefits too. Here some Rollerstyle shutter features to consider when deciding on whether they are right for your windows.
Made from aluminium

Many rolling shutters are made from steel, but aluminium roller shutter doors are more suited to home use. They are lighter and quieter, making them far better suited to windows in bedrooms, bathrooms and living areas.

If you like a streamlined interior, then aluminium roller shutters may be all you need on your windows, especially if they're fitted inside rather than outside. But you may prefer to soften their look with curtains or decorative blinds.

Aluminium shutters have a good lifespan because they are corrosion resistant. The Trellidor manufacturing procedure includes a pre-treatment process that protects security roller shutters from corrosion. This process plus the powder coating in a colour of your choice that follows create an attractive, high-quality surface that looks beautiful for longer, especially if the shutter is properly maintained.
Neat and unobtrusive window security

Rollerstyle shutters for windows are elegant and unobtrusive. They don't require much wall space because they slide up and down inside narrow side guide channels that can be recessed into the window reveal when fitted inside the house.

If fitted to the window outside the house, security roller shutters are often fitted 'face on' which means they are installed around the window, covering the space completely. But if there is enough space, an outside fit can be within the reveal.

Roller shutters do not need a bottom track, so there is no cutting into the tiles, brick, or any decorative details at the bottom of the window reveal to fit a track. There is also no damage to the window surround if the shutters are retrofitted.

Fully rolled up shutters are completely out of sight in the shutter box, so there is a full view when the shutters are open. This is a Rollerstyle shutter benefit that makes it a popular choice for homes with sea, mountain, and bush views, or any other beautiful outlook.

Rollerstyle shutters roll up into a neat and compact shutter box. With forward planning for a new build or an alteration, the shutter box can be hidden in a wall or ceiling cavity. The shutter itself is then completely out of sight when rolled up into the concealed box.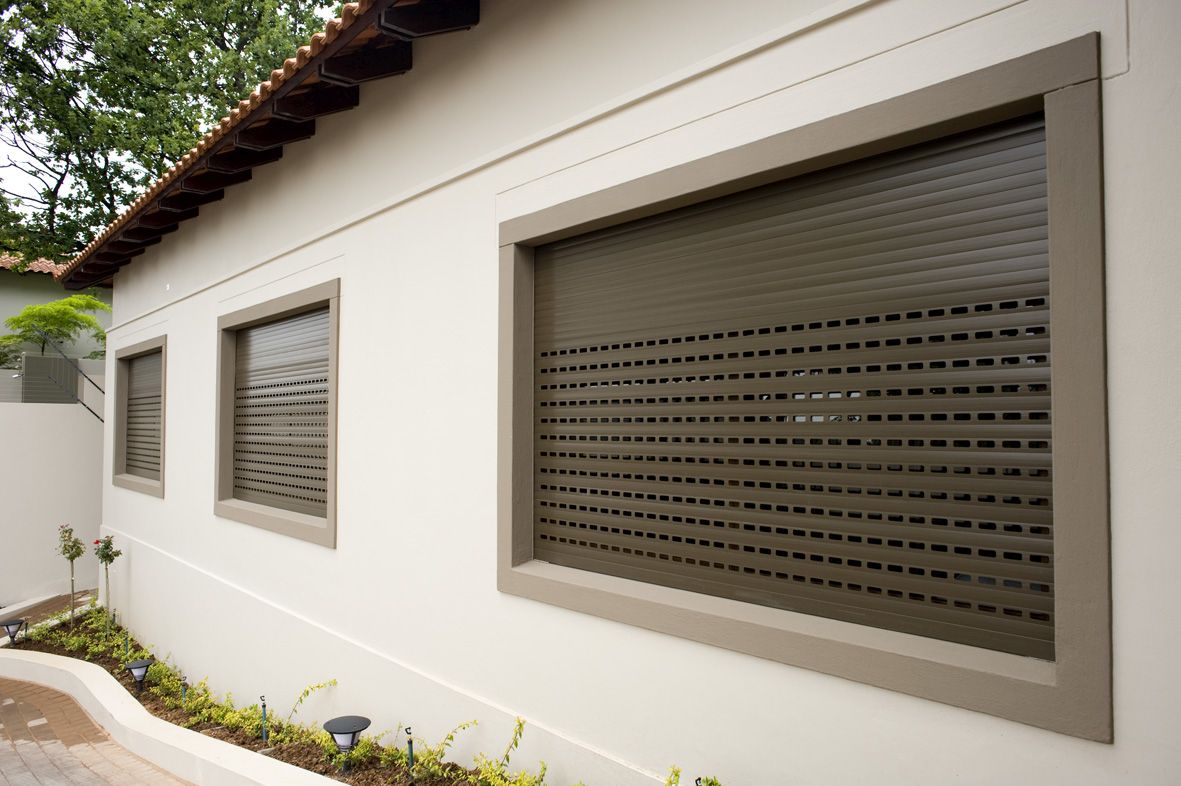 Easily automated

Roller shutter doors, whether they're made for doors or windows, are easily automated so that you can operate them remotely. You can do this using a control panel fixed to the wall or a hand-held remote-control device. For those that have gone the Smart Home route, automated Rollerstyle shutters can be integrated into the central control system.

The shutters on windows and doors can be operated individually or in sets, such as all the shutters in one room can be opened or closed together. Once closed, the home is completely locked down and intruders have no way in.

This has some great advantages such as:
Closed roller shutters create a safe zone within the home where everyone is safe from home invaders.
The shutters can be installed with a manual override function in case of power failure, so you'll never be stranded on the other side of a locked shutter.
Closed Rollerstyle shutters lock up the home when it is unoccupied, so robbers can't take advantage of the fact that no-one is home to get in and steal your possessions undisturbed.
Closed roller shutter protect patio furniture and decorative items from theft when closed up at night, or even during the day. They keep holiday homes safe from theft too.
Climate control

When closed, aluminium security roller shutters help to control the internal climate of a room. The roller shutter doors and windows block out wind, rain, and dust. They also help to provide sound insulation.

This climate control feature is often the reason that Rollerstyle shutters are fitted to covered patio windows and doors. They extend the use of this popular type of outdoor area so that it can be enjoyed even when its cold, windy, and wet.

Closed Rollerstyle shutters on windows keep the interior cosy during cold winters, whether it's the bedroom or living space.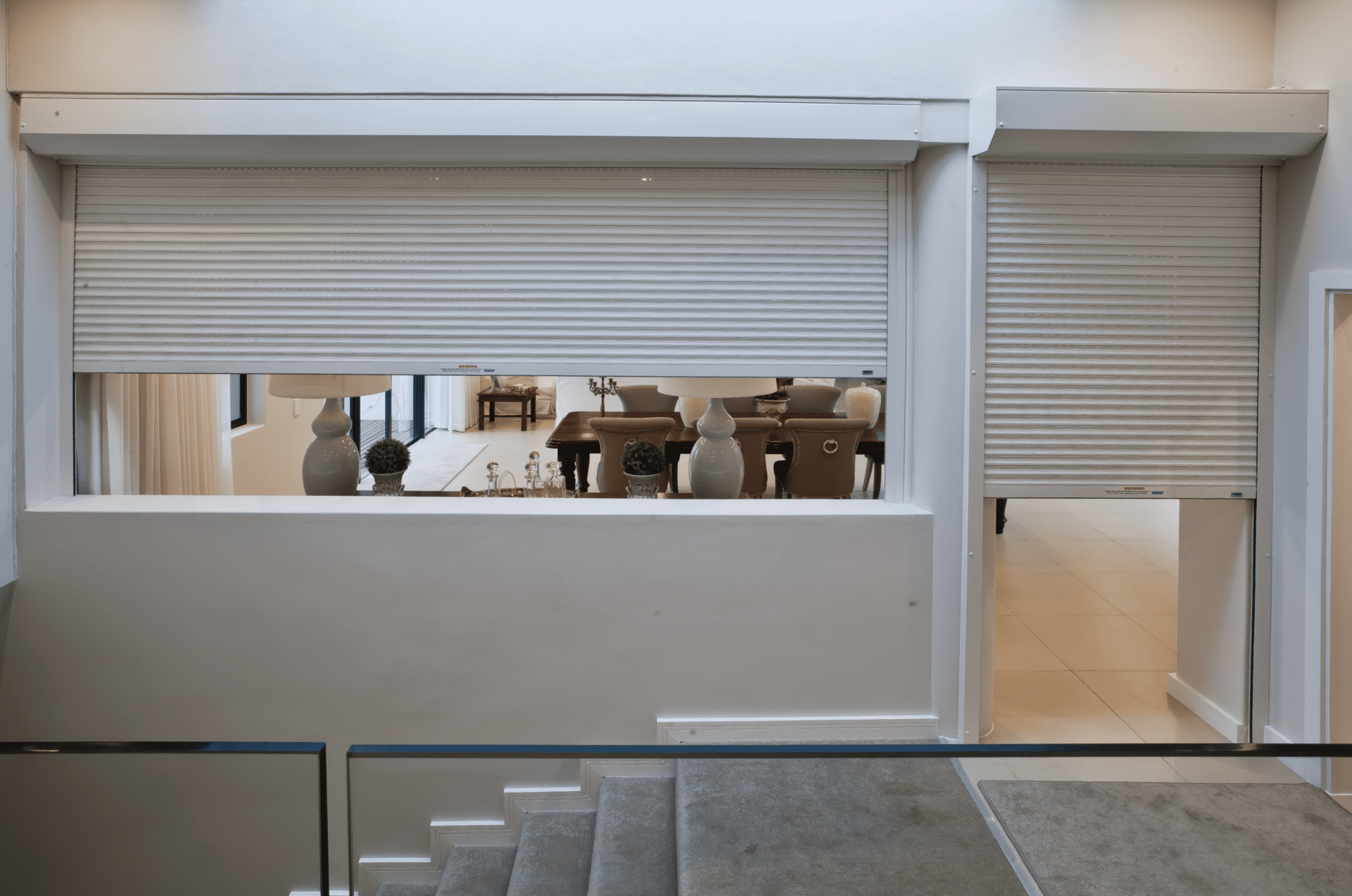 Like all Trellidor security barriers, Trellidor Rollerstyle rolling shutters are custom-made to fit the opening and its specific requirements, so there is no standard price. Trellidor security barriers are available through authorised Trellidor franchises countrywide, and they will gladly measure the opening and provide a quotation.
Find out more about roller shutters for windows