Yes, Clear Guard security screens can be fitted on windows. It can be manufactured to match the format of just about any window type for a seamless installation. It is ideal for windows because it provides see-through security that does not block the view out of the window.
Security screens in South Africa, like Trellidor Clear Guard, are often sold as window protection against intruders. But Trellidor has introduced an Estate Clear Guard for homes where crime is less of a concern than the need for something attractive and unobtrusive on windows. It is still a strong, protective product but it is less expensive than Clear Guard.
People that live in housing estates, golf estates, eco-friendly developments and other secure complexes frequently need protection against problems other than crime. These include mosquitoes, especially if there are ponds, lakes and wetlands on the estate. The Clear Guard mesh is fine enough to keep the mosquitoes and other wildlife out, so windows can be left open for fresh air.
In some areas the biggest issue is monkeys or baboons. Windows cannot be left open because these animals get into the homes and cause a terrible mess while looking for food. Clear Guard screen security fitted next to the windows lets you leave them open, while the stainless-steel mesh screen stops the monkeys or baboons from getting in.
Clear Guard is usually fitted inside the home, in the window reveal. This is the space surrounding the window, on the sides and at the top and bottom of the window.
Sometimes there is not enough room in a window reveal to fit any type of window security. This may be because the windows are fitted to the edge of the wall, leaving no reveal space at all. In cases like this, the Clear Guard can be fitted 'face on' which means it is fixed around the window opening instead of into the reveal.
If the windows in the home open inwards, Clear Guard can be installed on the outside rather than on the inside. They may need more frequent cleaning here, though, as they will be directly affected by weather, dust and other outdoor contaminants.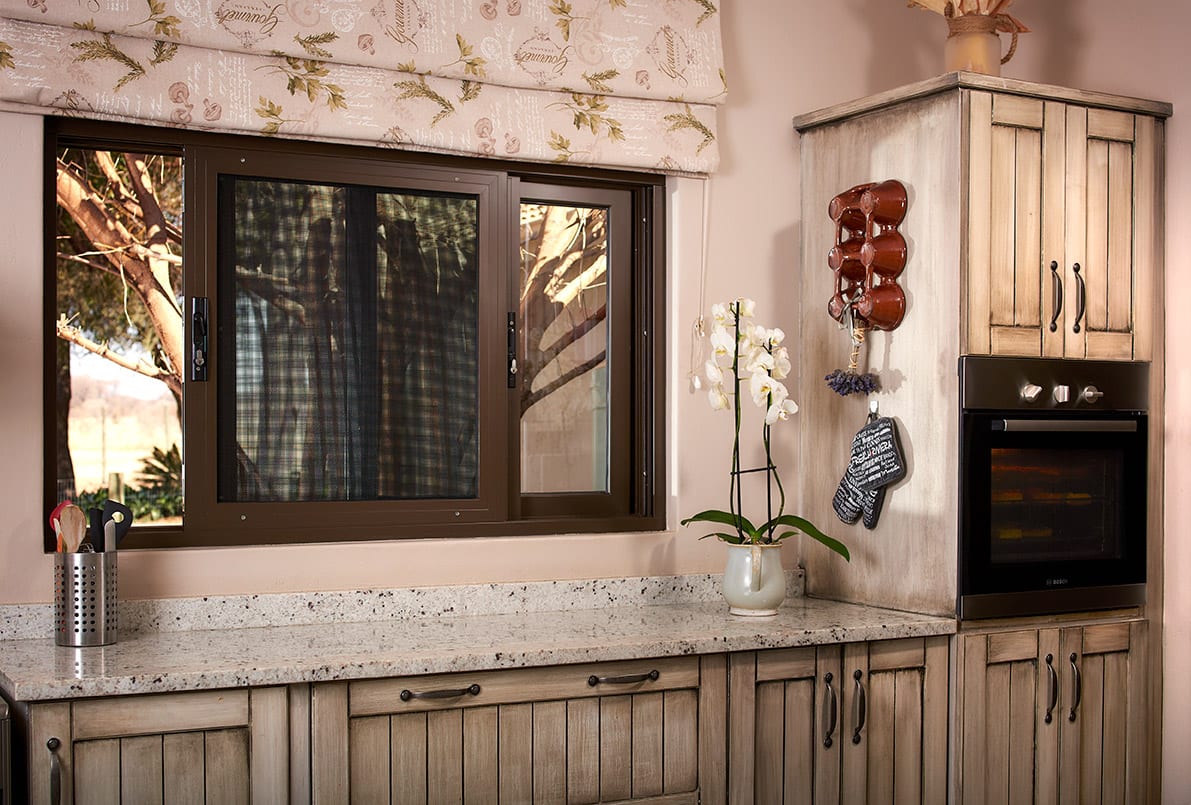 Clear Guard as window security
Homes in high or even medium crime risk areas need a strong security barrier on the windows to deter intruders. Clear Guard is a great choice for these windows.
This is because:
It is a strong security barrier, with an industrial grade, woven stainless-steel mesh panel.
It is fully framed in aluminium, which makes it strong and stable.
The mesh screen is see-through and does not spoil the view.
Lockable units are fitted with robust, patented Trellidor locks.
Each unit is made-to-measure, so it fits tightly in the window reveal, making it a solid installation.
What types of windows can be fitted with clear screen security?
Security screens are custom-made to fit, so they can be manufactured for any type of window. The screens are designed to match the way the window opens and closes so that they do not interfere with handles and other hardware. For example, a sliding Clear Guard unit will be fitted alongside a sliding glass window.
The list of window styles where you can use Clear Guard includes:
Awning windows (hinged at the top and open outwards from the bottom).
Fixed windows (panes of glass that do not open).
Casement/hinged windows (fixed on one side and open inwards or outwards from the other side).
French windows (two side-by-side hinged windows that open outwards from the centre).
Bi-fold windows (hinged, framed panels that fold into each other and stack to one or both sides)..
Sash windows (moveable panels that slide up and down next to each other)
Sliding windows (moveable panels slide along bottom and top tracks and stack next to each other).
Types of window ideal for Clear Guard
Clear Guard and Estate Clear Guard suit most home styles because they are a neat, streamlined design that does not clutter your windows. They fit beautifully into traditional home décor styles as well as modern, minimalist interiors.
Here are some ideas on where to use them:
Windows that overlook the garden, the sea, the mountains, or any other great view.
Windows that look out onto your entertainment area so that the outdoors and indoors blend visually.
Extend the use of a patio by installing them onto patio windows, providing protection from insects, snakes, monkeys, extreme heat, wind and harsh UV rays.
In eco-estates, game lodges and holiday homes they're a humane way of keeping wildlife out of living areas and public spaces.
On windows in communal estates with strict rules about visible burglar proofing as they don't look like security barriers.
They can be used instead of conventional burglar bars on any windows that need protecting from intruders.
Find out more about premium clear guard for windows