Trellidor manufactures and installs a wide range of burglar guard designs to create safe environments for people and their possessions. Each burglar guard design has its own features and benefits and there are several Trellidor burglar bars designs that are suitable for high security risk locations.
The choice of burglar guards will depend on what style of window security is required for the home, available budget, and the level of security risk the burglar proofing must protect the people and assets against, from low to high.
What is a high security risk location?
The factors affecting how vulnerable an area is to crimes including housebreaking, house robbery, high jacking and opportunistic theft are:
Easy access to freeways and main road systems. The closer the 'getaway route' the higher the risk of crime.
Vacant houses and land around the home. Empty properties provide good hiding places for criminals watching the living patterns of people in homes they are targeting.
Neighbourhood watches and security company patrols. A neighbourhood where people do not act as a community looking out for each other is more vulnerable to crime than one where people are vigilant about what is going on around them.
Existing security measures in the home. If there is nothing blocking a criminal's access to the home, it is an open invitation to them to simply walk in and take what they want.
High value items in the home. Empty TV boxes left on the verge, people wearing expensive jewellery, home offices with valuable laptop computers and other signs of wealth let criminals know that a home is worth breaking into.
Do burglar guards help to prevent a break-in attempt?
Burglar proofing on windows are definitely a deterrent that makes it difficult for house robbers and home invaders to get into your home. It is especially important to protect every window on every floor of a home in a high security risk location. Criminals are put off by having to get into a window on the first floor if they have to, so even these windows need burglar bars.
But window security is not the only access control measure that you should put into place. All access doors should also have access control measure, such as security gates. This includes doors leading from the garage into the house.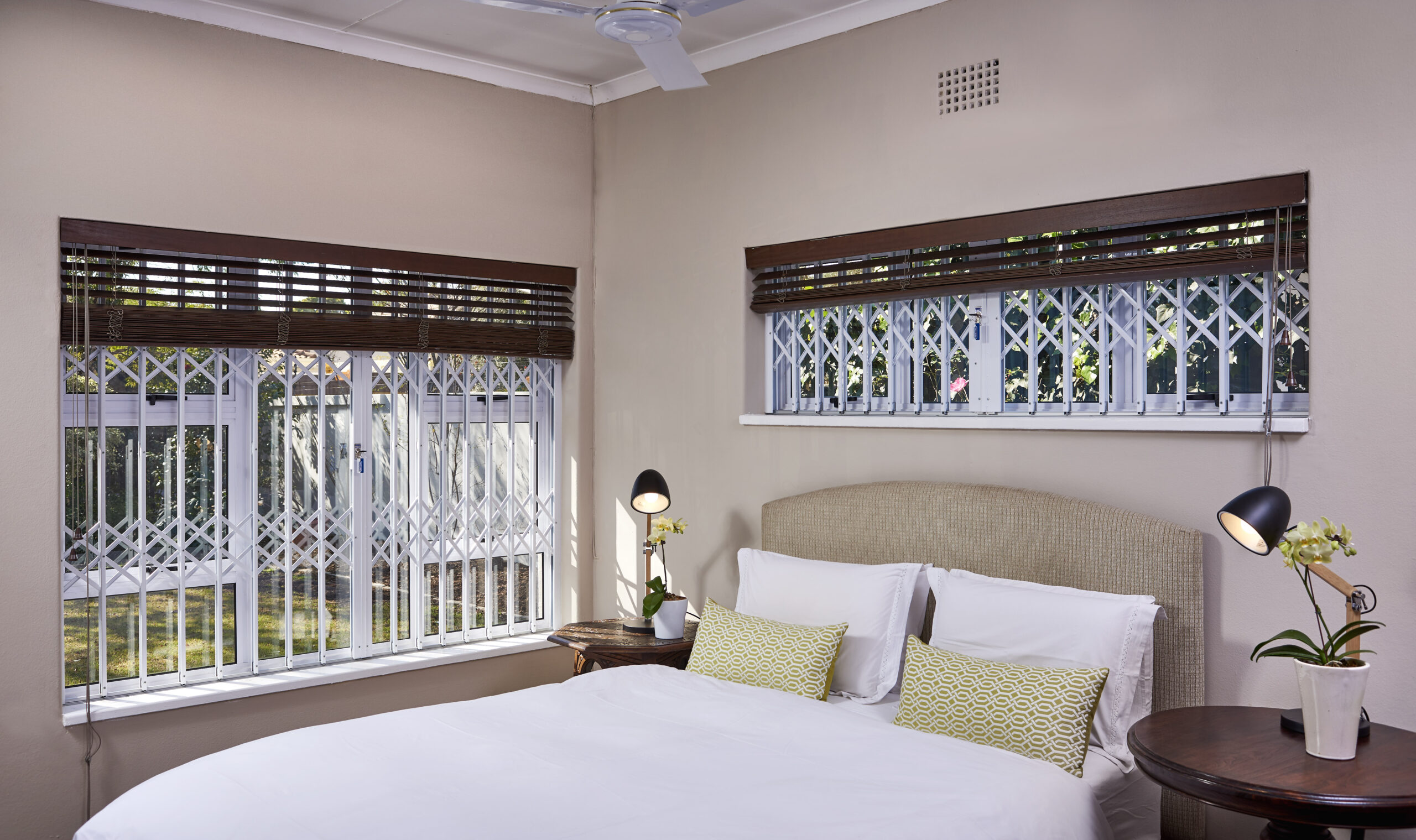 The features that make Trellidor burglar guards the best option for high and medium crime risk locations are:
All Trellidor burglar guard designs are custom-made for each window. This means that they fit properly, leaving no gaps for housebreakers to use to lever out the burglar proofing in order to break the window glass and get inside the home.
The burglar bars are all pre-treated against corrosion and then powder coated in your chosen colour. This process helps prevent corrosion and ensures that the burglar bars last a long time in good condition, adding to their strength.
Even at the lower end of the cost scale, Trellidor burglar guard designs stand up to an attack by criminals for longer than similar products. This is because Trellidor security barriers are all designed for strength under attack.
The main benefit of burglar guards is that they are always there providing protection, unlike alarms and motion sensor beams that are often switched off when people are at home.
Trellidor burglar bar product designs
The Trellidor range of window security designs includes:
Fixed trellis-style burglar bars that look exactly like Trellidor Retractable security gates, but don't open.
Retractable security gates for windows that can open in an emergency, such as a fire in the home.
Trellidor Burglar Guard, which is a budget-friendly range with several different styles from which to choose.
Cottage Guard, which is one of the strongest burglar bar designs on the market and well worth the cost.
Security shutters with louvres that look beautiful and are all-in-one blinds and burglar proofing.
Roller shutters made from aluminium that can be motorised and remote controlled.
Clear Guard mesh screens that are strong and see-through, making them ideal window security for homes with great views of the outside.
Polycarbonate Bar burglar proofing that is not designed for high security risk locations but is ideal for lower crime risk areas like secure villages or enclosed neighbourhoods.
High security risk locations need a well thought out security plan that includes burglar proofing for doors, windows, and a safe zone. Contact your nearest Trellidor store and a security expert will visit your home to provide a security assessment, give you advice on the best burglar guard bars for your home, and a plan to begin making your home safer for you and your family.