Burglar bars fixed to window openings are an effective way of preventing housebreaking or a burglary. They form a physical barrier that has to be broken through or removed before gaining entry to the building. Because of this, burglar bars are a useful deterrent to criminals. There are many different types of burglar bar, and we will look at steel versus aluminium designs and other comparisons.
It is logical to assume that the better made the burglar bars are, the longer they will resist an attack.
So how do you tell what type of burglar bars are the best for windows? There are some useful features to consider before deciding on what to buy.
1. Steel or Aluminium
Galvanised steel and structural aluminium are both used to manufacture fixed burglar bars. These metals are also used to make burglar gates.  Both types of metal are strong enough to be made into effective burglar bars for windows. 
The real question here is the quality of the steel and aluminium. There are different grades of these metals, and they are not all the same strength. Ideally, it is best to choose burglar bars for windows and doors that have been manufactured using high quality steel or aluminium that won't rust or corrode.
Galvanised steel is steel that has had a protective zinc coating applied to it to prevent rust and improve its corrosion resistance. Structural aluminium is light weight, strong, durable and corrosion resistant. 
Both these high-quality metals are a good choice for burglar bars and gates, so ask your supplier about the quality of the metal use to make the fixed burglar bars you are considering for your windows.
2. Internal or External 
Burglar bars can be fitted either inside or outside the home. The type of metal used needs to be suitable for wherever the burglar bars are fixed. If the metal has not been treated for resistance to corrosion or rust, it is not advisable to go for an external fit. This is because the burglar bars will not last and over time they will weaken and not be able to provide adequate protection.
Aluminium burglar bars are usually better at resisting corrosion than steel, which is why it is so popular in coastal homes. But if the steel has been properly galvanised it will also withstand corrosion and rust. Some manufacturers, like Trellidor, pre-treat aluminium and steel burglar bars against corrosion, followed by a polyester powder coating to further improve corrosion resistance.
Away from the coast there is a choice of internal or external fitting of both steel and aluminium burglar bars because the conditions are far less corrosive. The protective barriers will be long-lasting with very little maintenance required.
From a security point of view, an internal fit is always better than an external fit. This is because a house robber or burglar may think twice about breaking in if they first have to break a window before tackling the burglar bars. It is hard work that makes far too much noise, making the home a less attractive target for them.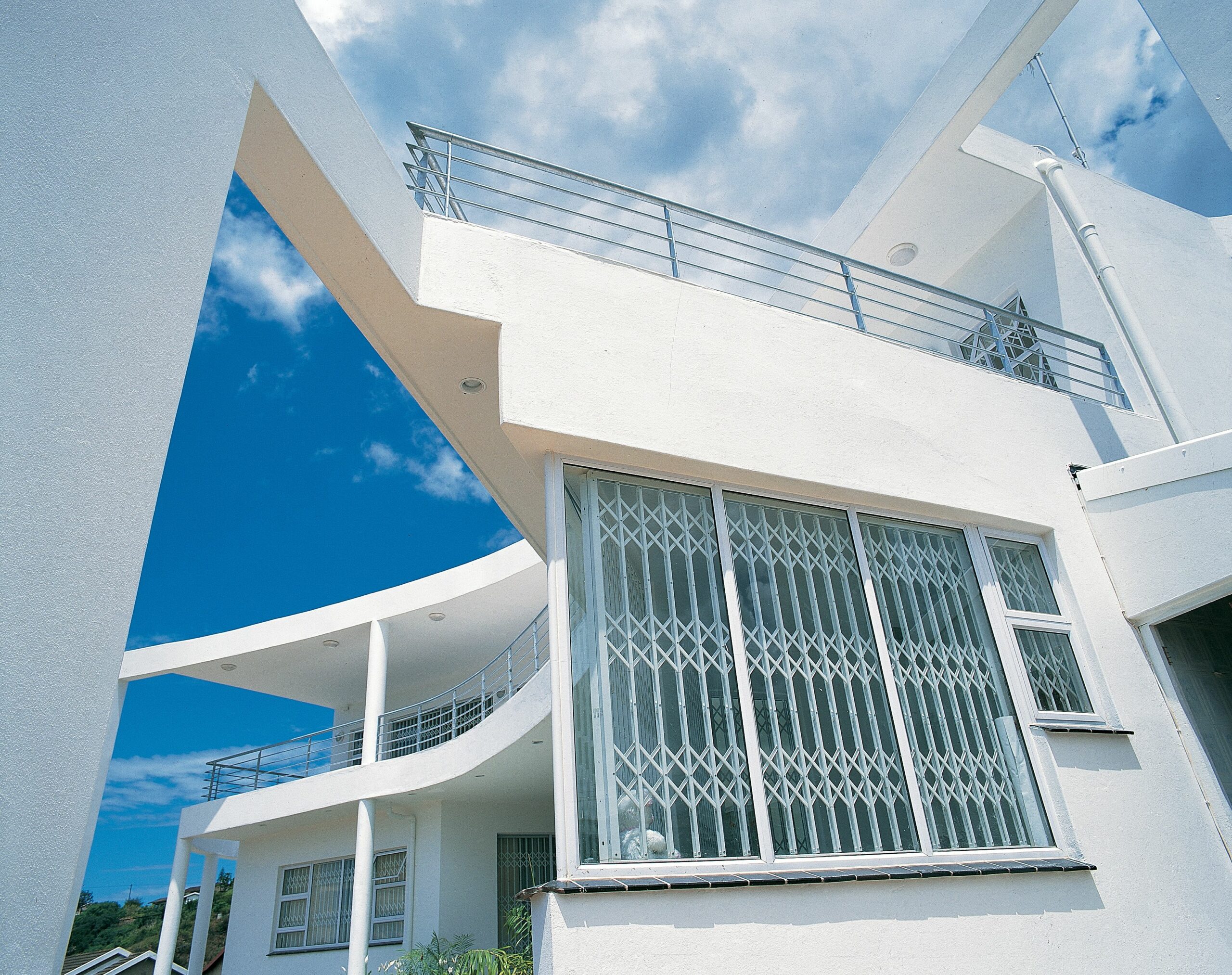 3. Burglar Bar Designs
Trellidor burglar bars are made in different designs to help people find dependable protection that suits the style of their home. Sometimes this means a combination of steel and aluminium and sometimes it is one or the other. Here are some ideas:
Fixed burglar bars in galvanised steel.

These look similar to traditional Trellidor retractable gates, but they do not slide open. They have a full four-sided frame for added strength.

Fixed burglar bars in structural aluminium

, fully framed to make them strong under attack. They look like the steel version but have a smoother outer surface with no external rivets.

Fixed internationally certified steel burglar bars

with a full frame. These steel trellis-style burglar bars are made for extreme security risk environments, mainly commercial or industrial buildings.

Fixed steel Burglar Guard

, a range of three different designs made from powder coated electro-galvanised steel and affordably priced.

Cottage Guard, a combination

of square aluminium tubing reinforced with a threaded steel rod through the centre of each tube. It would be difficult to find burglar bars stronger than these anywhere in the world.

Aluminium framed Poly Guard

is a great option if you live in a gated community or secure estate because it is see-through and virtually invisible. The full aluminium frame gives it strength and stability.
4. Emergency exits
When you're trying to secure your home against intruders it seems counter-intuitive to have burglar bars that open. But it is important to remember that there may be situations when you need an emergency exit. This could be a fire inside the home or perhaps a break-in by robbers that you need to escape from.
In some countries it is now illegal to install burglar bars that don't have any emergency release catch for a quick escape. This is not the case in South Africa, but it is worth bearing in mind when choosing burglar bars.
The ideal choice is to have at least one burglar bar unit in each section of the home that can open up as an emergency exit. For example, have one in the bedroom area and one in the living area. The fixed trellis-style Trellidor burglar bar designs can also be made into sliding security gates and installed in these escape window. They would be perfect to match your fixed burglar bars for seamless security and can be made from either steel or aluminium. The choice is yours and usually depends on  appearance and price.
Finally, if you are undecided on whether to choose steel or aluminium burglar bars, make use of your local Trellidor showroom. Browse the products on display, try them out and ask questions. There is always a security expert on hand to explain the differences and help you make a choice, and the advice is free.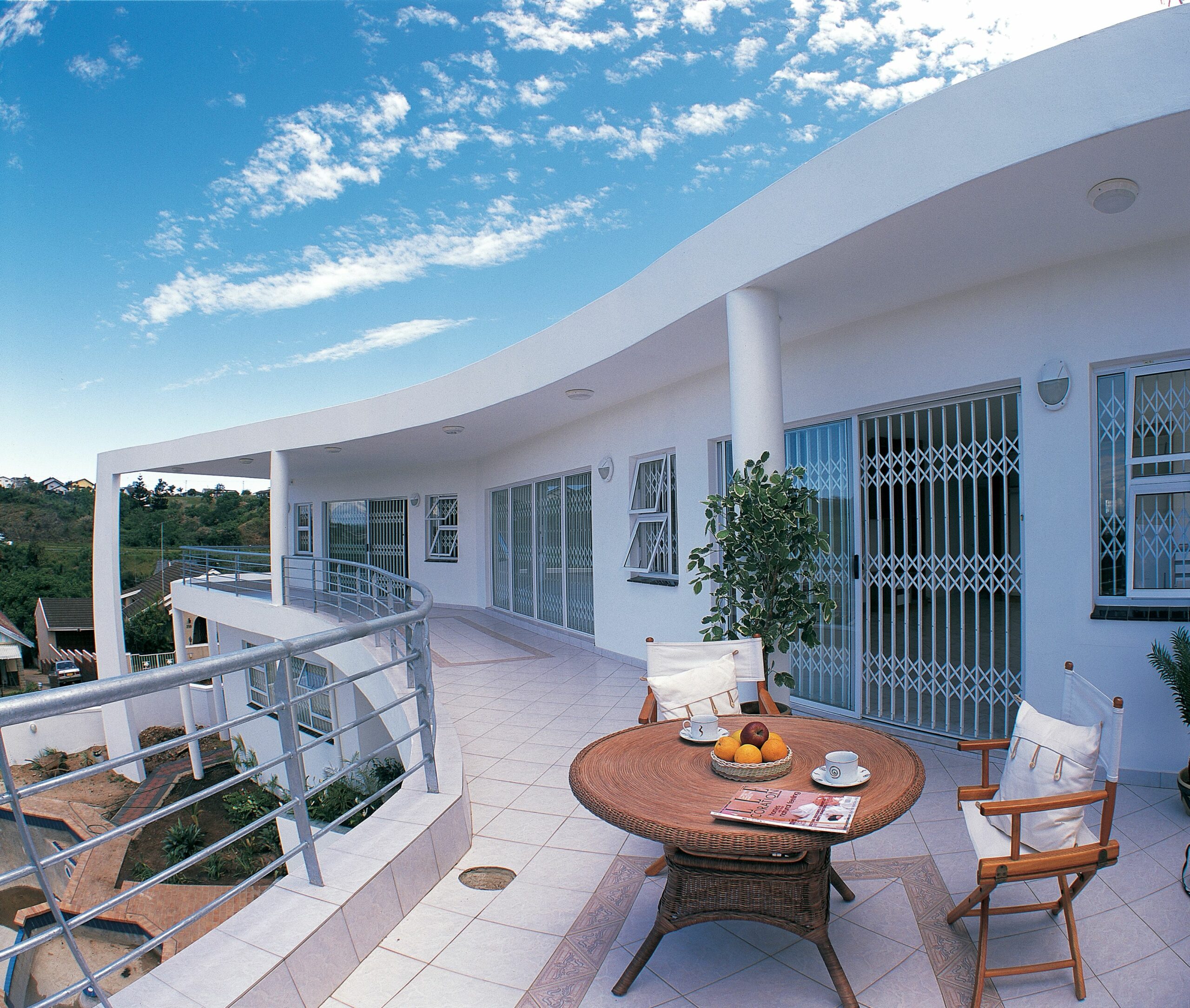 Find a Trellidor outlet to visit