Anyone concerned about personal safety at home should consider installing a safe room or zone. It is simple to create by following a few basic rules and it does not have to cost a fortune. The end result will be place of safety to escape to if an intruder breaks into your home, or just somewhere to relax and get a peaceful night's sleep. Retractable security gates are perfect for a safe zone and here we explain why.
What is a safe room?
The first point to consider is what makes a safe room 'safe'? The answer is that the area you choose for your safe zone must be fully secured with burglarproofing. It does not have to be the most expensive burglar proofing on the market, but it must be strong enough to be able to withstand an attack by intruders.
Burglars or home invaders use all sorts of tools to try to break into a home. They may bring tools with them, but they also look around your property to see what they could use. Garden implements like spades and axes or tools like hammers and crowbars are favourites for criminals, so don't leave them lying around the perimeter of your home.
Your safe zone burglar bars and security gates must be able to tolerate being hammered by intruders trying to get in, at least long enough for you to call for help or to make an escape.
Every window in your safe room or zone should be protected by good quality burglar bars. This is often where people see the value in sliding security gates on windows because the gates can be unlocked and opened in an emergency. The emergency could be a break-in by home invaders, a fire in another part of the home, flooding after heavy rains, a hostage situation, or a gas leak.
In addition, every door in the safe zone that leads to the outside should have a security gate in front of it. Your passage or staircase also require a sliding security gate so that you can lock it behind you when you enter your safe room.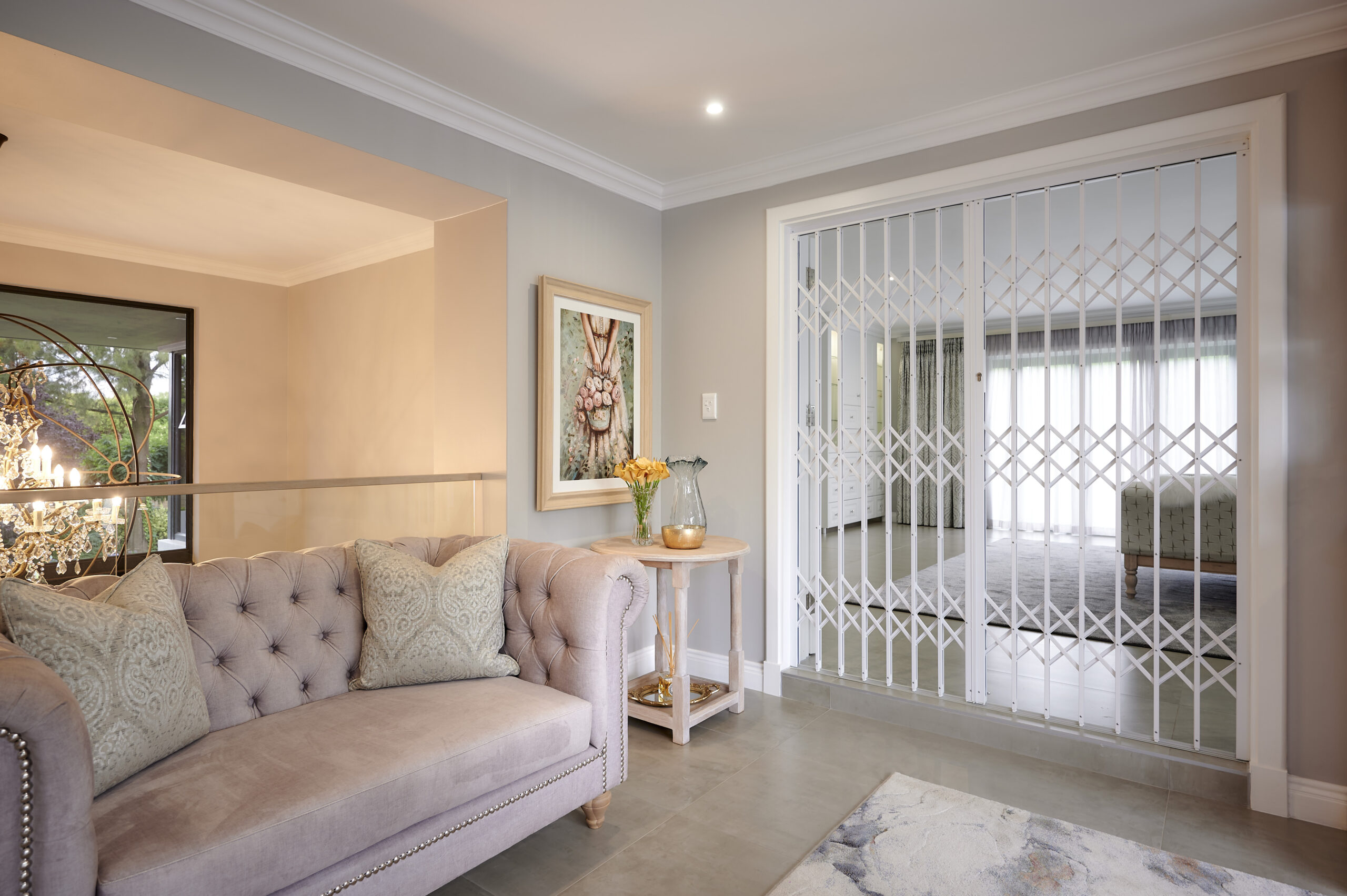 Sliding security gates for doors and windows
Expandable security gates are one of the easiest and most cost-effective ways of protecting yourself in the safe room or zone. If you choose gates from a reputable manufacturer like Trellidor, you get excellent value for money and gates that are strong enough to withstand an attack.
This type of sliding security will last a long time, especially if you clean them regularly according to the warranty that they're supplied with.
One of the reasons that custom-made retractable security gates from a well-established manufacturer like Trellidor are the best ones to choose is that they are made to fit your windows and doors as tightly as possible.
This means that there are no big gaps that intruders could fit a tool like a crowbar into to lever the burglarproofing out. Cheap DIY products do not fit as well and will not protect you to the same level.
Another advantage of using sliding security gates in your safe zone is that your installer can fit the same style of gate to your doors and windows. This means that all your burglarproofing will match in colour and style, which is more attractive than a mixture of designs.
Expandable security gates on your windows can be unlocked and opened when the windows need cleaning. There is no need to work through fixed burglar bars, making this task far simpler.
Retractable safe room gate tips
If your safe room or zone security is hard or complicated to use, the chances are you won't use it properly. This will leave you vulnerable to being caught by surprise by intruders. Some of the ways that Trellidor makes your safe zone into a user-friendly space are:
Trellidor expandable security gates open and close smoothly because they are top hung.
This means that they don't 'stick' when you try to close them in a hurry or in an emergency, so you are far more likely to use them all the time, keeping yourself safe.
The expandable door and window gates are locked using a single key, making them quick to close and lock.
One turn of the key locks engages several locking points inside the gate, making the lock very strong.
You can choose whether to have different keys for each gate or to have them keyed alike, meaning the same key can lock or unlock all the sliding gates in your safe zone.
You can choose either aluminium or steel expandable security gates, whichever you prefer.
There are several different models to choose from in the Trellidor range, from security gates with extra strengthening features for high crime risk areas to designs for lower crime risk locations. They are priced according to their strengthening features.
If finances are stretched, ask your Trellidor outlet about the various finance options available. You won't have to wait to save up before you can create your safe zone or room.
Your local Trellidor outlet will do a free security assessment for you and help you decide where best to create a safe zone using retractable security gates, so find a franchise near you