If you're looking for commercial security gates, you have a wide range of different designs to choose from. These include retractable security gates for offices, roller shutters, clear guard security screens and louvre security
shutters. The one you pick will depend on what you need in terms of protection and what 'look' you prefer.
Trellidor manufactures all these designs. They can be used to control access into your commercial premises as well as to keep robbers out. We've selected our top security gate picks for your office. All of them will protect your premises from a costly break-in.
But first we need to ask the question "why do you need commercial security gates?"
Take a look at these crime facts for the answers.
The SA Police Services 2017/2018 crime statisticsshow that business burglary:
Has increased over the last 10 years
Most often occurs on a Friday after 3.00pm
Robbers most frequently got in by breaking doors, followed by breaking windows, breaking locks, removing roof sheeting and tiles.
They took computer equipment, tools, cash, cell phones, food and electrical equipment.
Suspects repeatedly committed business burglaries at the same premises, particularly if cash was stored there.
So, in summary, you need commercial security gates:
On all external doors.
On all windows.
With strong locks.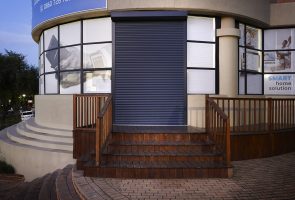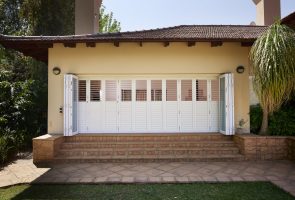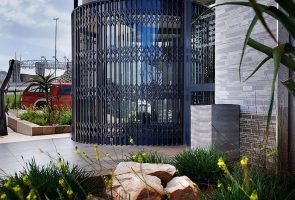 With all this in mind, here are our top picks for your office
Clear Guard security screens
Security screens are ideal if you don't want your commercial premises to look like a jail. They are fitted next to the door or window to protect it. It is see-through and perfect for access control as you can see who is at the
door before allowing them to enter.
Clear Guard
does not look at all like a security gate or burglar bars. This is because it is made from a panel of woven stainless steel. The panel is framed on all four sides in aluminium to make a neat barrier that looks
more like a door or window than security. But it does an excellent job of protecting your commercial premises from robbers.
Trellidor Clear Guard is a logical choice for the public areas of your commercial building because it looks good once installed. It will fit in with any décor theme chosen for upmarket buildings. The frame can be powder coated to tie in with the colour scheme.
Trellidor has installed Clear Guard in a variety of commercial buildings in various architectural styles.
For example, we installed it at the Nelson Mandela Museum in Mthatha in Transkei, South Africa. This is
an historic building that dates back to 1927 and it was really important that the security was sensitive to its architecture.
Trellidor Clear Guard was fitted next to 75 beautiful teak windows in this building. It stops robbers passing stolen souvenirs out through the windows. The screens also protect against damage from UV rays and wind. And they open up for easy window cleaning.
Clear Guard is popular for more than just keeping out criminals. We have fitted it to commercial kitchens such as one at King Edward VIII Hospital in Durban, South Africa to keep pigeons out.
The pigeons had become a health hazard. They bring in parasites and diseases that can be passed on to humans. Pigeons are a threat to food safety in any kitchen. They had to be kept out of this one, which provides 1000 meals a day for patients and staff.
Trellidor Clear Guard screens were a humane solution to the problem. They simply block the birds out of the kitchen. They also keep out other hazards such as mosquitoes. The screens can be opened to make window cleaning easy and they're lockable for safety purposes.
Retractable gates for offices
Retractable security gates
are ideal for commercial premises because they can be designed to protect just about any type of door or window. Trellidor manufactures them in either steel or aluminium, depending on your preference and location.
Sliding security gates have been manufactured by Trellidor to fit:
Extremely high and wide openings. We have fitted retractable gates measuring 3.2 meters high by 5 meters wide at the entrance to Dis-Chem stores around South Africa. We have also fitted several enormous top-of-the-range sliding security gates at the entrance to several London Underground tube stations.
Curved doorways. Commercial premises sometimes have revolving entrance doors or curved shopfronts. Trellidor can make retractable gates to fit these. We have installed them at Italtile in Johannesburg and Commercial Marine in Jeffreys Bay. Corrosion had to be taken into consideration in Jeffreys Bay, being a seaside town. Trellidor products go through a pre-treatment process before being powder coated to help prevent rust.
Extremely wide openings. The Metro outlet at Silver Lakes in Pretoria has 60m of Trellidor Retractable security gates. This is the equivalent of securing 75 average-size front doors, side by side! It is a single span (in one long row), 10 door flexi-unit that weighs a full ton. For health and safety reasons the bottom track of these gates is recessed into the floor so that it doesn't create a tripping hazard.
Normal size front or back doors. Retractable security gates are often manufactured to fit normal sized front doors. They can be fitted with an electric lock to make opening it easier for office staff.
Windows of all sizes. These sliding gates are a good choice for windows because they open for easy cleaning. They can be used as an emergency escape route in case of fire or a hostage situation.
Roller shutters make strong commercial security gates
Automated
roller shutters
are very strong security gates. Once rolled down, they lock into place and are nearly impossible to force up again. They are perfect for office entrance doors, stock storage areas and kiosks. Use them to protect shop fronts from smash and grab attempts.
Trellidor Rollerstyle shutters are made from aluminium so they can be installed anywhere, even at the coast. When closed, the shutters help keep out wind, rain and dust and they provide sound insulation.
The advantages of roller shutters for commercial buildings:
They are custom made for excellent fit.
They roll up into a neat, compact shutter box when not in use.
They can be retrofitted.
With forward planning for a new build or alteration, the shutter box can be concealed in a wall or ceiling cavity so that the shutter is completely out of sight when rolled up into the shutter box.
The shutters can be fully automated and controlled using hand-held remotes or a control panel fixed to the wall.
Automated shutters can be integrated into a central electronic control system.
They don't require much space as they slide up and down inside narrow side guide channels that can be recessed into the wall.
Security shutters for commercial premises
Aluminium louvre security shutters are a very attractive security solution for commercial buildings. They look very stylish next to windows and doors. Purpose-designed security products like Trellidor Louvre Shutters
also provide a high level of protection against a break-in attempt.
The strength of Trellidor Louvre Shutters comes from:
Internal strengthening features that make it a security barrier as well as a shutter.
Each louvre is reinforced inside with a threaded steel bar along its entire length.
A patented Trellidor locking system.
The ability to provide security whether the louvres are open or closed.
Operating mechanisms are concealed inside the shutter, with no external levers or rods.
Trellidor Louvre Shutters can be used to protect just about any opening. They are custom manufactured to perfectly fit doors and windows.
The patented Trellidor lock is accessible from both sides of the shutter, so the shutter easy to lock or unlock from either side. This makes it convenient to use whether entering or leaving the commercial premises.