Clear Guard and Estate Clear Guard window and door screens look similar. Both products are woven stainless steel mesh panels with an aluminium frame, custom-made to suit your doors or windows. The main difference is that one provides a higher level of security and is therefore more expensive. To help you choose, we explain four main distinctions between these Trellidor products.
Price

The main difference between Clear Guard and Estate Clear Guard is the price. Estate Clear Guard is competitively priced for homes and offices in security villages and office parks, where there are other forms of security such as perimeter walls and boom gates.Clear Guard, on the other hand, is equivalent to security barriers designed for high crime risk areas. It is stronger and therefore pricier. This product is ideal for detached or free-standing homes; ground floor apartments; office blocks that experience frequent break-ins; and other highly vulnerable locations.
Strength

Clear Guard is first and foremost a security barrier. It has been engineered for strength under attack and stands up extremely well to an assault using the various weapons that robbers favour, like garden spades.Estate Clear Guard is also strong enough to be called a 'security barrier' but people love it mainly for its other features. It is the preferred product where the following factors are the main reasons for installing these protective screens:

The mesh keeps out insects like mosquitoes.
It also blocks out dangers like snakes, monkeys, and baboons.
It filters out harsh sunlight and damaging UV-rays.
It is barely noticeable because the mesh is see-through.
The see-through mesh does not spoil the view.
The mesh allows fresh air to flow through it.

The original classic Clear Guard features the same benefits as those listed above, but in a more robust format for doors and windows that are at high risk of being damaged by intruders.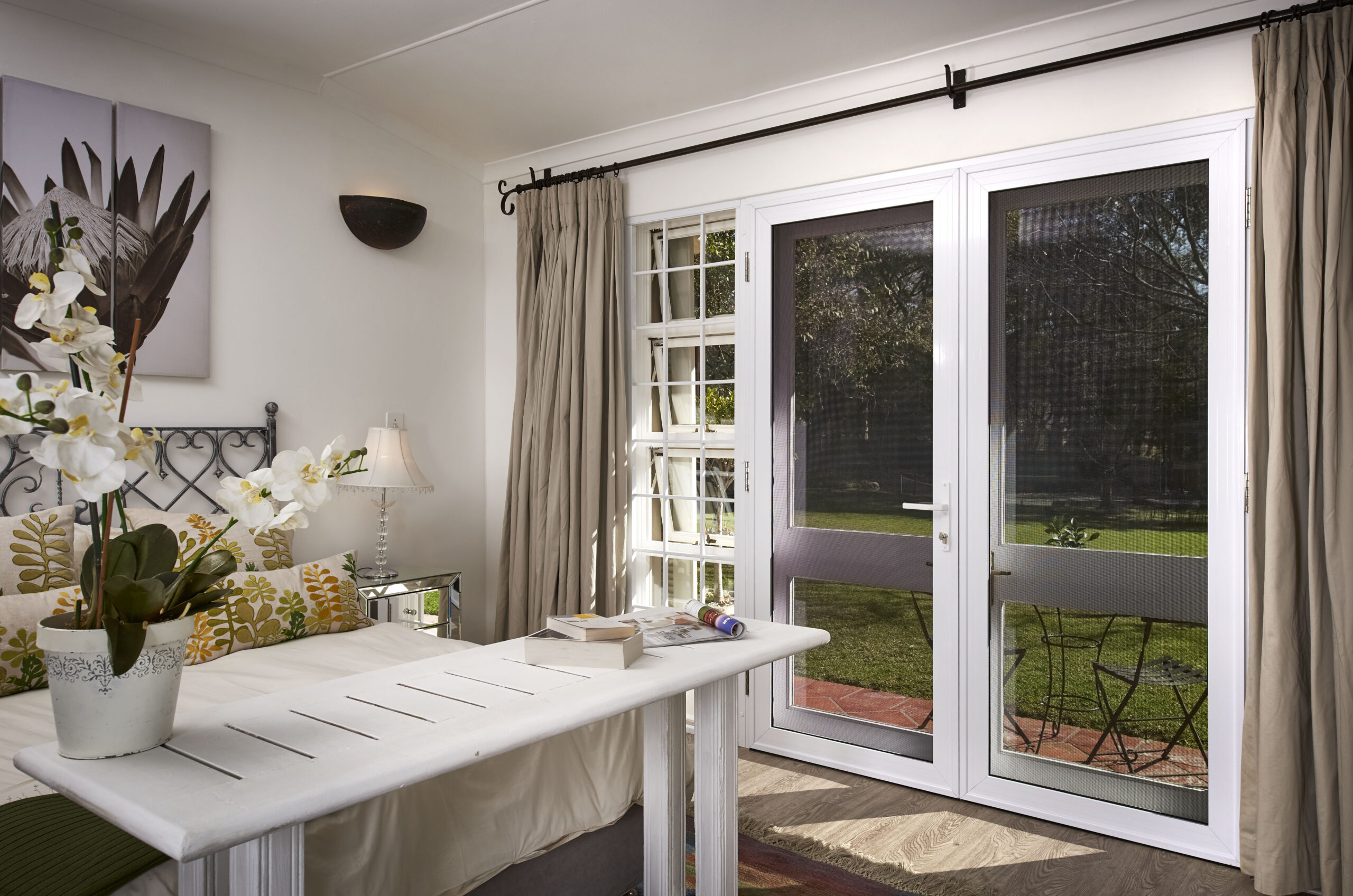 Hardware

There is a colour difference between the hardware that is used for Clear Guard and Estate Clear Guard. Clear Guard has uncoated stainless-steel hinges and other hardware. Estate Clear Guard units are supplied with black hinges and handles, which ties in nicely with the black coated mesh that makes up the screen.Both types of mesh screen are fitted with excellent locks that are strong and easy to use.

Locations

Estate Clear Guard was specially developed for enclosed neighbourhoods; residential and commercial walled complexes; upper storey apartments; first floor windows; the hospitality industry; bush lodges; and other places that need protection, but not necessarily from criminal intruders.Clear Guard is more suitable for at-risk places like holiday homes that are left vacant for long periods of time; homes surrounded by vacant land or empty properties; office complexes; remote dwellings with far-away neighbours; and high crime suburbs.
The features Estate Clear Guard and Clear Guard have in common
Like Estate Clear Guard, the Clear Guard mesh panel stops insects, monkeys, baboons, and snakes from getting inside your home, and assists with internal temperature control. Both types of mesh screen have the following benefits:
They are sleek, streamlined and beautifully designed to suit any home.
They are custom-made to fit neatly next to doors and windows.
They are fully framed in aluminium for added strength under attack.
They are durable and corrosion resistant even in coastal conditions.
The frames can be coloured to suit your décor.
They carry a warranty against defective workmanship, materials, and corrosion.
The best way to find out which of two Trellidor Clear Guard models is the ideal one for your needs is to contact a Trellidor outlet. A security expert will visit your home or office, explain the similarities and differences in more detail, and help you decide which suits your purposes. Find a Trellidor store near you and give them a call.