There are many benefits to choosing blinds instead of curtains to dress your windows. They can be used together to decorate a window, of course, but if you have to make a choice between the two, we offer some compelling reasons why blinds are a great alternative to curtains.
Window blinds are available in many different styles and colours, but as a window covering, they are the ultimate solution because they are:
Practical

Window blinds are a clean-lined solution to covering a window. They can be fitted neatly into small or large windows, providing shade and privacy when closed, or airflow and a clear view when open. They don't have to be lifted out of the way to clean carpets or floors, unlike long curtains. And children and pets won't brush past them, leaving dirt and stains.In larger rooms, blinds can be used together with curtains. The curtains can be purely decorative, adding colour and interest on either side of the blind. Or the blinds and curtains can all be closed to darken the room and block out cold or heat.
Space saving

Curtains in a small room can make it look even smaller. Blinds, however, are streamlined and clutter-free, which makes the room appear more spacious. Blinds in cramped rooms can fit conveniently into window spaces behind beds, couches, and dining tables without taking up any extra space.
Easy to clean

In general, window blinds in any style are very easy to clean. They simply require dusting before wiping with a soft cloth and a mild solution of dishwashing liquid and water. Even fabric blinds can be treated in this way. And the best part is that you do not have to remove them from the window to clean them.Remember to speak to your installer about how to clean the type of blind you prefer before making your decision on what type of blind to purchase.
Well Priced

Curtains usually require more fabric and manufacturing time than fabric roller blinds, adding to the cost before installation. Other types of window blind like Venetian, wooden, bamboo and vertical blinds are also a cost-effective way of covering windows.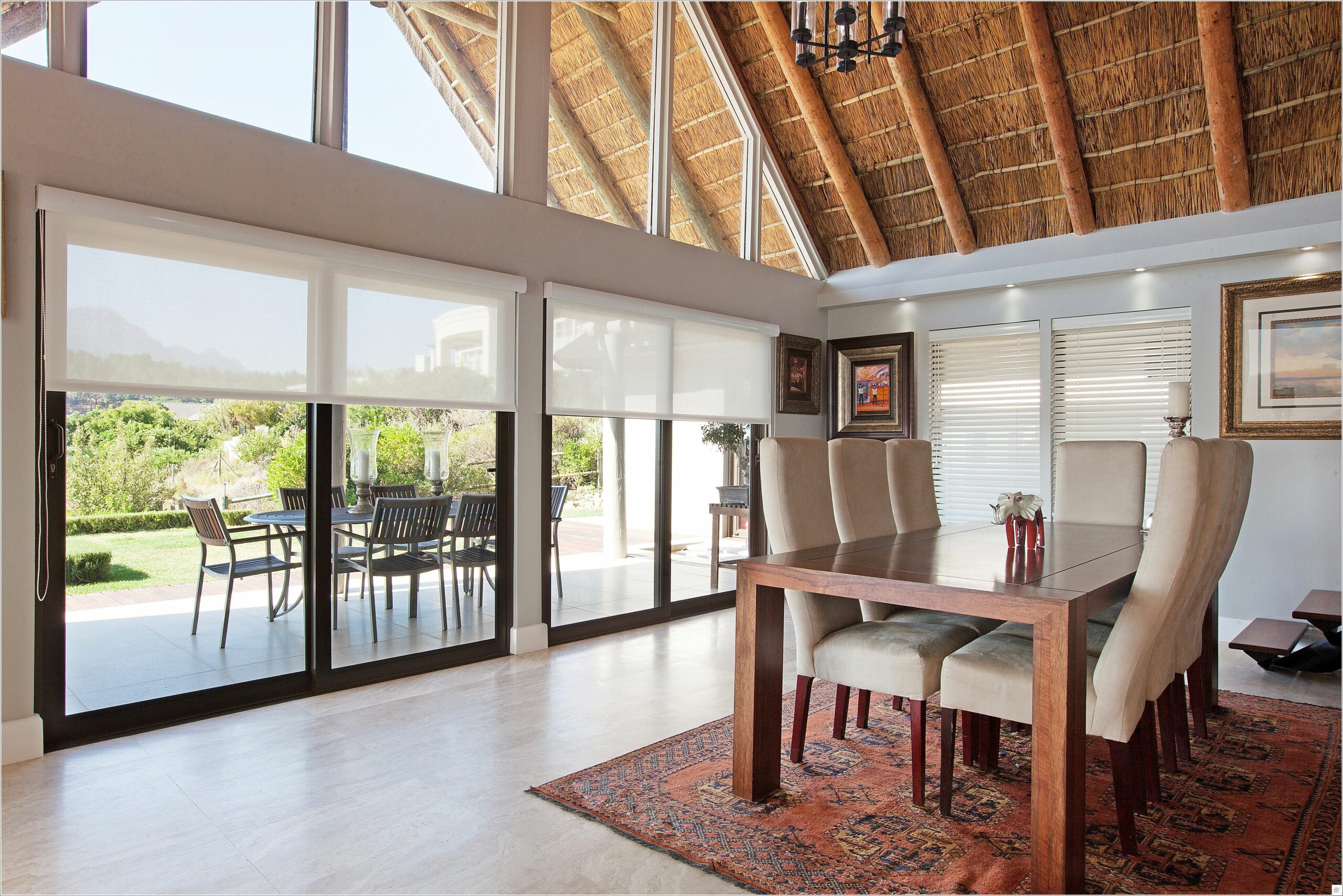 Suitable for any room

There is a window blind style to suit every room in a home, even damp areas like bathrooms and kitchens. Many of the materials used to make blinds in different styles are designed to withstand moisture, so they can be used above sinks in kitchens or basins in bathrooms.Blinds are made to measure for any window size, from small to very large. Wide picture windows can be fitted with several blinds side by side, so that you can open some or all of them depending on your requirements at the time.

More control over light and privacy

Curtains are either open or closed. They provide privacy and block out light when closed and when open, there is no privacy but plenty of light. You can, of course, choose to have two layers of curtains for light and privacy control, such as sheer curtains that stay closed for privacy plus heavier ones that are closed at night. This requires extra expense.Blinds can offer more control over both privacy and light, depending on the type you choose. Roller blinds are rolled up to whatever level you feel comfortable with in terms of privacy, light, and airflow.

Venetian, wooden, and vertical blinds can be tilted or swiveled to control how much light and air stream into the room. The angle you decide on will also dictate how much people on the outside can see inside.
Types of window blinds
There is such a wide range of options in window blinds that it is a good idea to call in a supplier to show you samples before you decide. Trellidor outlets offer the extensive Taylor Blinds collection. They will measure your windows, show you samples of blinds, and provide you with any information you need to make your choice. They will also install the blinds for you.
Find your nearest Trellidor outlet for window blinds
The Taylor Blinds collection includes these types of window blinds:
Roller blinds in over 100 fabric choices and finishes that include sheer light filtering fabrics that allow in maximum light; screen fabrics that block UV rays and reduce energy costs while still keeping your view; dim out fabrics that diffuse the light; and block out fabrics.
Venetian blinds with slats in a choice of aluminium, wood, styro-wood, and bamboo. Within each of these material types there is a variety of colours to suit your home.
Wooden blinds made from wood sourced from renewable plantations and available in a 50mm slat in a variety of subtle hues, colours, and textures.
Vertical blinds with washable fabric strips available in widths of 90mm and 127mm and a variety of colours and textures including a total block out PVC option.
Bamboo blinds that are eco-friendly, durable and can withstand sunlight for extended periods of time.
Get a quote on a variety of different types of window blind before you make your decision on the best covering for your windows. That way you can be sure that you make the right choice for your home.