If you have noticed roller shutter doors at all, it has probably been in a shopping mall at night when the retail outlets are closed. Most of them close their entrances with steel roller shutters to protect their premises from theft. The shutters are also a very convenient way of closing the shop as they're easy to operate.
But you may be surprised to learn that roller or rolling shutters have found their way into homes for all the same reasons, security and convenience. Roller shutters in homes are made from aluminium instead of steel as it is lighter and not quite as noisy.
Roller shutters can be made for just about any doors size or window, from small serving hatches to large conference room doors. But you may be surprised to find roller shutters being used as a security solution at these five locations.
1. Bar Counters
How do you lock up a narrow bar counter once service is over? With a strong aluminium roller shutter, of course.
Bar counters in commercial premises are often a weak point. Doors and windows can be closed and locked, but if the counter is left unsecured it is easy for someone to slide over the top and help themselves to the stock on the other side.
A roller shutter fitted along the length of the counter will stop this happening. These shutters are frequently manually operated rather than automated, and simply lowered at closing time. They lock down tightly into place to stop anyone from lifting them up.
2. Serving Hatches
Serving hatches in shopping mall food courts and fast food outlets are a similar problem to bar counters. The solution once again is to close the hatch opening after hours with roller shutters. They are quick and easy to use and present a formidable obstacle to thieves.
The shutters allow staff to continue with their administration work behind the shutters without being disturbed by customers. The roller shutters also provide a high level of protection, which is very important when cashing up for the day, a dangerous time for staff and business owners.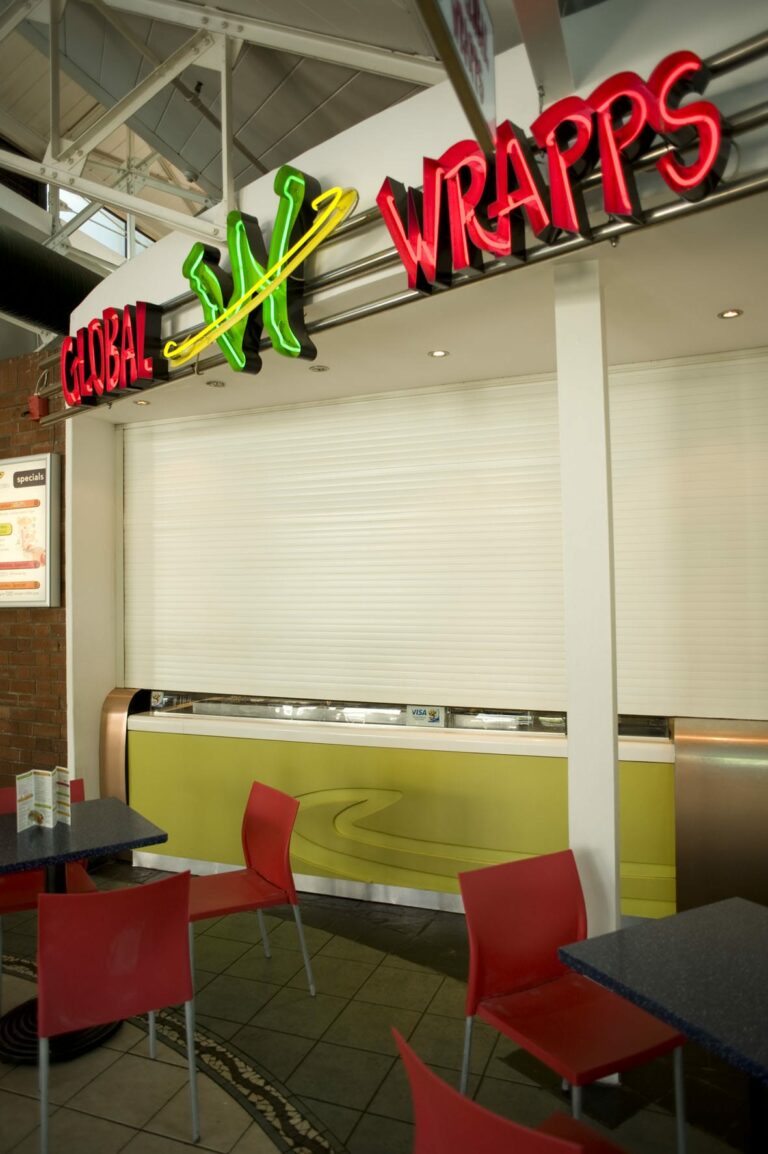 National chains tend to order the shutters in colours that reflect the easily identifiable corporate colours of the chain so that they blend in with the prescribed shop fitting requirements. If the shutters are automated, they are supplied with a manual override system to use in the case of a power outage until the generators kick in.
3. Canteens
Canteens in offices and factories have several areas that need protecting to avoid 'shrinkage' (really just another name for 'theft'). The supplies storage facility needs to be kept under lock and key to prevent theft. The food preparation area needs to be kept out of bounds to people wandering in and helping themselves. And then there are the serving counters.
Roller shutter doors are the perfect security solution for all these areas. They are easy to operate, open and close relatively quickly, and create a secure lock-down when required. The hand-held remote control used to operate automated shutters can be given to designated staff members only, who are then responsible for keeping them safe.
4. Medical Dispensaries
Medical Dispensaries in hospitals, pharmacies located in supermarkets, medical centres and large companies with medical facilities are all required to keep medicines and other dangerous substances under lock and key. So it shouldn't be surprising that many of them use roller shutters to do this.
Roller shutters can be used to securely lock supply rooms, serving counters and consulting rooms. Once rolled down to the floor, roller shutters are extremely difficult to dislodge, making them one of the most secure ways to protect these sensitive areas
Trellidor Rollerstyle shutters are supplied with a compact shutter box that can be hidden in a ceiling cavity with some forward planning. But even if retro-fitted, the installation is neat and tidy.
Roller shutters in locations such as these are usually automated for convenience. The shutters roll down at the touch of a button, locking up for the night or weekend. At opening time, the shutters roll up again, out of sight inside their shutter box.
The Trellidor Rollerstyle shutter takes up very little space as it slides up and down inside narrow side guide channels that can be recessed into the wall. The shutters do not require a bottom track, so there is no tripping hazard, which is ideal for public areas.
5. Multi-media conference rooms
Conference rooms may not seem to be an obvious location for the installation of roller shutters, but these shutters are in fact a great solution for a number of problems here.
Firstly, roller shutters are a very convenient way to break up a large conference room into smaller spaces. The shutters provide some sound insulation, so if there are several conferences going on at the same time, there won't be too much disruption due to noise.
The roller shutters can all be raised into their shutter boxes if the entire venue needs to be opened up for a large conference. Once again, this is so easy to do if the shutters are automated and remote controlled. Trellidor Rollerstyle shutters are made from aluminium, so even manually operated units are easy to raise.
Secondly, solid slatted roller shutters block out light when they are closed. If fitted to doors as well as windows, the conference room can be darkened for viewing multi-media presentations.
With roller shutters on the windows, there is no need to go to the expense of installing curtains, blinds or burglar proofing to the windows. The shutters perform all these functions, making them very cost effective over time.
Here's what you need to know about Trellidor Rollerstyle roller shutters:
They are made from aluminium with a pleasing slimline profile.
They don't require much space as they slide up and down inside narrow side guide channels that can be recessed into the wall.
They don't need a bottom track, so there is no cutting into the floor and no tripping hazard.
They can be fully automated and controlled using hand-held remotes or a control panel fixed to the wall.
Automated shutters can be integrated into a Smart Home central control system.
They roll up into a neat, compact shutter box and are out of sight when not in use.
They can be retro-fitted.
With forward planning for a new build or alteration, the shutter box can be hidden in a wall or ceiling cavity.
Find out more about Trellidor Rollerstyle roller shutters