Successful motor showroom designs have several common features that make the cars the stars of the show. Some of these are a strong brand identity, good lighting, a full view of the cars on display from the outside of the showroom floor, and security for the valuable stock on display. Trellidor Coroview sectional overhead doors tick all these boxes.
Coroview sectional overhead garage and showroom doors are custom-made at the Trellidor factory. Customisation includes choosing a configuration to suit the building housing the motor showroom. These options are:
A

STANDARD

sectional overhead with tracks that lift the door up above the opening and then inwards at a 90° angle (or aligned to the roof pitch). 

A

HIGH LIFT

sectional overhead that lifts the door vertically in its tracks to a specified height before curving inwards.

A

VERTICAL RISER

that lifts the door straight upwards in vertical tracks, and not inwards.
Now let's look at why Coroview is perfect for motor dealer showrooms in more depth.
1. Good lighting
Coroview sectional overhead doors are made from either 4mm toughened glass or 6.38mm laminated safety glass, with a 15mm rebate in accordance with international standards for moving glass panels. A unique clip-in "B" system prevents the glass panels from accidentally falling out of the door frame.
These large glass panels result in a large expanse of glazing that allows light to stream into the motor showroom, highlighting the vehicles on display. This is especially true if the full front façade of the showroom is fitted with Coroview doors and interior lighting has been well thought out. Cars are clearly visible within, showing off the range of options and allowing people to 'window shop' with ease. 
2. Full view
One of the outstanding features of Coroview doors is that they are slimline sectional overhead doors that maximise the amount of glass used. They are perfect for full opening applications because they create an attractive wall of glass that tempts customers in to see the display of cars behind it.  
The dies used for Coroma doors are manufactured from unique extruded aluminium profiles. These are framed together with matching mullions and pressure locking internal glazing beads that conform to international 'Slim Line' specifications. The doors have several design features that provide additional strength and rigidity. These features make even very large Coroview doors safe to use in public areas.
Coroview doors can be raised fully to open up the showroom and invite visitors inside. The open doors also allow the easy entry of new vehicles being driven onto the showroom floor and the exit of newly purchased vehicles.
The same Coroview benefits are true for the workshop area of the motor dealership. These sectional overhead doors can be opened up to create:
Good airflow

Great light

Space for customers and staff

Cars to drive in and out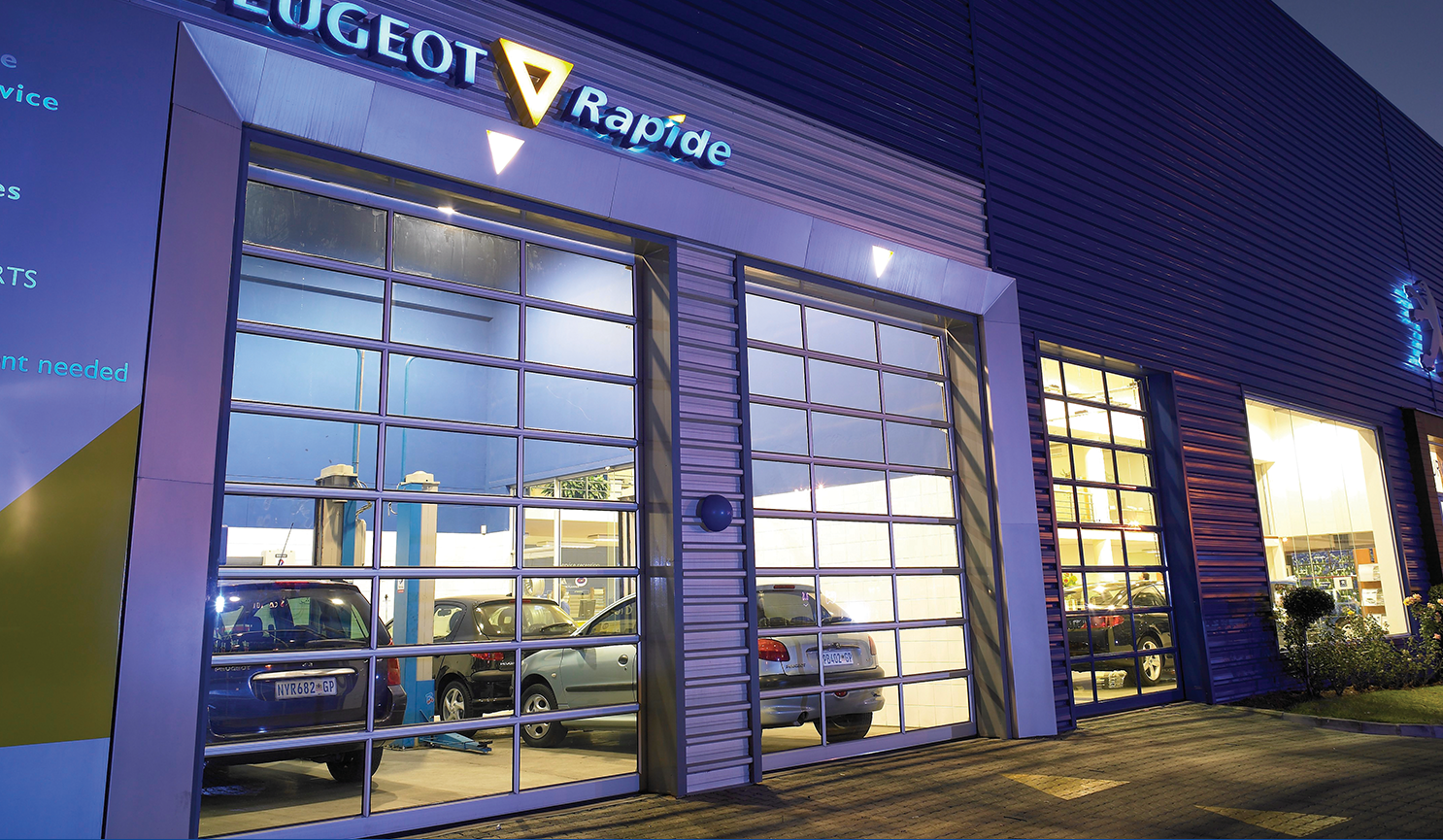 3. Strong brand identity
Motor dealer showrooms usually have a strong brand identity. This can be reinforced through the colours displayed on the façade. Coroview slimline sectional overhead door frames can be powder coated in corporate colours, subtly leaving customers in no doubt as to which showroom they are visiting.  
Aluminium infill panels, tracks, hinges, and fittings can be powder coated to match the corporate colours used for the Coroview door frames. This coating provides additional corrosion protection and a high-quality surface finish.
4. Secure valuable stock
The downside to displays of gorgeous vehicles is theft. Motor dealerships need several layers of security to protect valuable assets. At the same time, the security should be as discrete as possible so as not to put off potential customers. 
A major benefit of Coroview doors as a showroom outer façade is that they provide an attractive physical security solution. Closed Coroview doors are strong and durable. They effectively control access to the showroom floor. And because they are see-through, no criminal will be able to get away with stealing 'behind closed doors' as they will be clearly visible through the Coroview doors.
Find out more
These are just four of the main reasons why Trellidor Coroview doors are the perfect security solution for the front of a motor showroom. To find out more about these doors, visit the Trellidor Coroview product page or call your local Trellidor outlet to speak to an expert consultant.