Bathroom windows are often too small or inaccessible to be considered a serious security problem. So we often leave them unprotected by any form of burglar proofing, either to save money or to avoid cluttering up the outlook. An incident in a secure complex near my home shows just how short sighted this attitude is.
Gated communities still vulnerable to crime
I live in a gated community and not far from me is a very exclusive walled complex. It has its own gated entrance with guards controlling entries and exits 24/7. This gate is the only way into the complex.
As mentioned, this complex is within a gated community that also has guarded boom gates and cameras. Double the security, one would have thought.
But the catch is that the complex borders on a golf course. This makes it vulnerable to criminals that get onto the course to try and break into the surrounding homes.
Golf course management has done its best to prevent unauthorised people from wandering around, but keeping them out completely is very difficult.
One Sunday afternoon, home invaders got into one of the homes in the walled complex, via an open bathroom window looking over the golf course. The criminals were armed but fortunately did not shoot anyone. They did, however, tie up the homeowners and got away with the usual portable items such as laptop computers and cell phones.
How the robbers got in and out without being seen is a mystery. There were people playing golf, people in other homes in the complex, people walking past the complex (Sunday afternoon walks are popular here) and guards at the complex entrance as well as the security village boom gates.
The solution to home security
The moral of the story is that no matter how small the bathroom window, make sure it has decent burglar proofing to stop robbers from using it to gain access to your home (and you). The cost of securing these windows is definitely worth it if it means avoiding a nasty, unexpected surprise.
Trellidor has loads of different designs to choose from and can powder coat them to blend in with your decor, so that they don't spoil your view to the outside.
Home security product ideas
Here are a few ideas to look at:
Trellidor Cottage Guard for upstairs window
This bathroom window is on the second floor but the owners did not want to take any chances. They've installed Trellidor Cottage Guard, one of the strongest burglar bars on the market. The burglar bars were powder coated to match the window frame and blinds, blending in seamlessly with the bathroom's accent colours.
Trellidor Cottage Guard for awning windows
Awning windows such as these are very easy to get through and its even easier when they're on the ground floor. Trellidor Cottage Guard burglar proofing with small gaps were the answer here. The gaps are smaller than the minimums required by insurance companies. This makes it extremely difficult for even a tiny person to squeeze through.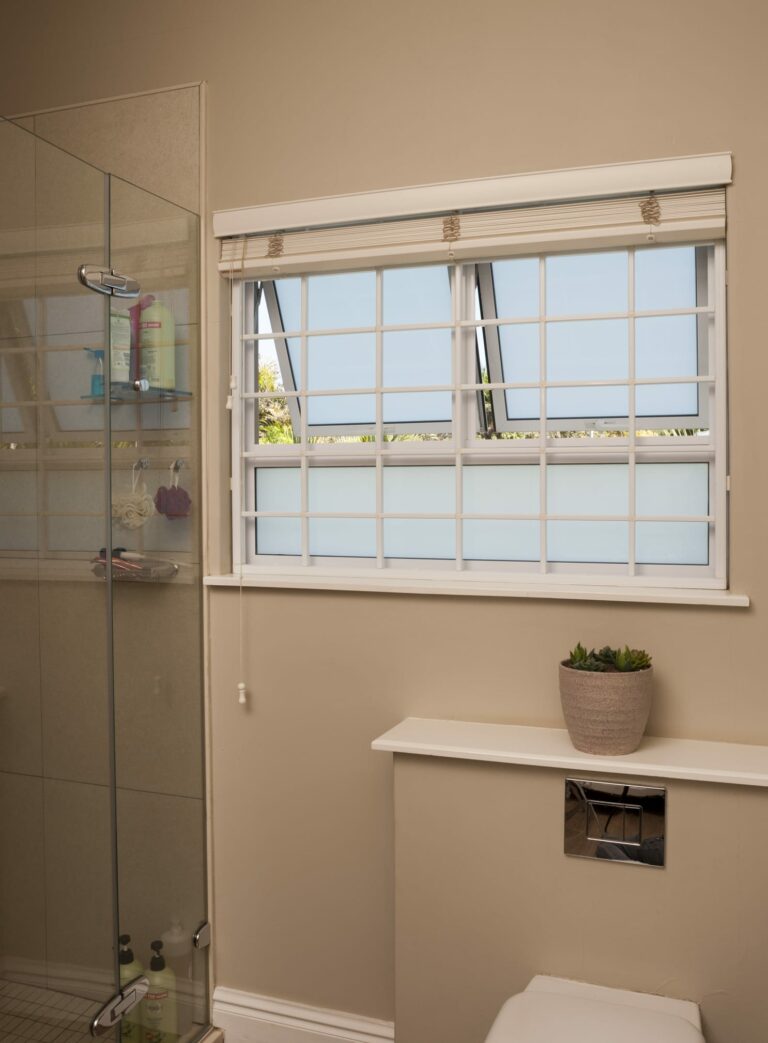 Trellidor Burglar Guard for affordable good looks
A limited budget doesn't have to leave you vulnerable to home invaders. Trellidor Burglar Guard is very affordable but still provides more than enough strength to help prevent a break-in. It comes in three different designs including this linear one that works so well in modern bathrooms.
Trellidor Clear Guard for see-through style
If you'd prefer your bathroom burglar proofing to be discrete then go for Trellidor Clear Guard. This is a really attractive barrier that doesn't even look like burglar proofing. It is clean-lined, with a see-through stainless steel mesh panel and a neat alumnium frame. It blocks out mosquitoes, flies, monkeys and baboons as well as criminals.
For more Trellidor bathroom window product options take a look at:
Visit your nearest Trellidor showroom to see all these products first-hand or call them and make an appointment for a consultant to visit you at home and show you your options.
But don't leave that bathroom window unsecured!
Lindy from Trellidor Marketing