See-through burglar bars have become popular for homes in low crime risk locations. They are versatile, virtually invisible, and add that extra layer of protection at a very affordable price. Get some ideas on where to install clear burglar bars from these real homes.
Apartment windows
There are many reasons for installing see through burglar bars on apartment building windows. Firstly, you do not need steel burglar bars when you are too high up for burglars to get into your home. So heavy duty burglar proofing is not necessary.
Secondly, window protection helps to keep children safe. Toddlers love to climb and if they can get up onto windowsills, they will. Polycarbonate Bars are a good way of stopping adventurous little ones from climbing up and falling out of windows.
The fully framed Polycarbonate Bar burglar bars from Trellidor fit firmly into place. These are not just strips of Polycarbonate screwed into the window frame. They are framed on all four sides. The frame holds the bars in tightly so that they provide a better quality of protection.
Children cannot get through the spaces between the bars, so they are less likely to hurt themselves.
Thirdly, transparent burglar bars like these do not make apartment bedrooms look dark. They are almost invisible and allow plenty of light into the rooms.
Estate homes
Homes in housing estates, be they cluster homes, golf estates or retirement villages, usually have many layers of security to keep people safe within them. This includes perimeter fences, guards at the gate, security patrols and sensor beams linked to alarms.
This type of home does not need the same level of door and window protection as a free-standing home in a suburb. But homeowners still have security issues like petty theft by casual workers or visitors to the estate.
If they are part of an eco-friendly environment, these homes may also have problems with monkeys or baboons getting inside and creating havoc.
Polycarbonate bars are a simple solution to all these challenges. Plus, they usually comply with the rules of the Body Corporate or Homeowners Association. Many of these governing bodies do not allow burglar bars that are visible from the outside of the home.
Transparent burglar bars do not violate any of these rules, so they are a good option that allows homeowners to comply with the rules.
Second floor bedrooms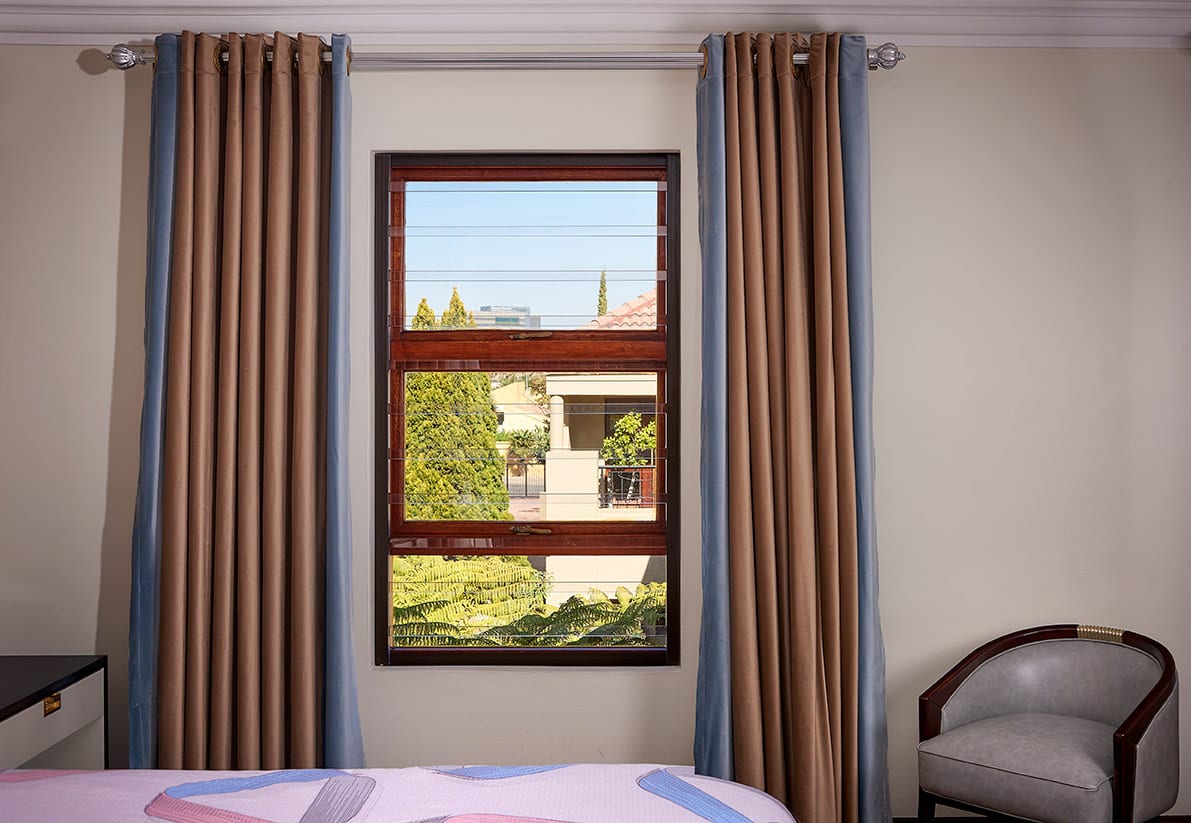 Double storey homes are the perfect location to install clear burglar bars. Second floor bedrooms that are harder for house breakers to reach can be protected with Polycarbonate bars on the windows, blocking out criminals as well as monkeys and baboons where these are a pest.
With transparent burglar bars on the windows, the rooms stay light and airy while protected at the same time. The fully framed design from Trellidor looks neat and professional, adding value to the home at a reasonable cost.
Areas within the home that are more exposed to crime should be protected with stronger, lockable burglar proofing. This is because these areas are more likely to be attacked than the upstairs windows. These vulnerable doors and windows should be fitted with high quality burglar gates and burglar bars that can withstand an attempted break-in.
Inaccessible bathroom windows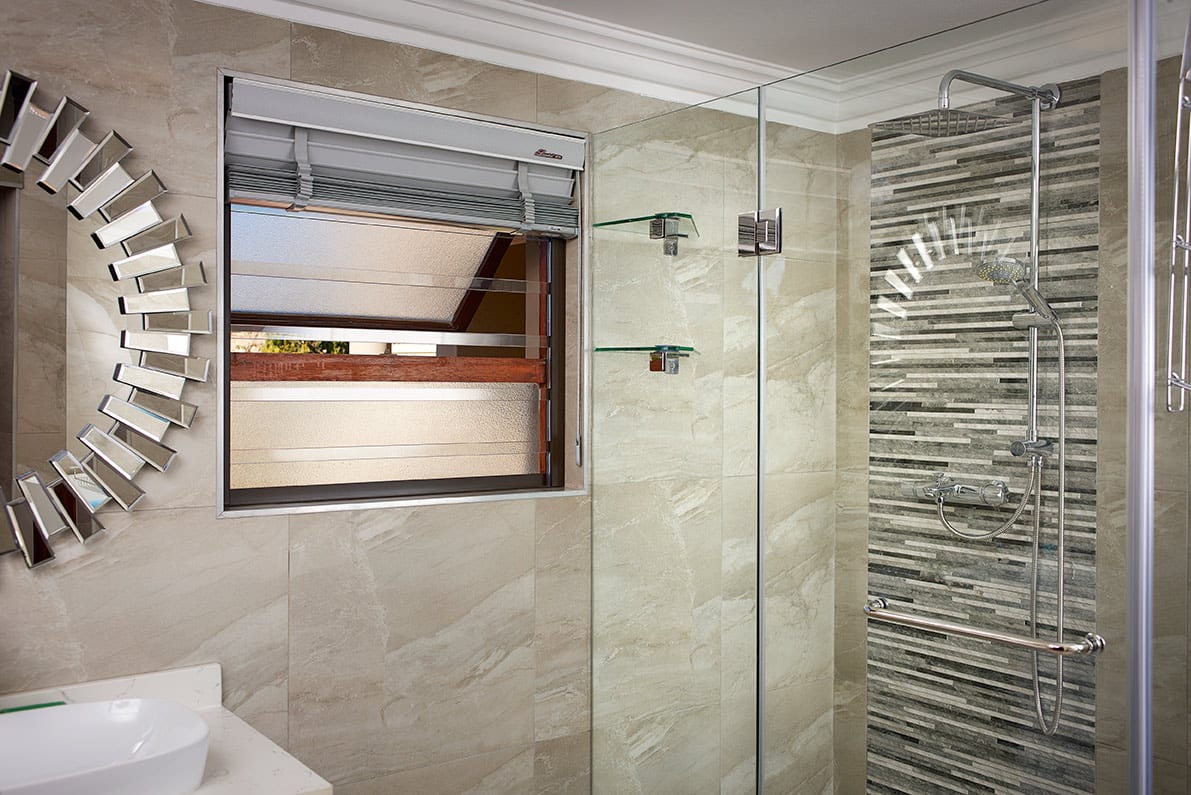 Bathroom windows that are hard for intruders to get to are another low crime risk location highly suited the installation of clear burglar bars. This is because:
The Trellidor Polycarbonate Bar frame is aluminium and suitable for damp areas.
The Polycarbonate strips are easy to wipe clean.
The burglar bars are clear, letting in light to brighten up the bathroom.
The spaces between the bars allow in plenty of fresh air.
Transparent burglar bars can be fitted to bathrooms in free-standing suburban homes, housing estates of all types, apartments, holiday homes and office buildings. They are cost-effective and quick to install by expert technicians, especially if they are custom-made by a professional manufacturer such as Trellidor.
What are Polycarbonate bars?
'Polycarbonate' is a thermoplastic used in engineering. It is lightweight, transparent, strong and UV resistant. Trellidor Polycarbonate bars differ from other manufacturers that make burglar proofing out of it in that:
The burglar bars have a full, four-sided extruded aluminium frame for strength and stability.
The Polycarbonate panels are inserted into this aluminium frame at regular intervals, not into the window itself. This makes the burglar bars stronger.
The framed burglar bar units are fixed into the substrate surrounding the window using tamper-proof fixings, making it tougher than competitor products.
Where can you find clear burglar bars for your low crime risk home or office?
It is best to get these burglar bars from a well-established manufacturer. The benefits to this are:
They measure your window and design the burglar bars to fit exactly, ensuring that the installation fits properly and neatly.
The clear burglar bars are custom-made according to these measurements.
An expert technician fits your burglar bars for you.
The company provides a warranty against defective materials and workmanship, so you have some recourse if something goes wrong.
If you have an attempted break-in and your burglar bars are damaged, you will be able to get a replacement to match.
Find out more about Trellidor Polycarbonate Bar clear burglar bars
Find your nearest Trellidor outlet to see samples of clear burglar bars before you decide to buy