Burglar Guards on windows are an excellent way of keeping criminals out of your home. They are made in a wide range of styles and metals and the choice can be confusing. But Trellidor has 3 perfect designs to go with, all in the Trellidor Burglar Guard range.
Why install window security?
Window security is necessary for several reasons.
Firstly, if criminals see that all your windows are protected with burglar bars, they will very likely decide not to attempt to break into your home.
This is because burglar bars make it difficult and noisy to break in, especially if the burglar proofing is good quality. Most burglars do not want to draw attention to themselves. They would rather get inside quietly and have time to steal what they want, undisturbed.
Secondly, burglar bars let you safely open up the windows for fresh air. With the open windows properly protected, there is no fear of someone getting inside while you sleep.
Thirdly, burglar proofing is a good feature if you decide to sell your home, particularly in South Africa. Here, burglar proofing is essential no matter where you live. It stops petty thieving in secure housing estates. And prevents more serious break-in crimes in free-standing homes.
Remember to fit burglar proofing to all windows, even upper storey ones in a double storey house. And install burglar bars to protect even the smallest, most inaccessible window. Robbers will get through whatever is available, even if it looks impossible to the rest of us.
What to look for in burglar bar designs
There are so many burglar guard options on the market. It can be hard to decide which is best for your home. It is also hard to see the differences in burglar bar designs as they can look very similar. So a cheap, poorly made burglar bar design can look the same as a more expensive, high quality one.
Here are some points to consider in choosing burglar bars:
Off-the-Shelf burglar bars are very seldom as strong as custom-made, professionally fitted ones. If you go this route, be aware that DIY products are usually very easy for burglars to kick out of the window frame. You will be buying a visual deterrent, not life-saving burglar proofing.
Burglar bars must look strong once fitted to your windows. If they look difficult to remove, burglars generally won't try. Good burglar bar designs take too long to break through. Burglars risk being caught in the act, which they definitely don't want.
Custom-made burglar bars can be powder coated to suit the colour of your windows. This way, they will blend in with your home's colour palette so that it doesn't look like a jail.
Burglar bars should be fixed into the substrate around the windows, not into the window frame. This makes the burglar bars stronger and more difficult to remove for burglars.
Framed burglar guards are stronger than unframed ones.
3 perfect burglar bar designs to go with
Trellidor Burglar Guard is the ideal range to protect windows when finances are stretched. It is competitively priced but well made. The three burglar bar designs in the range give you the strength that Trellidor barriers are known for. And there is no compromise on safety.
All three of these burglar bar designs are installed with tamper-proof fixings. These resist attack by criminals and make these burglar bars suitable for medium to high risk security locations.
And as with all Trellidor security barriers, Trellidor Burglar Guard is custom-made so that it fits your window properly. Your Trellidor Sales Consultant will measure each window and order a barrier specifically for that space.
The Trellidor factory makes the burglar bars to these measurements. Then once the order arrives at the Trellidor franchise, your burglar proofing is fitted by a trained Trellidor technician. All this helps to make your security barrier installation as strong as possible.
The three options in the Trellidor Burglar Guard range are:
Trellidor Burglar Guard with flat bars without trellis. This design can be installed either horizontally or vertically. You choose which you prefer.
Trellidor Burglar Guard with a single trellis pattern across the unit.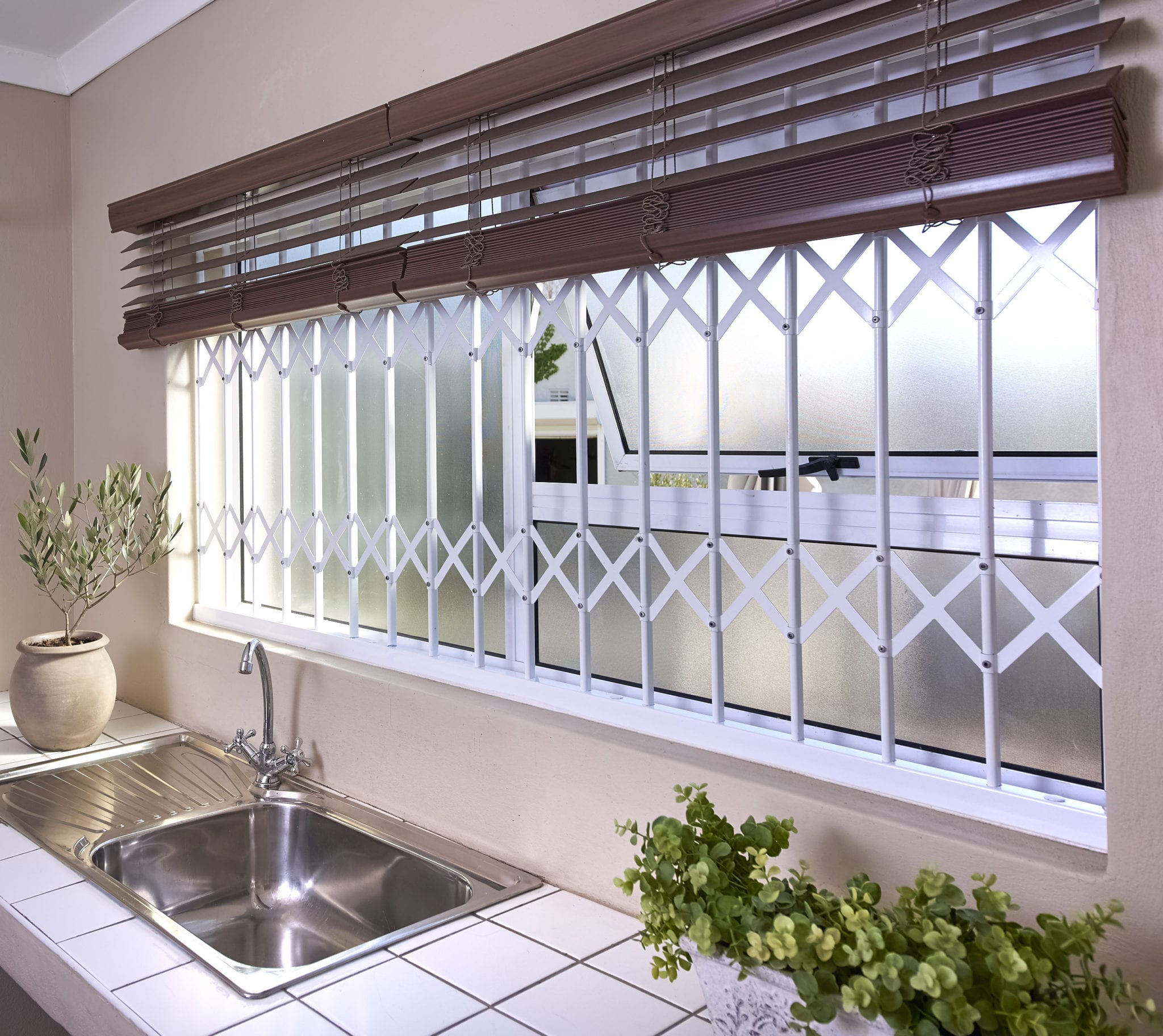 Trellidor Burglar Guard with a double trellis pattern across the unit. This design matches Trellidor Retractable security gates for continuity throughout your home.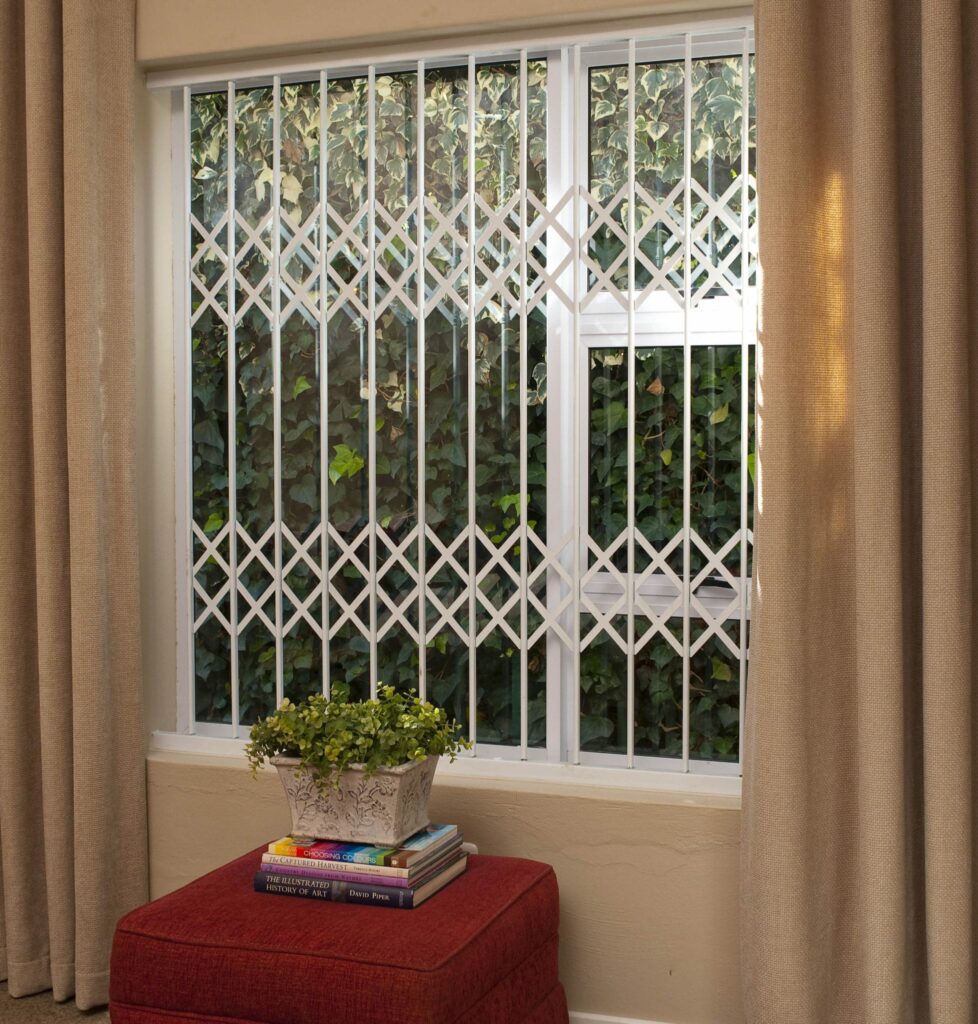 Why these burglar guard designs are perfect
They can be powder coated to suit your colour palette.
They are electro-galvanised steel which is extremely corrosion resistant.
They are custom-made to fit each window.
They are made from attractive and practical oval shaped tubing.
This tubing is easy to clean.
The burglar bars are semi-framed for strength.
They are fitted with tamper-proof fixings, making them strong and resistant to attack.
This window security range is competitively priced and very affordable.
The single trellis, double trellis and flat bar designs are all suitable for medium to high security risk locations.
The gaps between the bars in all options are small enough to stop robbers passing stolen items out the window through them.
The burglar bars can be fitted internally, externally, face-on, in the reveal, horizontally or vertically. An internal installation is always best from a safety point of view. Robbers have to break through a window to get to the burglar bars, making a lot of noise and risking discovery.
Trellidor Burglar Guard carries warranties against defective workmanship, materials and corrosion.
The manufacturing process includes pre-treatment for enhanced corrosion and UV resistance, which makes these security gates suitable for both coastal and inland conditions.
Fixed burglar bars or ones that can open?
Most burglar bar designs are fixed units. This means they cannot open once installed. And this type of burglar guard design is perfect for most windows. But it is important to consider what you would do in an emergency such as a fire. How would you get out of the house?
This is where burglar bars that open come into their own. Install these on at least one window in your home so that it can be your alternative escape route in an emergency. Trellidor manufactures a number of burglar bar designs that can open when you need them to. Some of these match the 3 fixed burglar guard designs so that there is visual uniformity.
An excellent home security solution for limited budgets is to use a combination of fixed and opening burglar bar designs. This ensures you have a secure home as well as a way of escaping a fire and other emergencies.
Trellidor franchises offer expert advice on all types of burglar guards. Contact your local Trellidor outlet for more on the perfect burglar guards to go with.