The idea that 'good quality' always means 'expensive' does not have to apply to security gates. Responsible sliding gate manufacturers like Trellidor put the safety of customers first and make sure that they include strong but still affordable products in their range. The reasonably priced Trojan TX gate is designed to provide a serious level of protection for any building and location. Find out how by reading further.
Apart from its accessible price, there are four main benefits of the Trojan TX that make it perfect for just about any residential or commercial building in any location. Here are the four Trellidor Trojan TX features explained:
1. Built-in Strength
The Trojan TX sliding security gate has many similar strengthening features to more expensive home security doors. It has a full, four-sided frame. It is made up of two rows of vertical bars, joined together with links that span three vertical bars. The links on less robust sliding gates only connect two upright vertical bars each, which is a weaker construction. 
Another feature of these premium quality retractable gates is that they have a T-shaped bottom track. The benefits of this track are that the shape increases resistance against attack by criminals and the low profile of the track means it is less of a tripping hazard than other types of track fitted to the floor.
Adding to the gate's strength once installed next to a door or window is the fact that it is custom made. This means that the gate fits the opening tightly, making it difficult for criminals to attack. Tamper-proof fixings are used to fix the gate into place, increasing its ability to stay firmly in place, protecting the people and possessions inside the premises.
This built-in strength can be trusted to keep people and possessions safe at home. Or staff, customers, and stock safe in commercial premises. Furthermore, it will do an excellent security job in locations with low, medium, or high crime risk profiles.
2. Ultra smooth operation
There is nothing more frustrating than a sliding security gate that doesn't actually slide. Some gates are 'sticky' and catch in various places as you try to close them, or they wobble along the track, and you have to jerk them open or closed. This is irritating, especially when you're closing up your home in a hurry or locking up commercial premises after the working day is over.
The Trellidor Trojan TX has been engineered to open and close smoothly and easily. Part of the reason is the links that join three uprights together, as mentioned above. Another reason is that the sliding gate is hung from the top to help it glide open and closed.
There are other more technical features that make sure the Trojan TX glides smoothly along the top and bottom tracks, but the most important point is that this gate opens and closes effortlessly. This means it can be closed and locked quickly and easily in an emergency or when you're simply locking up for the day.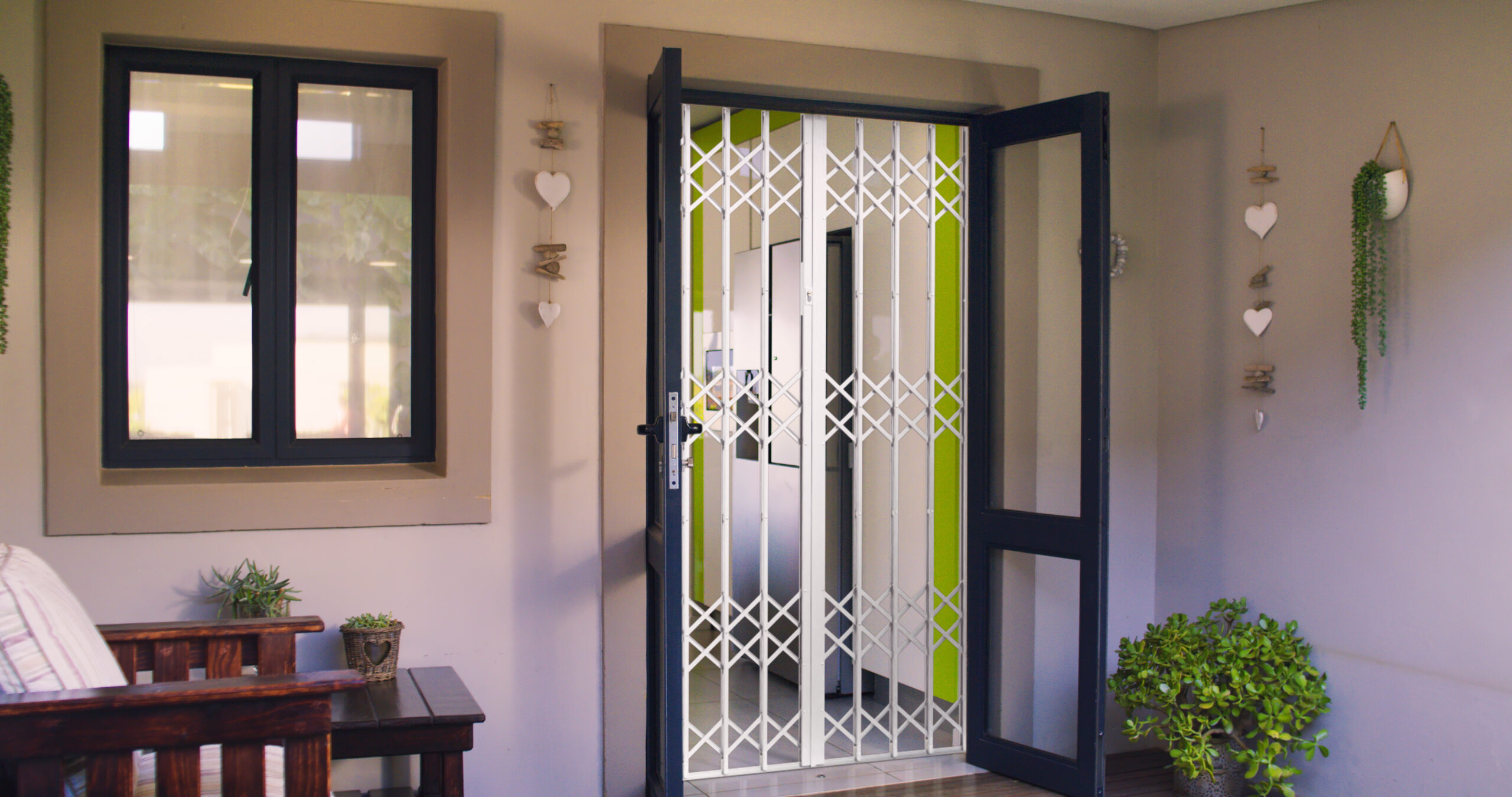 3. Lock choices
Locks are an important part of the construction of a good quality sliding security gate because this is often where criminals attack a gate first, using a crowbar or some other tool. All Trellidor gates are fitted with strong, dependable, tamper-resistant locks. These locks are extremely difficult to breach for house breakers or those trying to break into commercial premises. 
The locks can be customised with a choice of either a Slamlock or a Deadlock. The easy-to-use Deadlock needs just one computer-cut key that locks several internal locking points at the same time. An added strengthening and protective feature of the Trojan TX is a lock cover that protects the lock from attackers.
4. Long lasting
Fitting security gates to all the openings in a home or commercial building can be an expensive exercise, even if you choose an affordable sliding gate like Trojan TX. So it is good to know that these gates have a long lifespan, and you'll get great value for money out of them. One of the reasons for these sliding gates giving good service is the strict quality control every step of the way during the manufacturing process.
Another reason why the Trojan TX and other Trellidor sliding gates give many years of protection is the powder coating system the gates go through. It includes a process that enhances the product's corrosion and UV resistance, followed by high quality powder coating that give the security gate a smooth surface. 
The square tubing used to make some sliding security gates makes it difficult to powder coat all surfaces. However, the Trojan TX has U-shaped profiles that make it easy to treat and powder coat all surfaces to the security gates against corrosion. This means these gates can be used for security at the coast as well as inland because the high-quality finish increases the lifespan of the door or barrier.
Of course, like any fixture or fitting with a residential or commercial building, sliding gates need regular cleaning to keep them in good working order. The cleaning process is simple, and you can easily find out more about how to do this.
In summary, if you are looking for an affordable, easy to operate sliding security gate with strong locks that will provide you with many years of protection, Trojan TX is a really good choice. To see this retractable gate for yourself, visit your nearest Trellidor showroom. You'll be able to try out all the sliding gates in the range and ask any questions you have about how to keep your building or home safe from intruders.