In South Africa, choosing security gates to make homes and offices safe for people can be confusing. There are so many options, from small backyard welders to large manufacturers that supply their products nationally. Not all these sliding gates will do the job that you pay for, though, so here are some unique Trellidor security gate attributes that help to prevent at attack.
Designed to resist an attack for longer than any other comparable barrier
People often can't tell the difference between the various retractable security gates on the market. Several of them have similar trellis-style cross links that join upright bars together. If you don't know what to look for, you won't notice where a supplier has skimped on material and strength.

All Trellidor retractable security gate models, from wallet-friendly to top-of-the-range, are made with:

Double upright bars in pairs along the security gate. This is a strengthening feature. Most competitor products are made from only one set of uprights.
Links that form part of the trellis pattern across a Trellidor gate link three uprights together. This makes the gate stronger and also smoother to operate. Most competitor products have links that connect only two uprights.
The vertical steel bars and the links that connect them are shaped into a 'U' to make it easy to coat all surfaces against corrosion. Most of our competitors use square tubing, whether it is for steel or aluminium gates.
Trellidor retractable security gates have a T-shaped, low profile bottom track, designed to reduce the chances of tripping over the track and also to make it harder for criminals to pull the uprights off the track.
Coated for unmatched corrosion resistance and longer lifespan
A gate in good condition is a gate that will stand up well to an attack on it by intruders. The Trellidor factory has an anti-corrosion treatment and powder coating process that:

Gives the sliding security gates a wonderfully smooth finish.
Helps to prevent corrosion.
Increases the lifespan of the barrier by retaining its quality finish.
Ensures that the gates last well at the coast as well as inland.
Adds to the strength of the gate if it is hit by any of the tools that intruders use.
Fitted with patented locks designed to prevent a successful attack
Dead lock security gates are stronger than slam lock security gates and are better able to resist an armed attacked by robbers using a weapon. Dead locks are the lock of choice for Trellidor sliding security gates. But Trellidor does offer both types of lock and both our lock designs are patented.If you prefer to specify a slam lock, your Trellidor retractable gate will include a dead lock action to securely lock the gate and make sure that you don't have to rely only on the slam lock to be safe.

One of the benefits of a retractable security gate made by Trellidor is that it has just one key and keyhole to lock it quickly and easily. It locks securely with a single throw or turn of the key. It locks in several places inside the lock stile, not just in one place like a standard, off-the-shelf lock. This adds to the strength of the gate under attack.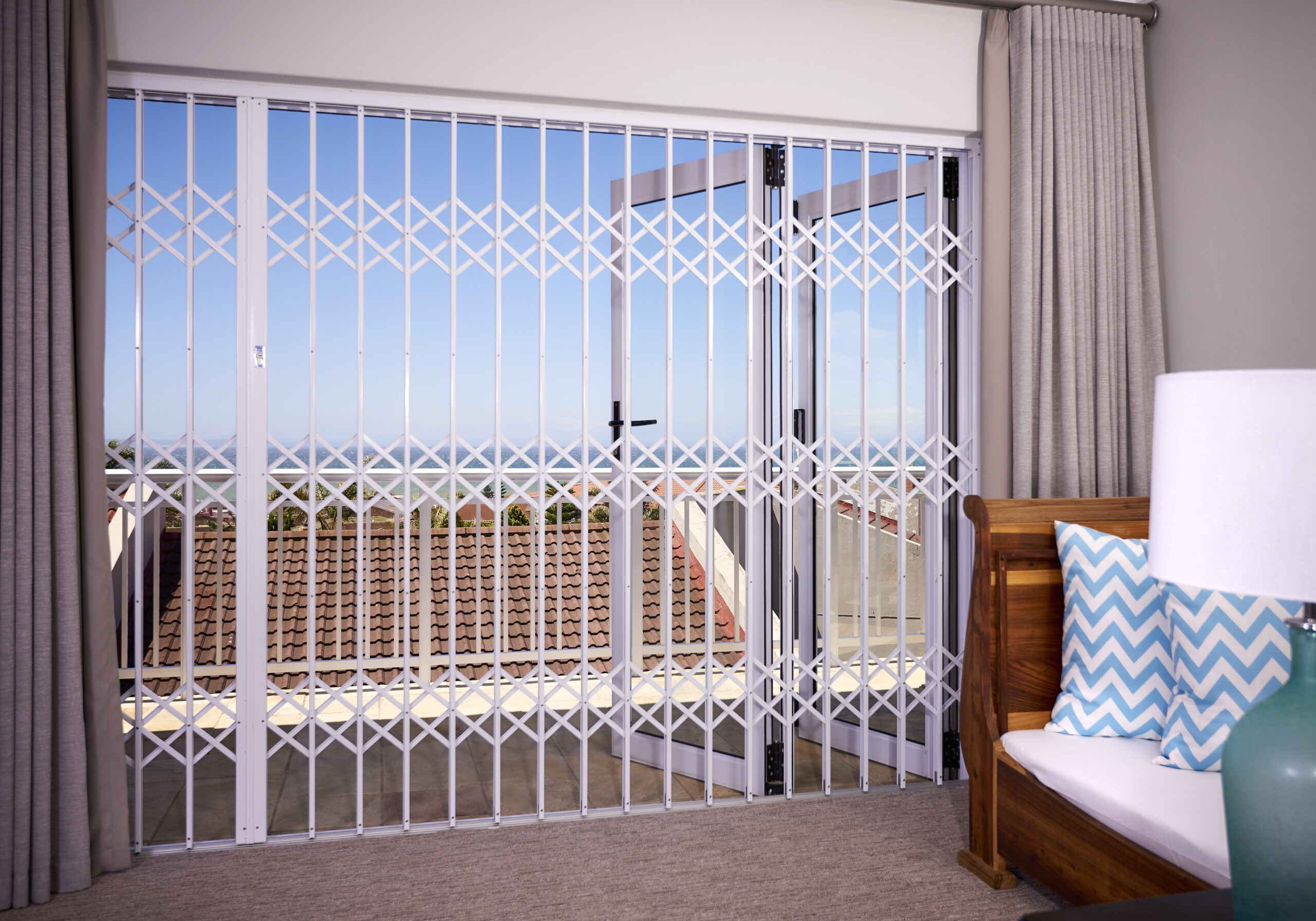 Custom-made to fit as tightly as possible to avoid weak points
A sliding security gate that is made to fit the door or window is always going to be stronger under attack than a do-it-yourself version. A gate that has been manufactured according to measurements done by a security expert is unlikely to have any gaps that burglars can use to leverage the gate out.The benefit of using a supplier like Trellidor is that a security expert visits your premises, measures the doors, and windows that need security, gives you advice on the best barrier for your needs, and orders your gates according to the measurements they have taken.

The new sliding gate is fitted by a trained technician using tamper-proof fixings and tools specially designed for the installation of Trellidor products. The result is a strong, reliable security gate that will give you excellent protection if attacked.
Range of models to suit any budget
Trellidor retractable security gates are made in various models, each one stronger than the next. This means that there is a Trellidor gate to suit any budget and you can be protected from an attack no matter what your financial circumstances.It is important to note that all Trellidor sliding gate models are reliable under attack. The difference is that the higher end models, like the internationally certified gates, are designed for high crime risk locations and access control.

Trellidor customers have access to several forms of financial assistance if you need it to purchase the sliding gate you want.
To find the right retractable security gate for your home or business premises, contact your nearest Trellidor store. A security advisor will make the process of protecting your home against potential attack within your budget as easy as possible.