Trellidor is a proudly South African company that manufactures the strongest roller shutter door in Africa. This door has distinctive design features that make it the most secure roller shutter available. Called Rollerstyle LDS65, this roller shutter door is used to protect industrial buildings from theft and vandalism and can also be installed in residences, either internally or externally.
Rollerstyle LDS65 is just one of the roller shutter door designs made by Trellidor. There is a range of shutters with different strengths, price tags, and applications. They are all manufactured from strong architectural grade aluminium, and all have built-in security features. 
What are roller shutters?
Roller shutters are doors that roll up to the ceiling using side guide channels that are fitted into the walls on either side of the opening. They have horizontal slats that are hinged together to form a 'curtain' that travels up and down inside these guide channels.
The shutter rolls up into a shutter box where it wraps around the motor shaft, ready to be rolled down when you need it for protection. This shutter box  fits neatly above the door or window. In a new building or home alteration, the housing box can be hidden inside the ceiling, completely out of sight.  
What makes the Rollerstyle LDS65 different is that:
It has a double row of slats, which is stronger than a single row of slats.

Each slat has windlocks inside the guide channels that lock the shutter in place to prevent pull-out. 

In between each slat is an s-shaped 'actuator' which is a type of this slat that combines with the double row of slats and other in-built technical features to lock down if any force is applied to the shutter.
So for example, if someone tries to lift the shutter door, a multitude of contact points within the shutter lock so that the shutter does not move. The more the shutter is forced, the tighter it locks. Experiments done by Trellidor show that even a forklift truck applying extreme pressure struggles to lift a locked down Rollerstyle LDS65 shutter.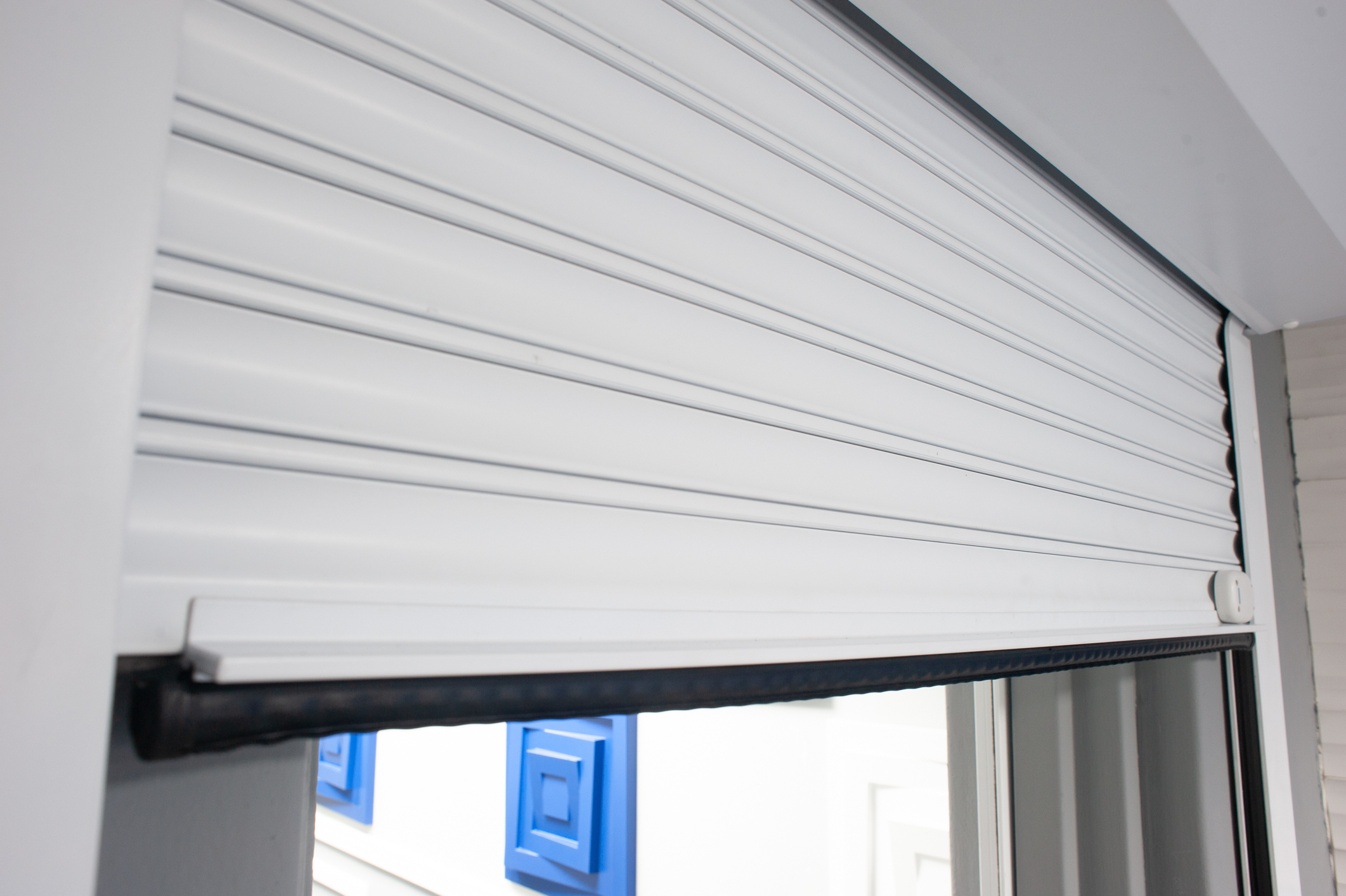 Rollerstyle LDS65 controller options
There is a choice of controller options for motorised Rollerstyle LDS65 shutters. There are hand-held remote-control units; key ring type hand held remotes; key switches and mechanical switches. The type selected depends on what will work best for the people responsible for opening and closing the shutter.
The benefits of Rollerstyle LDS65 features
Here is an easy-reference list of the features and benefits of Rollerstyle LDS65.
Made of structural grade aluminium

: light weight, strong, and corrosion resistant.

Can be installed during construction or retrospectively

: it doesn't matter whether the property to be protected is already built or is currently being built, Rollerstyle LDS65 can fitted to the openings.

Quick installation process

: fitting a Trellidor roller shutter causes minimal disruption to home or business operation. 

Can be fitted internally or externally

: the shutter is neat enough to fit indoors and corrosion resistant enough to fit outdoors.

Provides high level security

: the shutter is an excellent form of protection against theft and vandalism.

Ensures excellent privacy

: the shutter blocks out the interior of a property to the outside world.

Provides insulation

: assists with internal temperature control and sound insulation.

Controls light penetration

: controls light through a partial or complete block-out.

Shuts out poor weather

: blocks out high winds, rain, and hail.

UV resistant polyester powder coating

: provides a high quality, long-lasting, smooth surface to the shutter.
Where to use Rollerstyle LDS65 roller shutter doors
Most homes do not need high quality roller shutter doors like Rollerstyle LDS65. If they are fitted into homes, these are generally the residences of the very wealthy with extremely valuable art and wine collections, or other expensive items.
In the commercial setting, Rollerstyle LDS65 roller shutters are the ideal protection for: 
Retail outlet shop fronts, kiosks, tobacco counters, and electronic goods displays.

Stores with street-front entrances that need protection against vandalism and theft.

Jewellery stores in any location because they are popular targets for criminal gangs.

Pharmacies and hospitals, particularly supplies storage facilities. 

Drug storage facilities. 

Transport vehicles.

Offices that store high value audio visual and other equipment.
There are many other locations that would benefit from the protection of Trellidor Rollerstyle LDS65 shutters. To find out more about these specialised shutters, contact your nearest Trellidor showroom. You'll be able to visit the showroom to see the roller shutter product range and ask any security questions you may have. 
A security consultant will visit your premises to assess your requirements and assist with product choice. They will measure the opening to be protected and provide a quote as many product designs as you require so that you can choose which solution best suits your requirements.