Expandable security gates are one of the most effective ways of protecting a business from theft. They are also known as retractable security barriers or slam lock security gates. They are manufactured from steel or aluminium and are of varying strengths, depending on the model, the manufacturer, and the location crime risk profile.
Another name for these gates is 'sliding security gates' or 'expandable security gates.' Business owners or managers install them for many different reasons including:
To protect the store front from vandalism and theft after hours.
To protect the store from break-ins and damage during mass marches and demonstrations.
To protect the back entrance of the store from unauthorised entry.
To stop opportunistic theft from storage facilities.
To control access into a business premises.
To protect valuable equipment inside the business premises.
To create a safe zone for employees.
Retractable Security Gates from various manufacturers may look similar but there is a vast difference in the engineering and construction methods used.
Some are simply off-the-shelf or poorly constructed, cheap units that look like they will be good enough to do the job expected of them. But this type of sliding security gate is quick and easy to break through.
At the other end of the scale are purpose-made, third-party certified sliding security gates that can withstand a continuous, violent attack for a far longer length of time.
This type of security gate is suitable for extremely sensitive locations such as transport hubs, large sports stadia, foreign embassies, city street stores with high volumes of people passing by and stores with a high risk of crime such as those found at fuel stations.
Between these two extremes are the majority of businesses, which require robust, dependable retractable security gates that are strong enough to make it difficult, noisy, and time-consuming for criminals to gain entry into the premises.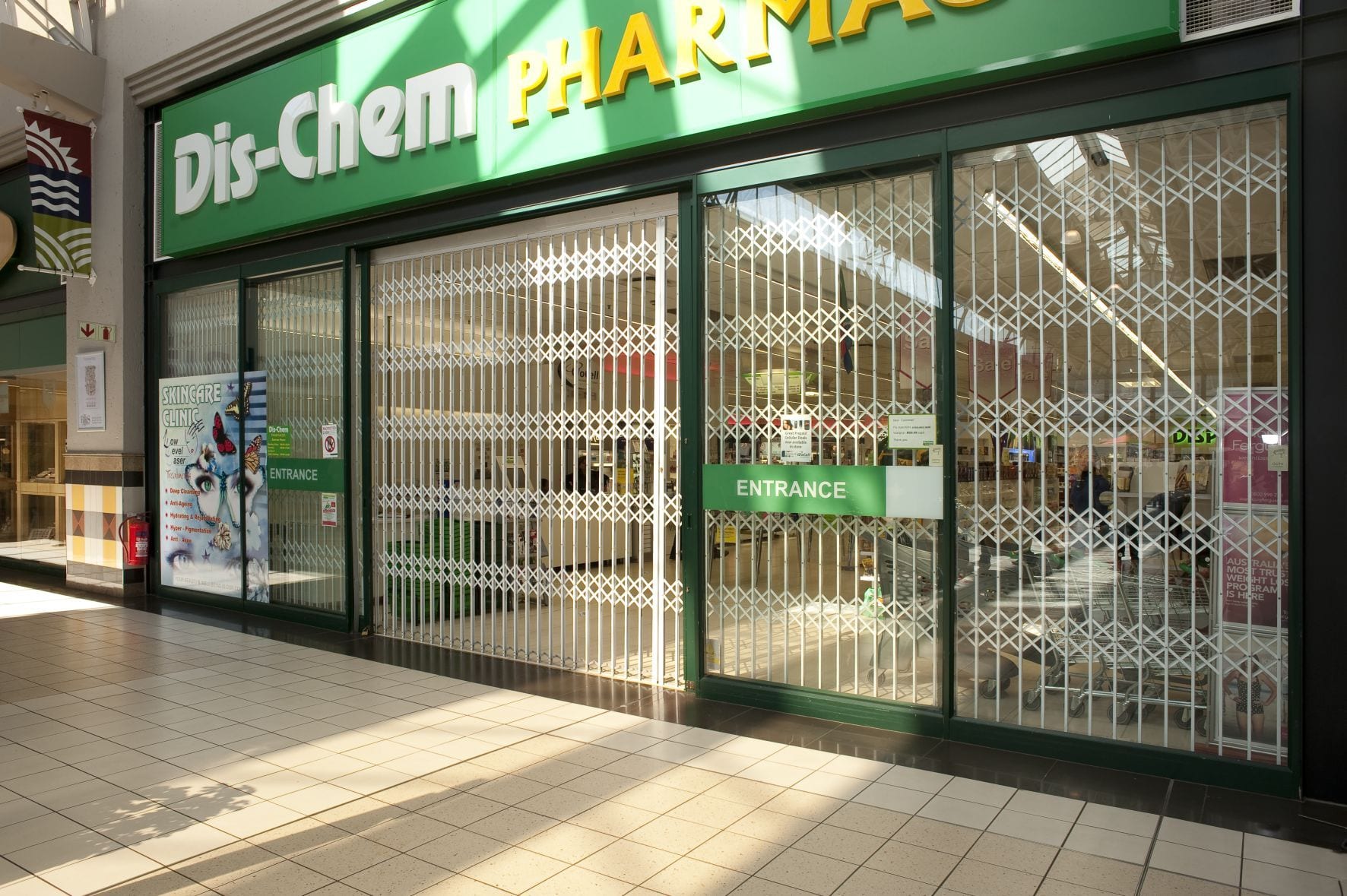 In all these situations, there are five Retractable Security Gate features that protect your business to look out for when making your choice of product for your business:
Frame

The best quality retractable security gates have a full, four-sided frame. A semi-framed sliding gate is never going to be as strong as a fully framed one. It will also not work as smoothly as one with a well-designed frame on all four sides of the opening.
Construction

The way the sliding gate is constructed affects its strength under attack. Some manufacturers use a single row of uprights (vertical steel or aluminium bars), which is not as strong as a double row of uprights.

The uprights are usually joined together with links, forming a trellis pattern. If these links join three uprights, they will provide more protection than if they join two uprights only. A three-link system also makes the gate open and close more smoothly and easily.

The importance of good construction is best illustrated by the Trellidor Trojan 3 EMESC T3000 sliding security gate. It has been certified to BRE Standard LPS 1175: Issue 7 SR3. This is the highest certification received by a sliding security grille in the world.

This gate is designed to protect extreme crime risk locations and weights 50kg/m² due to reinforcing. But due to its specialised construction methods, it can still be easily operated by someone in the 75th percentile in terms of strength, meaning the average person can open and close it easily.
Locks

To best protect your business, your security gate should have the strongest lock possible. A sliding gate fitted with a hardware store-bought lock is not going to give you the same protection as a custom-made and fitted, patented locking system.

There are many types of security gate lock, from slam locks that lock as you push them closed to dead locks that require a key to lock them.

Then there is the highly specialised and extraordinarily strong Trellidor Emergency Escape Locking System. It is a keyless, quick release mechanism that conforms to international health and safety emergency regulations. This lock was specially designed for the Trellidor Trojan 3 EMESC T3000.

Patented locks designed for other Trellidor sliding gate models can be keyed-alike on request i.e. all the locks in gates in the business premises can have the same key number and can be used to operate any of the gates. This is a convenient option when there are many gates in one building.

Alternatively, gates can be supplied with a different key number for each gate in a building. This option allows for more control over the access to multiple gates in one installation.

No matter which key option is selected, all Trellidor Retractable Security Gates are designed with multiple locking points within the gate for added strength.  These locking points are all engaged by using one key point, making the locks simple, quick, and easy to use when locking up the business at the end of the day.
Powder coating & UV protection

Once installed, you do not want your retractable security gates to deteriorate and weaken quickly. This wastes money and leaves your business vulnerable to a break-in. Gates that have rusted or corroded also look dreadful, creating a negative and uncaring impression of your business.

To avoid this, ensure that your security gate supplier makes the effort to treat the sliding gates to protect them from the corrosive effects of weather and pollution before installing them.

The Trellidor manufacturing process includes a pre-treatment process for enhanced corrosion and UV resistance, followed by professional powder coating. This creates a high quality, protective barrier against the elements so that they last many years and stay strong under attack, whether they are installed inland or at the coast.

The gates need to be cleaned regularly, according to the manufacturer's instructions, to maintain the protective surface and to keep the warranty valid.
Installation

An expert installation plays an important part in retractable security gates being able to adequately protect your business.

Authorised installers use tamper proof fixings and the right tools. They make sure the gate fits the opening snugly, reducing weak points that a criminal could use to break through. They ensure that the lock operates properly before handing over the keys to the business owner.

Companies like Trellidor use trained technicians to install their products, giving you peace of mind that the gate will protect your premises, provided you have selected the correct model for the business location.

Most security gate manufacturers insist that their own technicians install the expandable gates. If anyone else does it, or if the gate is moved from one location to another by an unauthorised person, the warranty will no longer be valid.

All this attention to detail helps to make sure that the sliding gate will do the best job possible in protecting your business.
Find out more about Retractable Security Gates for business protection