Trellidor doesn't do DIY for a reason: tailor-made security barriers fit better, look nicer and are generally stronger if made to fit. Take a look at this multi-product project we completed in Cape Town, South Africa.
Beautiful premises need security barriers to match
The Trellidor Milnerton franchise, owned by Shannon Laubser and Stefan Dreyer, were delighted to work on securing the premises of an electronic goods service centre in Cape Town.
The building is modern, light and airy with large windows and lovely views. Any security additions had to fit in with this contemporary feel.
"The brief was to protect the doors and windows as discretely as possible with barriers that would do their job without being too visible to customers," said Stefan. 
Any security product installed also had to be easy and convenient for staff to operate at opening and closing time.
Security barriers fit for purpose
The franchise team fitted Trellidor Rollerstyle aluminium roller shutters to the entrance doors and larger windows. Some of these windows are nearly 5m wide, a huge expanse to protect.
To make it easy for the staff to operate, the shutters can all be opened and closed simultaneously using a wall switch. This saves time and effort at closing time, when everyone is eager to get home.
"We supplied the company with a hand held remote control as an alternative operating method, because the shutters can be programmed to operate individually if necessary," said Stefan.
When the centre is open for business, the shutters are invisible inside a compact shutter box. The view of the outside is unhindered, allowing in lots of natural light.
Security screens ideal for public areas
Some corner windows in the building were too tight to fit adjacent rolling shutters. So, the team had to come up with an alternative that did not make these corner windows look cramped.
The solution was to fit Trellidor Clear Guard security screens to the smaller windows that butt up against the large Rollerstyle-secured windows. 
The Clear Guard units fit in neatly next to the rolling shutters. They slide open for easy window cleaning, which occurs regularly in such a public space.
The mesh screen that makes up the bulk of the security screen is virtually see-through, keeping the service centre light-filled and expansive.
The Trellidor Clear Guard screens were custom made to fit the windows in the public area. They are streamlined and contemporary in design, providing protection without that hemmed in feeling of conventional burglar bars.
Custom made Trellidor Retractable gates
Some openings in this building are protected with Trellidor Retractable trellis-style security gates. This includes front and back doors and windows in the administration area.
 Our retractable design slides open and closed easily and stacks neatly to the side when open. They're fully framed for added strength. The sash has double upright bars (front and back), which is also a strengthening feature. 
"We connect three upright bars together with links, unlike most competitor products where two uprights are linked, again for strengthening purposes," said Stefan.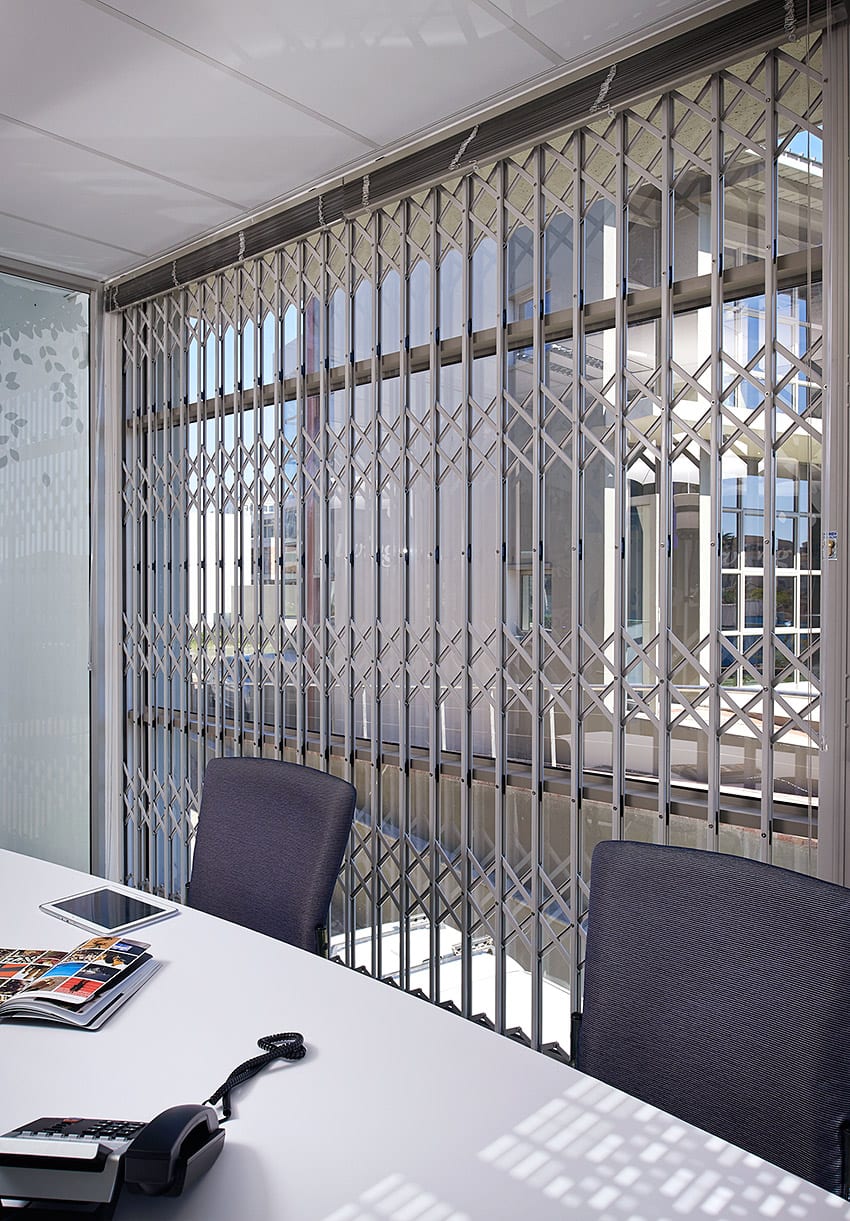 Seamless security blends in beautifully
The three different types of security barrier fitted to this service centre could potentially look cluttered. This was prevented by powder coating all the different security barrier designs in white. This allows the products to blend in with the general surroundings and with each other. 
Criminals scouting out the building's security will be left in no doubt that these premises are well secured.
But from the customers' point of view, the burglar proofing is not in the least bit cluttered or off-putting as it is hardly noticeable. 
Contact your local Trellidor franchise to customise security solutions for your home or business premises.