Vertical blinds are popular window solutions in offices but are increasingly being seen as the perfect covering for windows and patio doors in homes, particularly when they're double volume. These blinds can be manufactured for any sized opening and you can choose whether they part to the left, right or stack in the centre.
Choose your style from a comprehensive selection of designs and colours. All our options allow varying degrees of light, sound, heat and cold insulation as well as privacy control. They are easy to clean and our patented stainless steel rods will not corrode, ensuring years of trouble-free service.
Taylor Blinds and Shutters has been manufacturing blinds for over 60 years. It is a member of Trellidor Group, which will continue the Taylor family tradition of supplying innovative, top quality products backed by superb service and warranties.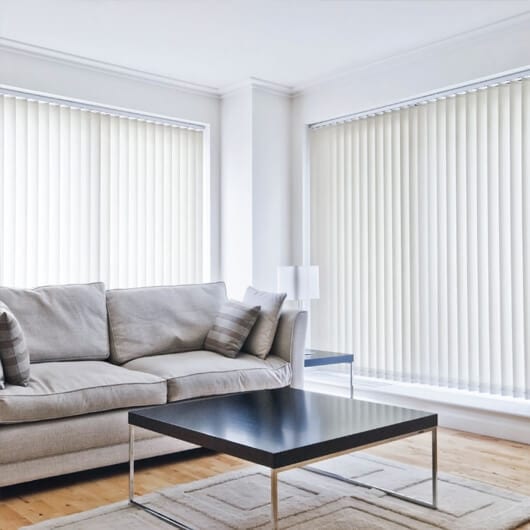 Made-to-measure for each window or door.
Suitable for any size patio door or window.
Wide range of fabric and colour choices.
Provide excellent light and sound control.
Offer insulation against heat and cold.
Easy to clean and the fabric strips are washable.
Patented stainless steel rods will not corrode and ensure years of trouble-free service.
Taylor Vertical Blinds are available in a comprehensive selection of different fabrics and colours. Contact your Trellidor franchise to see the full range, including screen and patterned fabric and PVC blockout options.
We pride ourselves on our quality and service and guarantee that the products manufactured in our factory will be free from defects in material and workmanship for a set period from date of delivery. This warranty is given subject to certain conditions.
For further information contact your nearest Trellidor franchise. We work alongside home owners, designers and architects to provide Taylor-made-to-measure, locally manufactured, top quality products that are delivered and installed on time.