Blockout. It's all about the Vibe
The V-Range is part of the Taylor blackout blind collection. It is a premium blackout fabric range with no PVC backing and is suitable for roller, panel and vertical blinds. It is used to block the light out of a room and colour choice will influence the degree of light and privacy control obtained. The fabric used in the V-Range is not only PVC-free but also has anti-fade and crack resistant properties.
Taylor Blinds and Shutters has been manufacturing blinds for over 60 years. It is a member of Trellidor Group, which will continue the Taylor family tradition of supplying innovative, top quality products backed by superb service and warranties.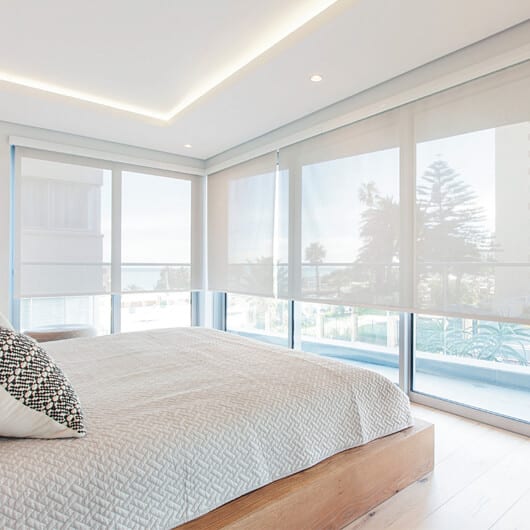 Made-to-measure for each window or door.
Available in widths from 750mm to 3000m.
Provides 100% blackout and excellent privacy.
Exceptional UV control.
Blocks out glare and heat penetration.
PVC free.
Easy to clean.
Antimicrobial treatment ensures it is anti-fungal.
Crack and fade resistant.
Choice of manual or automated operation.
The Taylor V-Range of blinds is available in a sophisticated palette of 11 colours including opaque and metallic nishes. Contact your Trellidor franchise to see the full selection of colours.
We pride ourselves on our quality and service and guarantee that the products manufactured in our factory will be free from defects in material and workmanship for a set period from date of delivery. This warranty is given subject to certain conditions.
For further information contact your nearest Trellidor franchise. We work alongside home owners, designers and architects to provide Taylor-made-to-measure, locally manufactured, top quality products that are delivered and installed on time.