Taylor Hurricane Shutters are beautiful aluminium louvre shutters, made to measure in a variety of configurations for your doors, windows, patio and other openings.
Aluminium louvres are stylish, streamlined and attractive. They are also functional, durable, rust proof and easy to clean. Use these lovely shutters to control light, noise and internal temperatures. They can be fitted internally as well as externally, making them versatile enough for any room.
Taylor Blinds and Shutters has been manufacturing blinds and shutters for over 60 years. It is a member of Trellidor Group, which will continue the Taylor family tradition of supplying innovative, top quality products backed by superb service and warranties.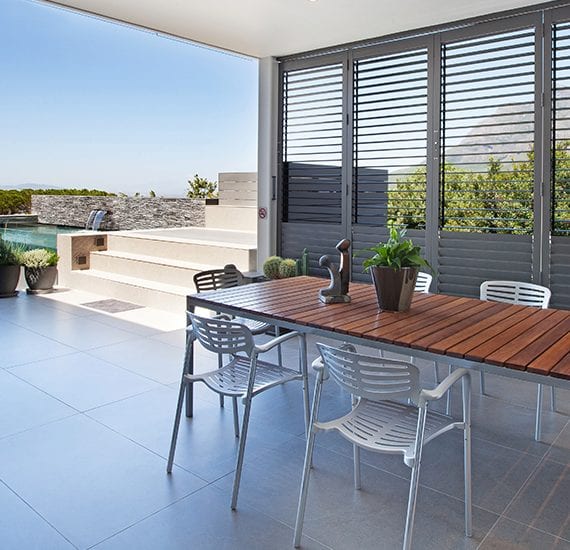 Help control privacy, noise, temperature, light and UV penetration.
Stack neatly and smoothly to the side.
No central tilt rod cluttering up the view.
Impervious to moisture and rust proof.
Easy to clean.
Will not crack, split or warp.
Fitted with a lock.
Taylor Hurricane Shutters are available in a range of standard colours. Custom colours are available at an additional charge and require an extra five days manufacturing lead time. Contact your Trellidor franchise to see the range of options.
We pride ourselves on our quality and service and guarantee that the products manufactured in our factory will be free from defects in material and workmanship for a set period from date of delivery. This warranty is given subject to certain conditions.
For further information contact your nearest Trellidor franchise. We work alongside home owners, designers and architects to provide Taylor-made-to-measure, locally manufactured, top quality products that are delivered and installed on time.